[ad_1]

While his two crewmates were walking on the moon and riding in the first lunar roving vehicle during the Apollo 15 mission, astronaut Al Worden was busy all alone with his own projects in the command module Endeavor orbiting above.

Once the astronauts returned to Earth, they went back to driving vehicles that some might consider nearly as exciting in their own way – 1971 Corvettes that were leased to them for a year for $1 by General Motors.

Now, some 51 years later, Worden's former Corvette – still bearing remnants of its custom paint job done in Classic White with red and blue stripes – is being restored by his grandson Will Penczak and Max Kaiserman with a company named Luna Replicas, a space collectibles company licensed to reproduce the late astronaut's flight jacket.

The other two Corvettes that were leased to the Apollo 15 crew were painted Bridgehampton Blue with red and white stripes (for Commander Dave Scott) and Mille Miglia Red with blue and white stripes (for Lunar Module Pilot Jim Irwin).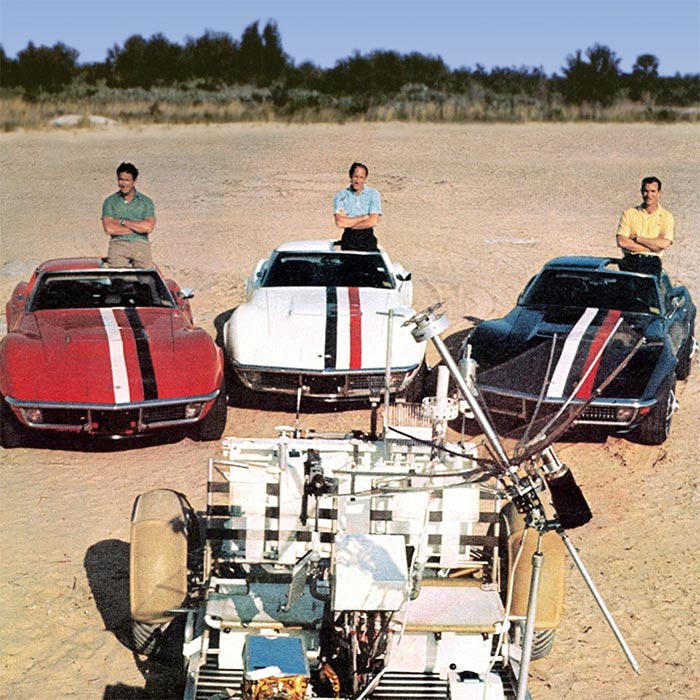 The cars were sold after a year and quickly became "just another used car" to most people. That changed in 2017, however, when collector Danny Reed rediscovered Worden's old Stingray when a friend forwarded him a Craigslist ad for a 1971 Corvette that was "once owned by an astronaut." Reed looked up the location of the seller and discovered it was a used car lot only three houses past the turnoff to the Circuit of the Americas racetrack, where he just happened to be attending a large Corvette event.

The Corvette had sat out in an open field for many years, but Reed appreciated its historic significance and purchased the car anyway. It was displayed in that unrestored condition, wearing its weathered patina, at the National Corvette Museum as part of the "From Gas Station to Space Station" exhibit in 2019 that marked the 50th anniversary of the first moon landing in 1969.

Penczak said he reached out to Reed in 2020 about his grandfather's car. "I was visiting my parents when they were living in Houston and ended up organizing a meeting," he told collectSPACE.com. "I went out to his house in Central Texas and got to see Al's car along with the other cars that he has. That's when the dream came alive when he said I could be an heir to [the Corvette], and here we are two years later" [working on a] "unique preservation of what we deem as a very important part of American history."

The car, he says, "is a symbol for a very important chapter in aerospace history, as well as my own family's history."

Unfortunately, Kaiserman says in its current condition, the car will continue to deteriorate. "It is not only the consumables – the rubber goods, seals and gaskets – that need to be replaced, but we are also looking at some fiberglass and paint damage because it sat outside for so long," he told collectSPACE.com.

A certain level of invasive preservation techniques, or restoration, will need to be done, he said. "It cannot just be preserved as it is as it's a little too far gone for that."

Worden, Scott, and Irwin had served as the backup crew for Apollo 12, the first crew to have matching Corvettes though Worden wrote later that he wasn't a big fan of the color scheme they had chosen.

"They did everything together, driving identical gold-and-black Corvettes with their crew positions painted on the sides. They showed the world that they were a tightly bonded team," Worden wrote in "Falling to Earth," his 2011 autobiography authored with Francis French. "Our crew saw those Corvettes not only as a deliberate challenge, but also a little tacky. So we did something a little different."

Penczak and Kaiserman have named their restoration project Project AstroVette Endeavor and are planning a YouTube channel and possibly a documentary to share the work with others. They hope the completed car will be "a tool of inspiration" to help others become interested in STEM (science, technology, engineering, and math), the way Worden had done before his death in 2020 by establishing the Endeavor Scholarship to inspire students to become engineers and explorers.

Penczak and Kaiserman are looking at a potential cost of $150,000 to $200,000 to restore the car and will be holding public fundraising activities to help pay for the project, with the goal of displaying the finished car for the 53rd anniversary of Apollo 15 in 2024.

"We want as many people to be able to see the car as possible," Kaiserman said, "and be inspired by it. I mean, if that means even charging to sit in the driver's seat and take a picture, we are going to do that."

Their ultimate goal is to take Worden's old Corvette on a 250,000-mile road trip around the United States. "We want to drive it as many miles as it takes to get to the moon," Penczak explains.

Source:

Luna Replicas


Related:

[VIDEO] Astronaut Alan Shepard's 1968 Corvette 427/435 Offered at Barrett-Jackson

Apollo 12 Astronaut's 1969 Corvette 'AstroVette' Will Be Added to the Historic Vehicle Register

Astronaut Neil Armstrong's 1967 Corvette Displayed at the Kennedy Space Center


[ad_2]

Source link