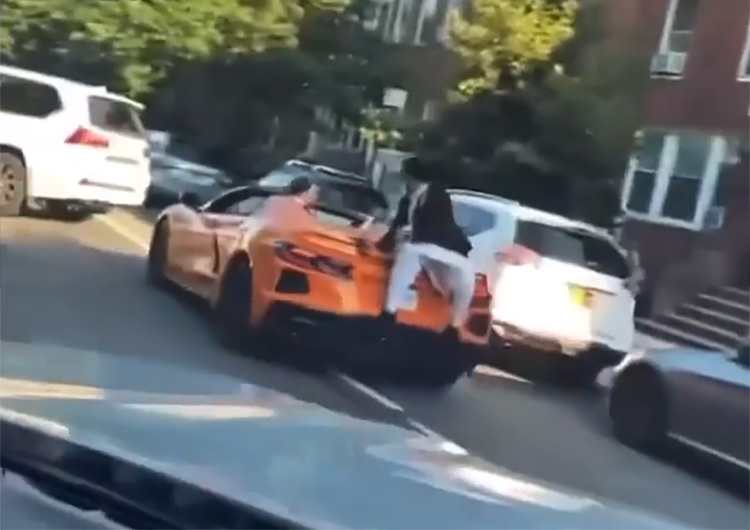 This is definitely not a family-friendly video, but who can blame the guy who filmed this low-speed C8 Corvette convertible crash for letting a few choice words loose?

After all, it's not every day you get to see a distracted Corvette driver run into the rear end of a big ol' Lexus LX570.

But that's exactly what happens in this short video that we found on Carscoops today.

As the video opens, you'll hear one of the weirdest cackles ever from someone off screen, apparently in the car that just happened to be filming the escapade, and then the orange Stingray rolls past out of the corner of the frame, with a guy riding bareback on the deck lid of the car.

The driver may have forgotten for a split second that he's on a busy downtown street presumably somewhere in the United States and that he must always look ahead while behind that cool squircle steering wheel. Not to worry, though, because he's quickly reminded of that fact when he slams into the Lexus that was stopped in front of him waiting to make a turn.

His buddy on the back of the 'Vette is knocked off balance but seems OK, but that's only the beginning of the troubles for this bumbling duo.

As the driver pokes his head out of the Corvette to first check on his friend, the videographer rolls slowly past all the action, where we then see the C8 driver hop out to view the damage.

And it's not a pretty sight as we witness the left side of the bumper lying on the pavement and the headlight cracked, with steam and antifreeze pouring out of one of the radiators encased inside the bumper.

Sure didn't take long for the Carfax to get dirty on this Stingray, huh?

Source:

team_macksauce / Instagram


Related:

[VIDEO] Impatient C8 Corvette Driver Ruins Car While Trying to Avoid Stopped Traffic

[ACCIDENT] Hey, You Can't Park There! C8 Corvette Crashes Spectacularly in Delaware

[ACCIDENT] Watch as a Distracted Driver Rolls Right Over a C4 Corvette