[ad_1]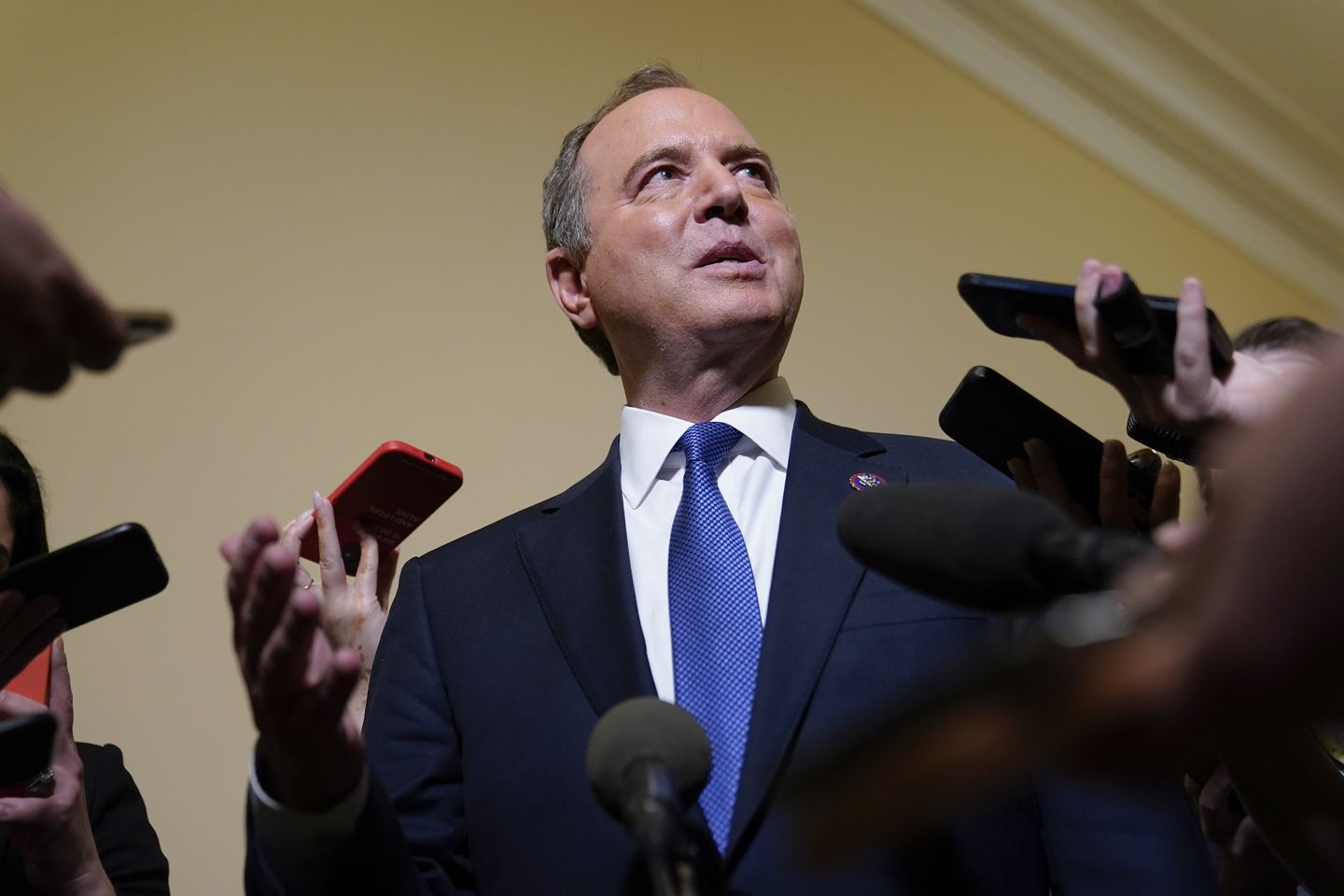 When Adam Schiff announced his bid to become the next U.S. senator from California, he promoted himself as a fighter against the lies and corruption that can bring down democracy. 
"I've always believed that right matters, that the truth matters," Mr. Schiff said in a video launching his campaign.
But Mr. Schiff brings into the race his own trail of distortion and outright lies that critics say undercut the democratic process. Most of the mistruths he has refused to acknowledge even when faced with overwhelming evidence.
After Mr. Schiff's Jan. 26 announcement that he'll seek the Democratic nomination for Senate, pitting him against six-term incumbent and fellow Democrat Dianne Feinstein, critics weren't just attacking his liberal House voting record. They tore into claims made by Mr. Schiff over the past seven years that were a central part of his effort to bring down President Donald Trump and Republicans who tried to defend him. 
Russia, Russia, Russia
Mr. Schiff's top lie centered on the debunked claim that Mr. Trump and his campaign team colluded with the Russians to win the 2016 presidential election.
"If you're looking for who has the most responsibility for putting out into the public domain the falsehood that Trump and conservatives colluded with Russia to try to steal an election, it's Schiff," Tom Fitton, president of the conservative Judicial Watch, said.
Throughout Mr. Trump's presidency, Mr. Schiff was a frequent guest on television talk shows, valued for his position as the top Democrat on the House Intelligence Committee, which has access to classified information.
He told CBS news there was "plenty of evidence of collusion or conspiracy in plain sight," and suggested the Intelligence panel had evidence that had not been shown to the public that proved "conspiracy and collusion," between Mr. Trump's campaign and the Russians. 
The collusion claim has since then been completely disproven, but Mr. Schiff is not backing down. He said the evidence found by Robert Mueller's independent investigation did not prove conspiracy, but the Mueller report said Mr. Trump's campaign manager was sharing internal campaign polling data "with an agent" of the Russians, who in turn were working to hurt the Democrats. 
"To most Americans, that is collusion," Schiff said on CNN. "Now, whether it's proof beyond a reasonable doubt of the crime of conspiracy — that's what Bob Mueller was talking about — I have always distinguished between the two."
As part of Mr. Schiff's effort to tie Mr. Trump to Russia, he hyped the Steele Dossier, a 35-page, unverified political opposition research report commissioned by the Hillary Clinton campaign and published by Buzzfeed News shortly after Mr. Trump took office. The salacious claims in the report included allegations that Russia had "Kompromat," or information that could be used to blackmail Mr. Trump. Among the many claims in the report is that Mr. Trump, during a visit to Moscow, hired prostitutes to urinate on a bed used by the Obamas on a prior stay at his hotel.
Mr. Schiff publicly promoted the Steele dossier in 2017, even reading parts of it out loud at a House Intelligence Committee hearing to amplify his claim that Mr. Trump was closely tied to Russia.
When government officials declared the dossier essentially garbage, Mr. Schiff blamed Igor Danchenko, the Russian operative who provided the information to dossier author Christopher Steele, a former British spy.
"I don't regret saying that we should investigate claims of someone who, frankly, was a well-respected British intelligence officer," Schiff said on NBC's "Meet the Press." "And we couldn't have known years ago that we would learn years later that someone who is a primary source lied to him."
Mr. Schiff's role as top Trump antagonizer in the House included downplaying the proven-true allegation that Mr. Trump was the subject of improper surveillance under the Foreign Intelligence Surveillance Act.
Mr. Schiff wrote a lengthy response to a memo by then Intelligence Committee Chair Devin Nunes, a California Republican. Mr. Nunes said the FBI had relied on "politically motivated or questionable sources," namely the Steele dossier, to obtain the surveillance warrant that launched the government's Trump-Russia probe. 
Mr. Nunes' memo turned out to be factually correct, according to a report issued later by Justice Department Inspector General Michael Horowitz. 
But at the time, Mr. Schiff quickly sought to disprove the information in the Nunes memo by making discredited claims to justify the FISA warrant, including one that the Steele dossier was more thoroughly corroborated by federal law enforcement than Mr. Nunes was claiming, and that the dossier was only a narrow part of the evidence used to obtain the warrant and Mr. Trump's campaign advisor, Carter Page.
Impeachment Drive
Mr. Schiff's mistruths played a central role in the successful effort to impeach Mr. Trump in 2019.
Mr. Schiff's office served as the conduit for the government whistleblower whose complaint about a call between Mr. Trump and Ukrainian President Volodymyr Zelenskyy launched the first impeachment probe against Mr. Trump. Mr. Schiff claimed his staff "had not spoken directly with the whistleblower," when his staff had already interviewed the man.
Mr. Schiff later claimed he actually meant that his committee staff had not spoken to the whistleblower again after he filed his formal complaint about Mr. Trump's call.
"I should have been much more clear about that," Schiff said on CBS's "Face the Nation." 
Among Mr. Schiff's trail of mistruths, one that stands out prominently occurred during one of the key hearings in the impeachment inquiry led by Mr. Schiff.
The probe centered on Mr. Trump asking Mr. Zelenskyy to investigate corruption allegations related to President Biden, who was then his political opponent, and Mr. Biden's son, Hunter Biden, who had business dealings with a Ukrainian energy company. 
Mr. Schiff, who chaired the committee, opened the hearing by reading a fictionalized version of the transcript of the Trump-Zelenskyy call.
"I have a favor I want from you," Schiff said as he read from a piece of paper that appeared to be the call transcript. "And I'm going to say this only seven times, so you better listen good. I want you to make up dirt on my political opponent, understand? Lots of it, on this and on that."
Mr. Schiff's phony depiction of the call drew immediate outrage from Mr. Trump and Republican lawmakers, who called on Mr. Schiff to resign.
But he brushed off blame.
"My summary of the president's call was meant to be at least, part, in parody," Mr. Schiff said. "The fact that that's not clear is a separate problem in and of itself. Of course, the president never said, 'If you don't understand me I'm going to say it seven more times.' My point is, that's the message that the Ukraine president was receiving in not so many words."
Mr. Fitton said Mr. Schiff should be held accountable for his many lies, but also for misusing the impeachment process to punish Mr. Trump. Hunter Biden has increasingly drawn scrutiny for what appears to be influence peddling in foreign countries using his father's powerful positions, and he's currently the subject of a Justice Department investigation.
"I think Schiff needs to be held accountable for misusing the impeachment process," Mr. Fitton said. "Not only to target Trump initially, you know, to target Trump, but to protect Biden in an election year. Trump was impeached for blowing the whistle on Biden's corruption."


[ad_2]

Source link