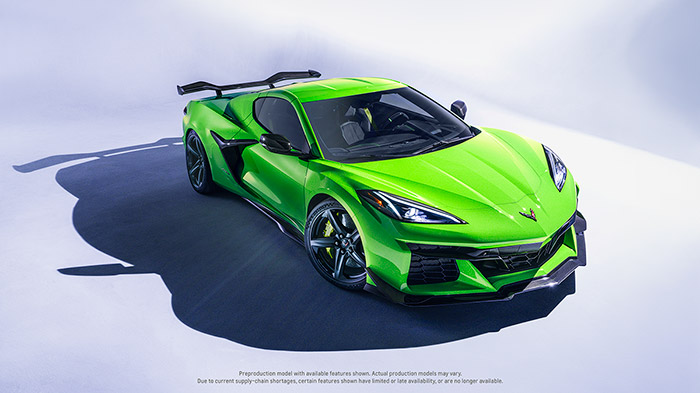 Photo Credit: Chevrolet
Chevrolet is trying to tap into the new and exciting world of NFT auctions by offering this combo featuring digital artwork created by xsullo with a real-life 2023 Corvette Z06 painted in the unique color of Minted Green. Only one Z06 will wear Minted Green and you will literally be granted ownership of the color for the 2023.

The auction actually ended on Friday morning but it was extended for another 24 hours by the NFT auction house SuperRare who claimed that due to another crypto event, perhaps buyers didn't get a chance to see the Chevy NFT auction.

Here is there tweet from Friday announcing the extension:

At the auction's original conclusion on Friday morning, we don't see any bidding for the car, only the starting bid of 206 ETH (Ethereum crypto coin). Other auctions we reviewed showed the bidding so we assume that no bids were placed during the week the auction was open. As of this writing, the cost of the one ETH coin is $1,192.66 which means the opening bid would cost $245,687.96.

As I said during our CORVETTE TODAY Podcast recording for Monday, I think this was probably a pretty good idea 6-9 months ago, but the last few months have seen the crypto market drop significantly. ETH was worth a high of $4,800 per coin back in November '21 but has since dropped to under $1000 just last week.

Proceeds from the sale will benefit DonorsChoose, an organization that "makes it easy for anyone to help a teacher in need and move us closer to a nation where students in every community have the tools and experiences they need for a great education."

We'll keep an eye on this and see if the extension will bring in any bidders today.

Source:

SuperRare


Related:

Chevrolet Offers First NFT Artwork and You Can 'Own the Color' and a 2023 Corvette Z06 in Minted Green

[POLL] Should Chevrolet Offer 'Minted Green' on 2024 Corvettes?