[ad_1]


Photo Credit: Keith Cornett
These are the best of times for the new mid-engine Corvette, and going along for the lucrative ride are parts suppliers like Carbon Revolution.

In fact, the carbon-fiber wheel manufacturer for companies like Chevrolet, Ferrari and Ford is reporting a record quarterly income of $14.8 million, 80 percent higher than the previous quarter.

Bolstered by the recent hot quarter, Carbon Revolution revenue for the year surpassed $40 million for the first time, and with Chevy just now starting up production of the highly anticipated Corvette Z06, which will feature new carbon fiber wheels as an option on the new supercar, the future looks even brighter for the wheel maker.

In addition to the boost from the new Z06, Carbon Revolution credits "strong and consistent demand" from Ferrari for wheels on its 296 GTB and 812 Competizione.

The only negative for the company appears to be global supply chain constraints, but Carbon Revolution says average pricing improved by $206 a wheel over the previous quarter to help offset input cost increases.

The Australian-based company also recently received a Commonwealth Modern Manufacturing Initiative grant of $12 million for its Mega-Line project that will more than double capacity to 155,000 wheels annually from 75,000 wheels, with the first production wheels to be produced in the third quarter this year.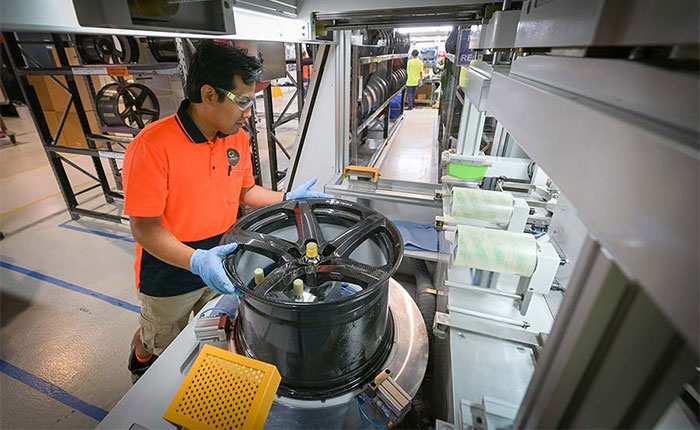 Photo Credit: Carbon Revolution
After a recent roadshow across North America and Europe to talk with vehicle manufacturers, including EV makers, the company says it has seen "record levels of detailed customer inquiries and program quoting" and has 15 active programs, with six in production, including the Corvette Z06.

The Z06 wheels are the tallest and widest set ever made by Carbon Revolution – at 20 inches by 10 inches up front and 21 inches and 13 inches out back – and promise to save more than 41 pounds over standard forged aluminum wheels, all unsprung weight. The wheels will come in two versions – a clear coat that exposes the carbon weave for $11,995 or a painted Carbon Flash version for $9,995.

According to Motor Trend: "Though the five-spoke design may look fairly simple, making the Z06's carbon fiber wheels is an incredibly complex ordeal. In a process Carbon Revolution calls high-pressure resin transfer molding, the company starts by creating what it calls a "dry wheel" by laying down carbon fiber sheets in layers before heating and pressurizing it to solidify the design. From there, the wheel is placed in a mold and subjected to extremely high pressures to extract any air that may be trapped inside. It's then injected with resin using an incredible 700 psi of pressure. The resulting high temperatures are what cures the resin into a solid piece, locking the carbon fiber sheets into place and creating the ultra-strong, ultra-lightweight finished product."

Source:

premium.goauto.com.au


Related:

[PODCAST] Meet the Company Responsible for the C8 Z06's Carbon Fiber Wheels on the Corvette Today Podcast

[VIDEO] Future Z06 Owner: I Curbed My Carbon Fiber Wheels…Now What?

Carbon Revolution Celebrates 50,000 Wheel Milestone and It's Going On a 2023 Corvette Z06


[ad_2]

Source link