[ad_1]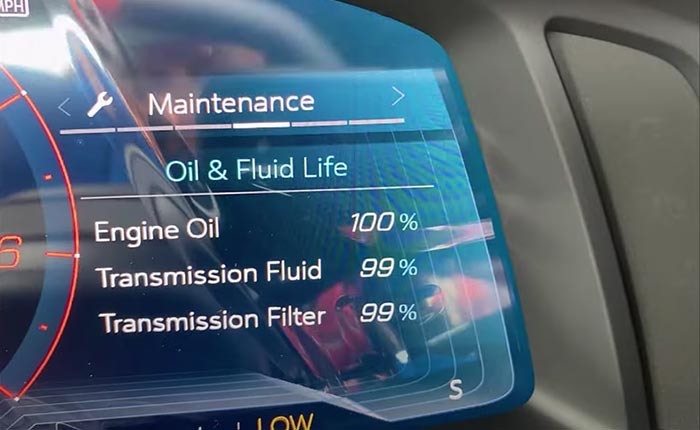 Photo Credit: Rick 'Corvette' Conti
With a new model year of the Corvette now on the ground, our friend Rick 'Corvette' Conti found something new in the 2023 Stingray's Driver Information Center.

Chevrolet has now added an entry to the Oil and Fluid Life display under the maintenance tab for the DCT's canister filter which shows the amount of life remaining.

The 2023 Corvette Owner's Manual recommended that owners replace the filter at 7,500 miles and then again when the odometer turns 22,500 miles. However, if the percentage of life is less than 10%, the manual recommends changing the DCT canister filter immediately as performance issues may result.

Here is what the Owner's Manual states:

Transmission Filter Life: Displays an estimate of the filter's remaining useful life. If REMAINING FILTER LIFE 99% is displayed, that means 99% of the current filter life remains. When the remaining filter life is low, the REPLACE TRANSMISSION FILTER SOON message will appear on the display. The external canister filter should be replaced as soon as possible. See Dual Clutch Transmission Fluid Life System (page 249). In addition to the Transmission Filter Life system monitoring the filter life, additional maintenance is recommended in the Maintenance Schedule. See Maintenance Schedule (page 306).
Anytime that Chevy can give us more indicators for taking care of our Corvettes, the better! Now the question that Conti raises is that if this can be made available to 2020-2022 Corvette owners via a software update. We'll be watching and will let you know!

Source:

Rick 'Corvette' Conti / YouTube


Related:

2023 Corvette Owner's Manual With Stingray/Z06 Procedures Available for Download

General Motors to Extend First Service Visit for C8 Corvette Owners From 12 to 36 Months

GM Has Notified the NHTSA Over C8 Corvette Transmission Investigation


[ad_2]

Source link