[ad_1]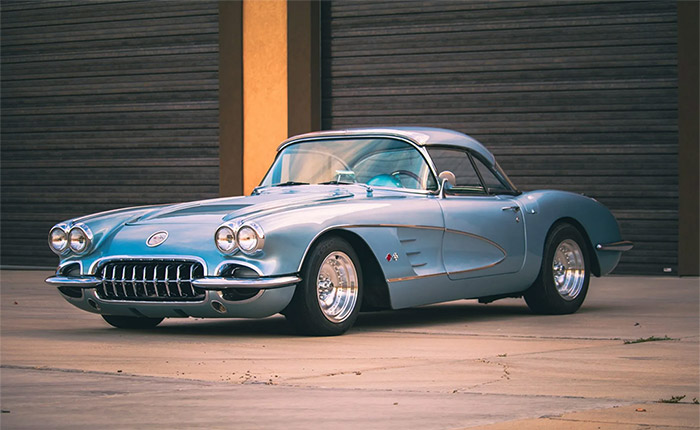 This 1958 Corvette convertible has been in the same family for four decades, but now it's time for a new owner to experience the car.

The seller inherited the Corvette last year after his father had bought it from the original owner about 40 years ago and modified it with a 305 TPI V8 engine out of a 1985 Camaro, a five-speed manual transmission, independent rear suspension, and a Mustang II-style front suspension. The car also features an aluminum radiator, electronic ignition, polished drive pulleys, and a blue-finished intake manifold and cooling hose.

Under the son's short period of ownership, he has installed adjustable coilovers and repainted it in a nice shade of blue, including a matching hardtop and coves.

"It's been with me my whole life and I have wonderful memories with it," the seller responded with mixed emotions on his current Bring a Trailer listing, "but unfortunately it's not the best family vehicle and I hardly drive it. Seeing it sit in my garage is killing me, and I would love to see it go to a new home where it can be enjoyed again. As a side note, this car is a blast to drive. It's almost too easy to break the tires loose if you're not being careful. This car sounds and performs like a true American made muscle car and definitely catches everyone's attention. My dad had envisioned a car that was fun to look at as well as drive."
Back in the day, Corvettes were continuing to gain in popularity, with Chevy producing a record 9,168 convertibles for 1958, up considerably from the 3,467 in 1956 and 6,339 in 1957. The most noticeable features of the '58 were the debut of the quad headlights, the washboard louvers on the hood, and chrome trunk spears.

Other highlights of this particular Corvette include power steering, four-wheel disc brakes with inboard rear calipers, 15-inch Ultra aluminum wheels, JL Audio subwoofers, and Alpine CD stereo. The aftermarket air conditioning is said to be non-functional, but at least it's already there and would be worth checking out to see if it can be repaired.

This car has an aggressive stance now, and we really like the color combination. The high bid so far is $35,858 with four days to go in the auction. So how would you like Santa to bring this car down your chimney?

Source:

Bring A Trailer


Related:

Corvettes for Sale: This 1954 Corvette is Ready for the Engine of Your Choice

Which Low Mileage Corvette Time Machine Would You Choose, the 1981 Coupe or the 1989 Convertible?

Upgrade Your Corvette Today! 427Stingray.com Is the First Auction House To Accept Trade-Ins


[ad_2]

Source link