[ad_1]

Are you sitting on a big pile of cash and also have a massive pair of stones (literal or figurative) to worry about when you do said sitting? Well, then, we have to point you in the direction of the Lone Star State, where you'll find a private seller on Autotrader that is currently offering one of the beastliest 'Vettes we've ever seen to anyone crazy enough to take delivery.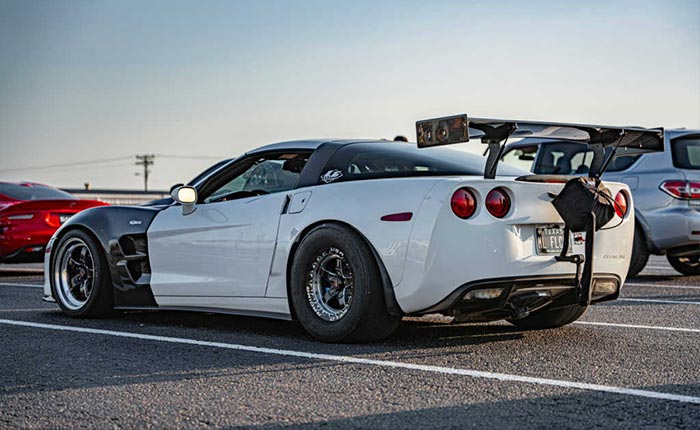 What started life as an innocent 2005 Corvette has been 'roid-raged into an absolute monster. The mods list could serve as its own article, and the highlights are as follows. Under the front-hinged hood lies an E85 drinking Dart 427 engine block with Billet internals, Frankenstein M311 heads, and a Holley Sniper intake manifold. This beast is then force-fed air by a massive (98mm) pressure-regulated Precision Promod turbo. There is also an air-to-air intercooler good for up to 2,000 ponies – the current claim is a "turn-key" 1,800 HP! – and an LG rear-mounted radiator. Even though the chassis shows 65,000 miles, the current set-up has only seen five dial-in passes since it was installed!

When a car is making 4.5 times its original power output (which was nothing to sneeze at in the first place), some other modifications and reinforcements need to be made; luckily, the builder of this beast went all-out in every respect! Brakes are upgraded Wilwood six-piston units, the frame has a four-point roll cage and a large carbon wing mounted directly to it, there's a parachute mount and a drag swaybar, and it features the famed TR6060 manual transmission (from the CT5-V Blackwing and others), a quad-plate metallic clutch, a Z06 diff with 3.42 gears, and an LG short throw shifter. You'll find adjustable coilovers at all four corners, along with drag slicks on a set of 15s in the rear. The C6 Z06 provided the rear fenders, and the exposed carbon fiber front fenders are in the style of the C6 ZR1 for a truly menacing look.

Inside and at other points under the skin, it features Kirkey seats with five-point racing harnesses, a rear-mounted master switch, and an AEM Infinity Engine Control integrated into the dash, amongst many other comprehensive upgrades.

That brings us back to the pile of cash that you are presently resting on. If you want to own the next go-fast event near you (any distance would be your oyster, really), then you simply have to part with $125,000. Just be sure that your affairs are in order before your first launch!

Source:

autotrader.com


Related:

2017 Corvette Z06 in Proper Corvette Racing Yellow Headed to Auction

Corvettes for Sale: 1969 Corvette Convertible Offers Psychedelic Vibes

Corvettes for Sale: Mail-Order 1972 Baldwin-Motion Corvette on Craigslist


[ad_2]

Source link