[ad_1]

The original 1956 Corvette SR1 – prepared by Zora Arkus-Duntov and driven by John Fitch – finished ninth overall at the 12 Hours of Sebring and is credited by some enthusiasts with saving the fledgling Corvette.

No one really knows how many other SR1s were built back in the day, but it seems likely no more than eight and perhaps as few as four.

That means it's hard even to find the real thing these days, and the price is likely to be very steep if you do.

Because of that rarity, some people apparently have decided to take matters into their own hands and build their own SR1 replica, as in the case of this car being offered on eBay in Sunderland, Massachusetts.

The auction runs through Saturday, and so far 25 bids have climbed to $40,100.

The seller is very transparent about his car, noting that it's not a kit and is a 1956 Corvette with SR1 features added to the car.

Upgrades include heavy duty suspension, finned brake drums, shortened steering column, fast steering adapter, off-road exhaust, external scoops for cooling rear brakes, tachometer mounted on steering column, auxiliary rear shocks (Houdaille), rear axle stabilizers, and wider wheel rims.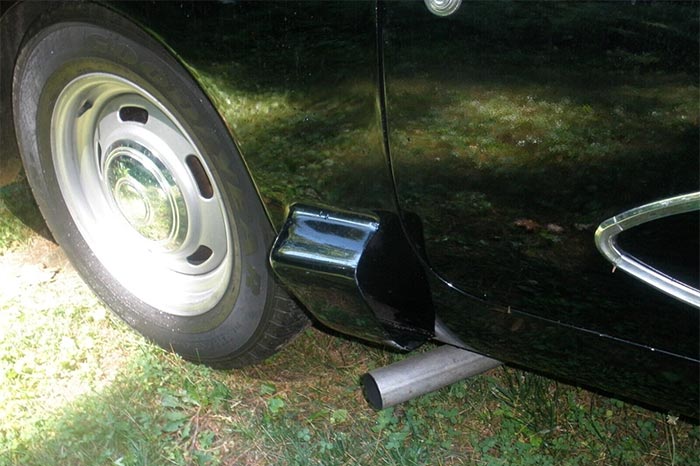 The car's frame, suspension, and brakes are original C1 Corvette, according to the seller, while the body is a composite of reproduction pieces (front), with the doors, rear clip, main body platform, gas tank, and top compartment taken from wrecked or parted-out cars.

All these parts were assembled between 2004 and 2008, and the car has a Massachusetts RMV-assigned VIN as a 1956 Corvette with a current inspection sticker from that state.

Today, this Corvette "is a running, stopping, and road worthy vehicle," according to the listing.

It's powered by a 1964 283 V8 engine that was rebuilt about 15 years ago and "does leak a bit of oil at the rear crank seal." It includes a '57 dual quad intake manifold with two matched, rebuilt (not original Corvette) four-barrel carburetors with correct Corvette dual quad linkage.

Other modern features include a five-speed manual transmission from an '87 Camaro, an aluminum radiator, an alternator, ceramic-coated Hedman headers, Walker mufflers, electronic fuel pump, electronic VDO speedometer, "Rain Gear" wipers, and a new fuel tank installed in 2015.

The non-power convertible top is described as being in "good" condition, other than a small tear in the top on the driver's side. The interior, said to be in similar condition, is the correct '56 pattern and color (Venetian Red).

currently of good driver quality."

The stainless is said to be "good," while the chrome is "fair to good, with no dents, scrapes, or cracks."

The glass is "very good," but the windows and windshield "like most C1 Corvettes" leak in heavy downpours.

Included with the sale is extensive documentation and Corvette literature.

The seller concludes his presentation by asking "why spend $20,000 for a rat, unrestored beat up body with few parts" when you could have this Corvette as "a platform for a fine cruiser."

Source:

eBay Motors


Related:

Corvettes for Sale: High-Mileage 1999 Corvette FRC in Rare Arctic White on Craigslist for $12,900

Corvettes for Sale: Bagged Widebody 2020 Corvette Stingray

Corvettes for Sale: Two-Owner 1988 35th Anniversary Edition Offered on Craigslist


[ad_2]

Source link