Corvette Nation, we have a couple of questions and, depending on your answers, a first-rate solution for you today. Question the first; Do you have a friend, neighbor, local "influencer," or fellow Corvette Club member constantly strutting around on cloud nine lately because they fell you-know-what backward onto GM's list of chosen few early adaptors for the exotic and painfully astounding 2023 Z06? Now, the important follow-up query: Are you petty enough to want to knock those lucky SOBs down a few pegs? If you twice answered in the affirmative, the perfect out-of-spite car just hit the market, and it also presses all of the right buttons if you are more of the kind of person that is always on the prowl for something unique and wicked to add to your garage.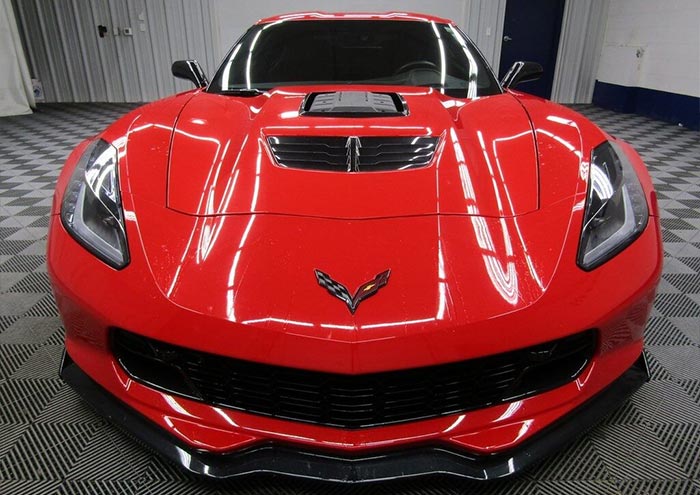 Last week, a truck specialty dealership in America's Dairyland added a rarely-seen final-year seventh-generation Corvette to its predominately diesel-powered floor plan. Sticking out like a sore thumb in a sea of 4x4s, Lenz Truck Center is the current home of a 2019 Callaway SC757, the C7 Z06 that is professionally tuned two-horses north of the vaunted ZR1. The swapped and "TrippleCooled" Callaway supercharger poking, uncovered through the hood, gives this '19 Z an 87-pony surplus over a stock example of its inbound predecessor. More importantly, at 777, the Callaway produces an additional, and astonishing, 317 lb-ft of torque than the new car's flat-plane LT6 can muster.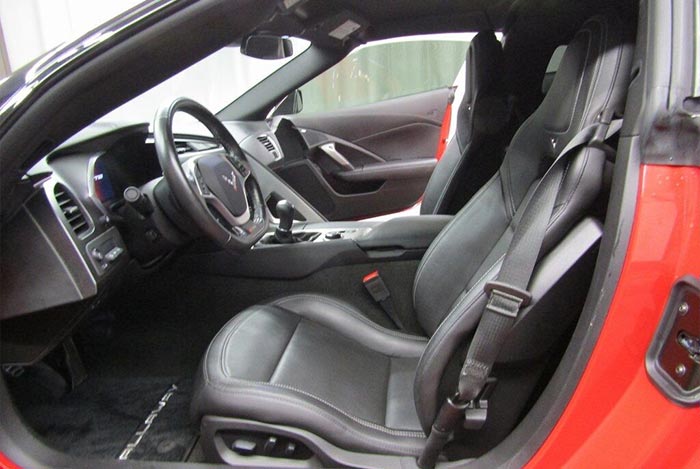 Sure, it isn't one of the exceptionally uncommon AeroWagons, but this Torch Red muscle head DOES come with the C8's most lamented missing feature; a gear lever and a third pedal to add to your sense of achievement (and satisfaction) when you rip off a Callaway quoted 10.5 quarter mile at 131 MPH! It has the Ebony 2LZ interior with base seats and the Stage II Z06 aerodynamics package, giving it an original MSRP that toed the $90k line (remember when you could get a Z06 under $100 grand?) like an acrobat. Other than the upgraded – and upsized – supercharger, the mad scientists at the famed 'Vette tuner added a high-flow intake system and Corsa performance exhaust along with a smattering of badges and emblems that will ensure onlookers know that you aren't driving around in a "run-of-the-mill" Z06.

In the four years since leaving its twin homes of Bowling Green and Old Lyme, this Callaway Corvette has only clocked 13,131 miles, and you can basically get the headlining upgrades for free! Lenz is asking $93,997 for this masterclass in spitefulness. Get it while you can because you aren't likely to see another one hit the market any time soon!

Source:

lenzauto.com


Related:

Corvettes for Sale: One Family Owned 1963 Corvette Split Window Coupe


Corvettes for Sale: 1965 Convertible Roller Offered without Engine or Transmission

Corvettes for Sale: Quasar Blue 1990 Corvette Coupe for $12K on Craigslist