[ad_1]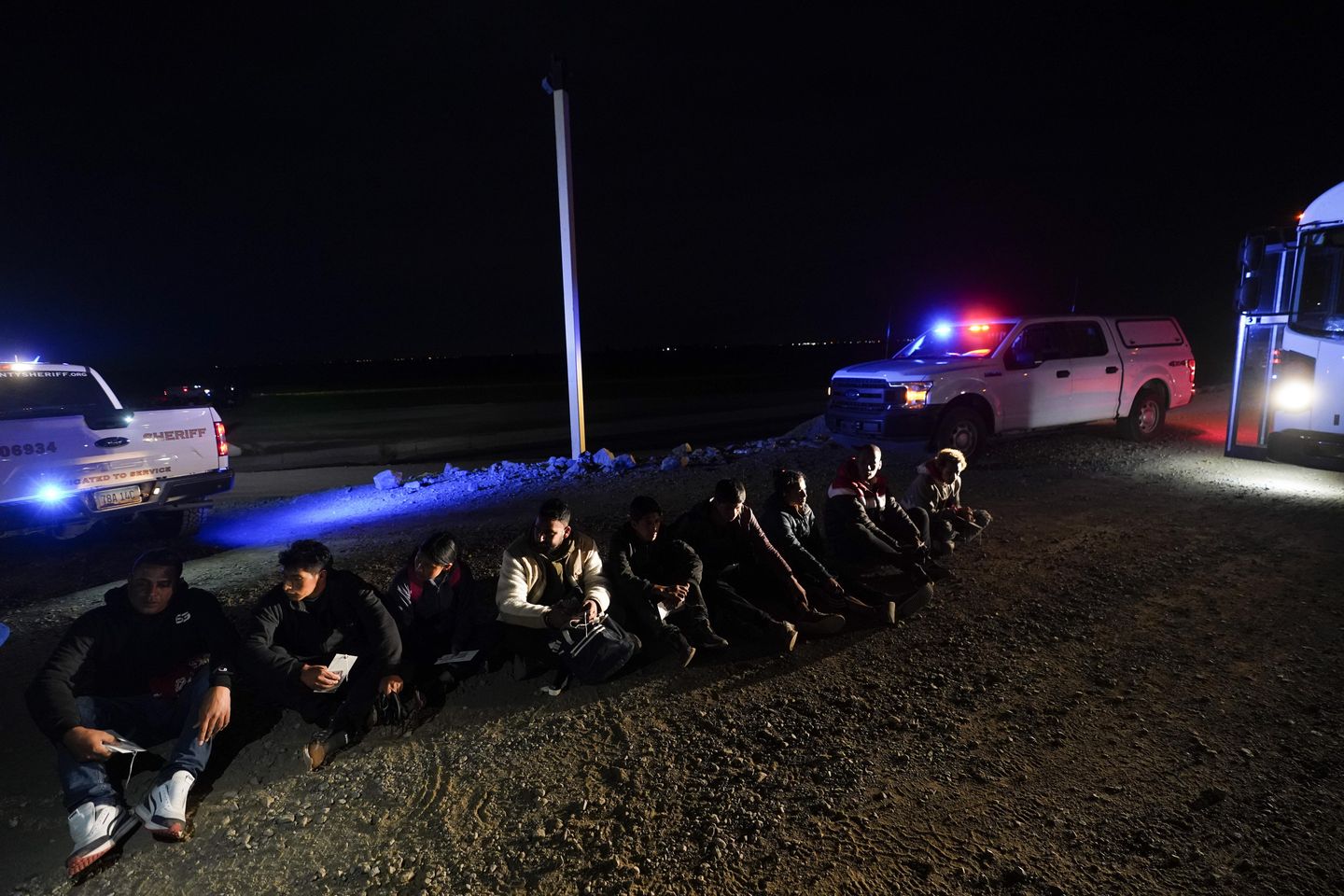 Homeland Security released more than 1,100 illegal immigrants with criminal records from its detention facilities in December as it sought to make room for a border surge that never materialized.
Deportation officers had said they were being told to stop making arrests and clear space for the impact expected from changing a pandemic border policy. The new data, released earlier this month by U.S. Immigration and Customs Enforcement, shows the extent of the moves.
ICE said it released 515 migrants with criminal convictions and another 641 who face active criminal charges.
Officers said the releases were tied to the Title 42 pandemic border policy, which under a court order was supposed to disappear just before Christmas. Homeland Security said already record levels of border chaos could triple, and they were clearing space out of ICE's facilities to try to hold some of the most egregious border cases.
But the Supreme Court ordered that Title 42 remain in place while it hears arguments. So while the border saw an uptick in illegal crossings, the cataclysmic surge did not materialize.
That made the releases all the more aggravating, said R.J. Hauman, head of government relations at the Federation for American Immigration Reform.
---
SEE ALSO: 84% of Americans support special counsel probe of Biden classified documents, poll finds
---
"What they did in December in anticipation of the Title 42 ruling that never came down was yet another act of enforcement theater that jeopardizes public safety and the integrity of our system," Mr. Hauman told The Washington Times.
Detaining illegal immigrants awaiting deportation is supposed to be the norm, particularly for those caught at the border.
But the sheer size of the border chaos, and the Biden administration's antipathy toward detention, mean beds go unused even as the administration releases people into the country.
The criminals were just a fraction of December's releases, which totaled 20,279. That was up more than 80% compared with the average in October and November.
With those releases, ICE was using only a little more than 20,000 detention beds in early January — despite being funded for an average of 34,000 beds on any given day.
As of this week, ICE was holding 23,030 people, which is still nearly 11,000 below the daily capacity.
ICE didn't respond to an inquiry for this story.
Tom Homan, who led ICE during the first part of the Trump administration, told The Times that all detention decisions are now being made by a political appointee, not career staffers.
Mr. Homan said the appointee is trying to push people toward release rather than detention.
"The sad thing is this: There are many empty beds sitting empty already paid," he said.
He said part of it appears to be about siphoning money to groups that are chummy with the Biden team. That includes nongovernmental organizations that the government pays to help settle released immigrants in new communities, and for-profit companies that oversee the monitoring programs that track some of the migrants on release through phone check-ins.
Mr. Homan said detention is the crux of enforcement. If illegal immigrants can be detained, they can be deported. But if they are released, the vast majority end up staying, either by delaying their court cases or ignoring deportation rulings once they are issued.
"They are in the wind waiting for the next amnesty deal," Mr. Homan said.
ICE has two different types of releases from detention. One is bonding out, which can be done either by a judge or by ICE. The other is a discretionary release by ICE, which can be done either on an order of recognizance, an order of supervision or through the Homeland Security secretary's power of parole.
Bond releases of criminals were up just 10% in December, while ICE's discretionary releases of criminals rose 66%.
That came to 1,156 total criminal releases, 515 of them with convictions and the other 641 with pending charges.
ICE's records don't detail the types of crimes involved.
In addition to cutting criminals loose, ICE also stopped going after new targets in the field.
One ICE officer said his region was instructed not to make any new arrests because there wasn't space to put them.
The result is that ICE officers booked in just 5,950 people in December, down from roughly 6,500 in October and November, according to data kept by the Transactional Records Access Clearinghouse at Syracuse University.
In the Trump years, pre-pandemic, ICE regularly booked in double that number per month.


[ad_2]

Source link