[ad_1]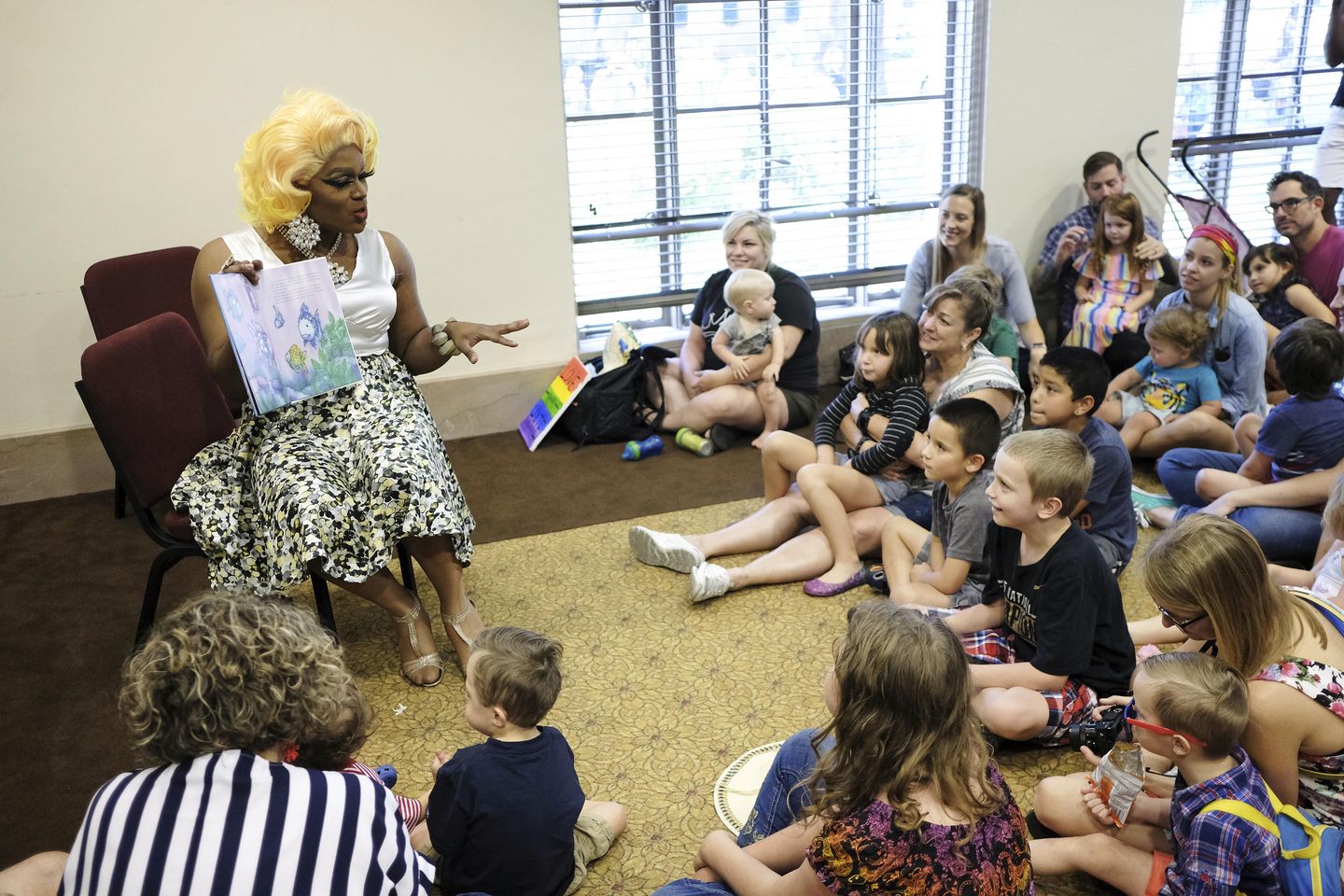 The San Francisco Public Library held the first drag queen story hour in December 2015, and it could have been the last. Instead, a cultural phenomenon was born.
Since then, cross-dressing men in exaggerated make-up and costumes have made hundreds of appearances in public libraries nationwide, opening up another front in the pitched battle over exposing children to sexually charged concepts in the name of diversity and inclusion.
Why drag queens?
"Drag itself is very mesmerizing. It's over the top. It's outrageous. It steps outside boundaries and social norms and gender norms that people normally wouldn't cross, and that is captivating to people," said Jonathan Hamilt, executive director of the national nonprofit Drag Story Hour.
"If you meet that with story hour, it's a great way to show kids that creativity is boundless," he told The Washington Times. "You can explore different ways of thinking and creativity and artistry."
Critics are increasingly pushing back. In the last few months, protesters have greeted drag queen story hours in California, Maryland and New York. A drag-queen reading at a school in Columbus, Ohio, was canceled in December over security concerns about a planned rally by the Proud Boys militia.
Where there are Proud Boys, Antifa cannot be far behind. Black-clad Antifa activists carrying Pride flags and realistic-looking rifles turned up in November at a bookstore in Denton, Texas, claiming to provide security for a Transgender Story Time featuring a man dressed as a woman.
At a Drag Queen Story Hour in New York City, YouTube personality Alex Stein led demonstrators outside in chants of "Antifa go home" and "leave the kids alone!"
"Letting children have drag queens read to them – that's disgusting! You guys should be disgusted with yourselves! That's sexual indoctrination! Why would a kid need to know anything about sex?" asked Mr. Stein, as shown in a Dec. 10 video outside the New York Public Library.
Even so, the demand for drag queens is rising, spreading from public libraries to K-12 schools and universities.
"Last June, we had almost an event a day during Pride Month," Mr. Hamilt said. "We're in public schools, private schools and then school libraries within those schools, and in the public libraries."
Drag Story Hour, which dropped the word "queen" to include female "drag kings" who impersonate males, lists 32 chapters in 20 states and the District of Columbia, as well as overseas in Denmark, Germany, Sweden and Japan.
Reading, singing songs and doing crafts with 3- to 8-year-olds in libraries isn't all the drag queens do.
"We're expanding," Mr. Hamilt said. "We work with kids with autism and other special needs. We do bilingual readings. We work with senior citizens. We work with middle schoolers and high schoolers. We speak at lots of universities and conferences in higher education. We have a lot of diverse programming we do all throughout our community. It's not just reading storybooks to children."
Supporters include Democrats such as Michigan Attorney General Dana Nessel, who said in a speech that there should be "a drag queen for every school."
"Not only are they not hurting our kids, drag queens make everything better. Drag queens are fun. Drag queens are entertainment," Ms. Nessel said in a video posted by the Michigan Freedom Fund.
'Queer role models'
Drag queens have been around since at least the 1800s, but they confined their performances mainly to specialized bars, nightclubs and competitions. Then the reality show "RuPaul's Drag Race" debuted in 2009, taking the phenomenon mainstream.
The 2015 San Francisco reading was the brainchild of Michelle Tea, former executive director of Radar Productions, based on her "personal desire to connect her toddler with queer culture," according to the 2020 Curriculum Inquiry paper "Drag pedagogy: The playful practice of queer imagination in early childhood" by University of British Columbia professor Harper Keenan and Lil Miss Hot Mess, the drag name of Harris Kornstein.
Mr. Hamilt has been involved almost since the beginning. In 2016, he became the first drag queen to host a children's story hour at a public library in New York City after being inspired by the San Francisco reading, which was held at a library in the city's predominantly gay Castro District.
"I was like, 'Oh, this is amazing,'" said Mr. Hamilt, whose drag name is Ona Louise. "I've done charity bingos around New York City, I've raised a lot of money for different nonprofits, and I was like, 'Oh, this is even better. I could read to kids and spread literacy and talk about diversity.'"
Having a drag storyteller read to kids is "a great way for them to experience diversity and otherness at a young age," he said.
"When you grow up to be an adult in the real world, you're going to have coworkers and neighbors and family members who look and act different from you," Mr. Hamilt said, "and we want them to not be bigoted or racist or homophobic."
Nobody disagrees with promoting literacy or combating bigotry, but critics worry that the story hours go beyond that by advancing a radical agenda that includes undermining the traditional family.
Manhattan Institute senior fellow Christopher Rufo said exposing children to drag queens is part of an effort to "subvert the system of heteronormativity, which includes childhood innocence, and reengineer childhood sexuality from the ground up."
"The drag queen might appear as a comic figure, but he carries an utterly serious message: the deconstruction of sex, the reconstruction of child sexuality and the subversion of middle-class family life," Mr. Rufo said in an Autumn 2022 City Journal article, "The Real Story Behind Drag Queen Story Hour."
The Daily Citizen, a publication of the conservative Focus on the Family, called it "a concerted effort to come after your children and grandchildren so they participate in and adopt sexual and gender radicalness."
The program took a hit in 2019 when a Houston Public Library drag storyteller was found to be a registered sex offender. The library apologized, saying it had failed to complete a background check and put the event on hiatus.
While some storytellers read from classic children's books, others select gender-bending kids' titles such as "Cinderelliot," "If You're a Drag Queen and You Know It," "The Hips on the Drag Queen Go Swish, Swish, Swish," "The Gender Wheel," "Bye, Bye Binary," and a book about pronouns called "They, She, He, easy as ABC."
Drag Story Hour NYC developed and sells "The Dragtivity Book," a coloring book designed "for classroom use" that includes activities such as "find your own drag name" and "circle your pronouns."
The "Drag pedagogy" paper fueled the backlash with statements such as "DQSH offers a queer relationality with children that breaks from the reproductive futurity of the normative classroom and nuclear family."
Even the Drag Story Hour website suggests that there's more going on than fighting hate, saying that the event "captures the imagination and play of the gender fluidity of childhood and gives kids glamorous, positive and unabashedly queer role models."
"In spaces like this, kids are able to see people who defy rigid gender restrictions and imagine a world where everyone can be their authentic selves!" the website states.
Not all the opposition comes from the right. Gays Against Groomers was launched to oppose "the sexualization and indoctrination of children," including drag queen story hours and drag shows involving children.
Mr. Hamilt chalked up the pushback to "homophobia and transphobia."
"We're reading children's books, we're singing children's songs," he said. "If we were doing anything other than that, we wouldn't be around for seven years. No place would allow any type of adult entertainment if that were happening."
Despite the concerns, public libraries are standing behind the story hours.
After a Dec. 17 protest outside a library in New York City's Chelsea neighborhood, the New York Public Library defended the programming, citing the "rise of hate and violence targeting LGBTQ+ communities."
"A group of protesters attempted to disrupt a Drag Story Hour for neurodiverse children," the library system said in a statement. "The story hour went on as planned, including readings, coloring activities and a 'dance party' at the end. Our patrons enjoy Drag Story Hour, and the Library will continue to offer programs that support a diverse array of voices."


[ad_2]

Source link