[ad_1]


Photo Credits: Chevrolet
Happy Birthday, Corvette!!

Sixty-nine years ago the first Chevrolet Corvette rolled off a temporary assembly line on June 30th, 1953 – a scant six months following its public reveal at the GM Motorama in New York City.

Harley Earl was GM's Head of Styling and the story goes that he was at a race at Watkins Glen in New York to show off his La Sabre concept car when he had the first vision of creating a two-seater sports car that could compete with the likes of Jaguar, MG, and Ferrari. Code-named "Project Opel" the first prototype was created out of a new construction method utilizing glass reinforced plastic which we refer to today as fiberglass. Introduced in January 1953 at the GM Motorama show at the Waldorf-Astoria Hotel in New York City, the first Corvette received great reviews and pubic acclaim for the little white roadster prompted GM to fast-track the Corvette into production. The first retail models were hand-assembled in the back of the Chevrolet's Customer Delivery Center in Flint, Michigan just six months later.

Chevrolet built 300 Corvettes over the course of the 1953 model year. A uniform design allowed the workers to concentrate on putting the bodies together without being distracted by trim and equipment variations. Therefore, all 1953 Corvettes were Polo White with Sportsman Red interiors and equipped with a canvas soft-top, 6.70 x 15 whitewall tires, and a Delco signal-seeking radio. Also standard was a 5,000-rpm tachometer and a counter for total engine revolutions.

Although some sports car purists took exception to the Corvette's only available transmission – the 2-speed Powerglide automatic, the Corvette was still a decent sports car with well-tuned examples running 0-60 mph in 11 seconds and having a top speed near 105 mph. The Blue-Flame 6-Cylinder was reported to make 150 horsepower after engineers gave the engine a more aggressive camshaft, solid lifters, dual valve springs, and a higher compression ratio.

The Corvette's original base price was set at $3,498.00. However, the general public was hard-pressed to get one as most of the production was doled out to project engineers, GM executives, and other high-profile customers including Hollywood movie stars like John Wayne. In fact, a dealer notice issued in July '53 from the Central Office proclaimed: "No dealer is in a position to accept firm orders for delivery of a Corvette in 1953."

Chevrolet would take the first two Corvettes off the line and use them for engineering testing with both eventually destroyed. That leaves the VIN 003 as the oldest surviving Corvette, but that car isn't without controversy as the VIN 003 frame was separated from the body for additional testing, and now there are two 1953 Corvettes proclaiming to be the oldest surviving. You can see them at the NCM (frame) and in the collection of the late Dave Ressler (body).

As other production-completed Corvettes rolled off the assembly line, Chevrolet used several as promotional cars and the "Corvette Dealer Tour" was born. Dealers would get one of Polo White sports cars to display in their showrooms and use the opportunity to bring in customers to see it in person.

The road to success for the Corvette would be rocky those first few years and the car was nearly canceled following the 1955 model year which saw just 700 cars built. By then, the engineering talents of Zora Arkus-Duntov began paying off as the Corvette would finally see a Chevy V8 installed with technological leaps coming later with the addition of a proper 4-speed manual transmission and fuel injection.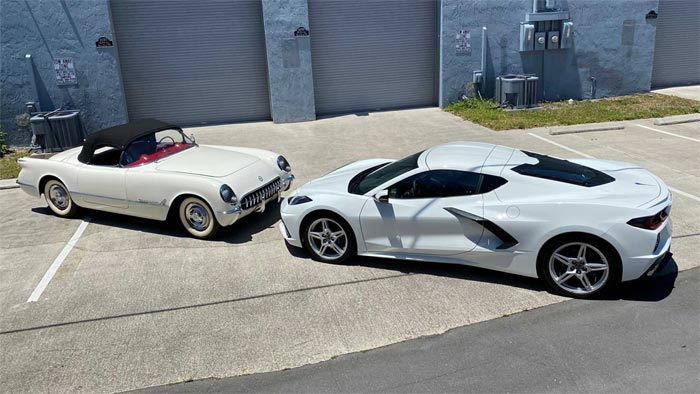 Photo Credit: David D'Onofrio
The Chevrolet Corvette has come a long way since that first 1953 rolled off the assembly line. While we celebrate all Corvettes on this birthday, it all started 69 years ago today.

Related:

Friday is the Official 'Drive Your Corvette To Work' Day for 2022!

[VIDEO] Audrey's 100th Birthday Wish Fulfilled As She Goes For a Spin in a Red C8 Corvette

[VIDEO] Wife Surprises Husband With a 1959 Corvette On His 65th Birthday


[ad_2]

Source link