[ad_1]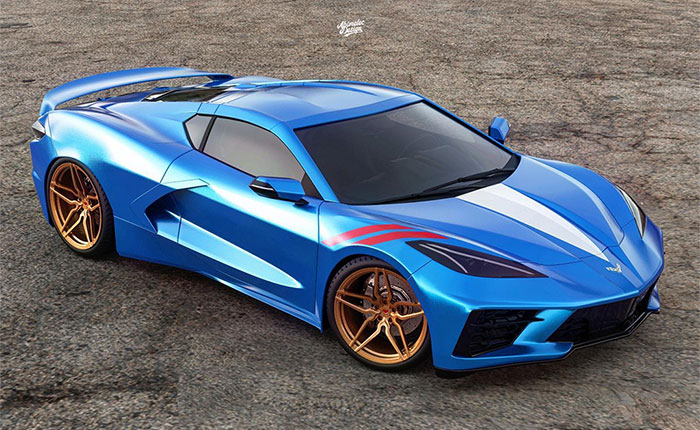 General Motors has officially (re)trademarked the Grand Sport moniker. Conventional wisdom says that any hypothetical GS would slide directly into the gap between the Stingray and Z06, where it has been so prosperous since becoming a mainstream staple of the lineup in 2010. As far as we know, the vehicle earmarked for that highly profitable roster spot is the AWD Hybrid-boosted LT2 model that we have been referring to as "E-Ray" since sightings started over a year ago.

Now that the hallowed GS badge is back in play, we have no choice but to object if the General intends on slapping one of the most historically significant monikers in GM history on a car that is going out of its way to break with Corvette convention by "electrifying" and powering four wheels. According to Friday's poll of our readers, "E-Ray" is Corvette Nation's preferred name for this model by a margin of nearly 2:1. But, based on comments, that victory was a hollow one; not reflecting a superior piece of branding, but a lot of opinions that mirror ours, vis-à-vis respecting tradition).

When the C8 debuted, it was billed by its creators as a total moonshot. In hindsight, and with the infinitely impressive flat-plane Z06 as context, the 2020 Corvette almost seems like it was a safe bet, no matter how good that bet turned out to be. If we are truly staring down the barrel of an internal combustion apocalypse and now that we've seen what the great Corvette team is truly capable of – with more to come on the high-end – we want so see maximum, Z06-style effort applied to the more attainable trim levels as well before the government and corporate bartenders call closing time on the V8 party!

Our proposal would see the C8 follow the blueprint laid out by its sixth-generation forebear. For 2024, we want to see the 6.2L LT2 V8 give way to a new LT3 (just as the LS2 was replaced by the LS3 in 2008 to great effect). We imagine this LT3 as a naturally aspirated aluminum V8 loosely based on the 6.6L "L8T" heavy-duty truck architecture that took over for the "L96" 6-liter in 2020. With a re-tuning aimed at speed instead of stump-pulling, a compression bump to 11.5 or 12:1, and a visit to the well-established performance small-block playbook for things like dry-sump lubrication, a more aggressive camshaft design, and a forged steel crankshaft, to name a few, such a powerplant could be good for 520-550 horses and an equal dose of twist, all day long.

With the Z06 giving the Stingray more breathing room than we ever thought possible, there is plenty of space to grow the performance and appeal of the base model (or to keep the Stingray as-is and give the GS exclusive rights to the 396 and the 500-horse club!) while protecting the current halo model, and providing a completely unique, mid-engine, big-bore driving experience that hasn't really been seen since the MK IV Ford GT40. Best of all, at precisely 399.78 cubic inches, this last hurrah for high-torque, high-displacement 'Vettes could be poetically (and more honestly than it was in 1970+) marketed as a 396, just like the first-ever big-block 'Vette from 1965. Place that 8-cylinder beauty amidship a widebody C8 with a unique fascia and "boomerang" treatment to distinguish it from the exotic high-revving Z06 – and while we are dreaming, give us an RPO for that fabled by-wire third pedal – and, voilà, you've got a Grand Sport worthy of the name!

To make things even more interesting, GM could sell our GS 396 alongside the AWD LT2-hybrid at a similar price point in a winner-takes-all litmus test for the future direction of the brand. In that high-stakes poll, we know where our collective and respective dollars would be heading! Your thoughts?

Source:

Facebook


Related:

[POLL] Grand Sport or E-Ray? What Should GM Call the C8 Corvette Hybrid?

GM Files Federal Trademark for Corvette Grand Sport

Corvettes For Sale: Which Ultimate C7 Grand Sport Colorway Would You Rather Have?


[ad_2]