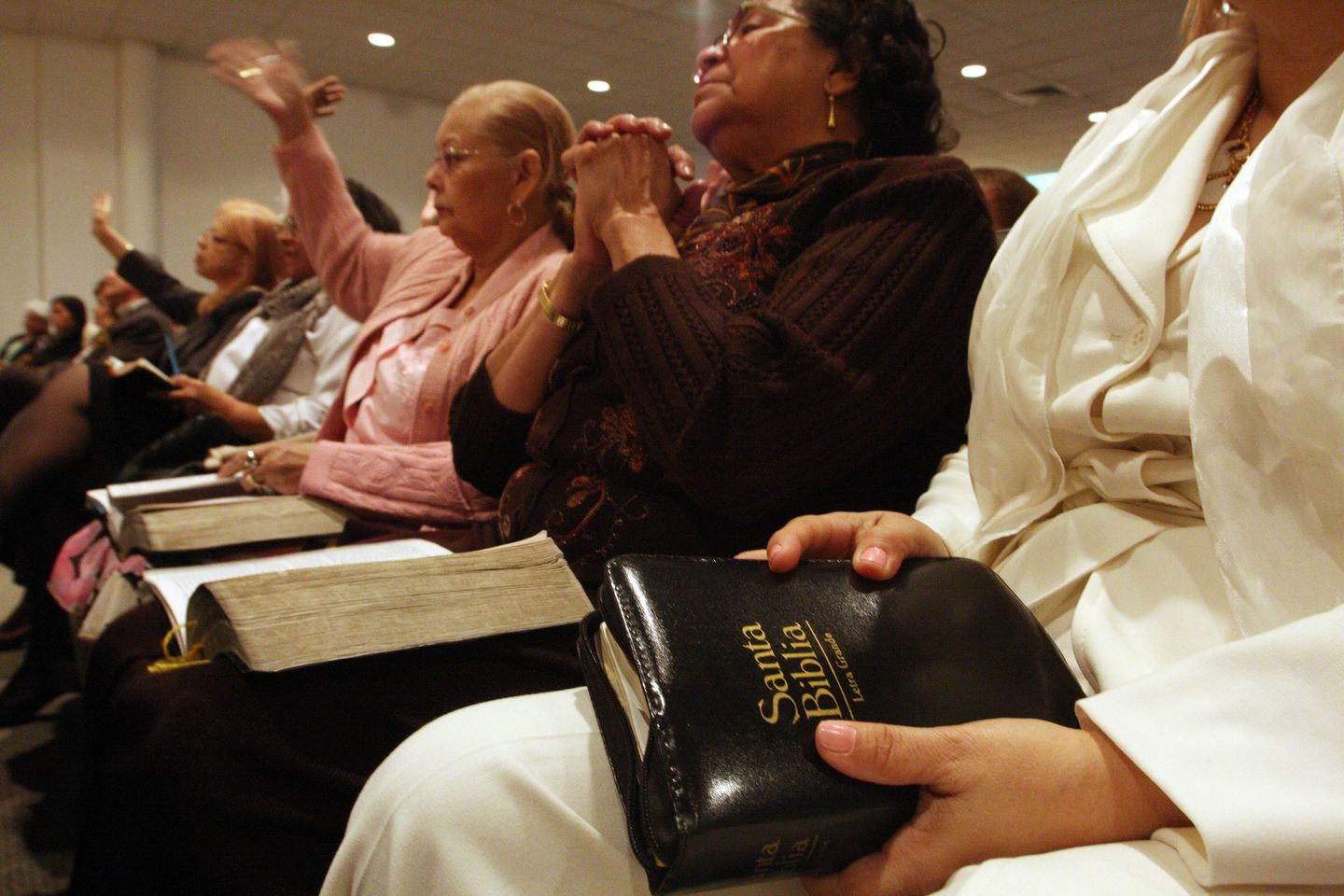 The number of Hispanic Protestant churches in the United States is up sharply over the past 23 years thanks to both immigration and evangelization according to a survey released Tuesday.
About 4 out of 5 pastors of these congregations (79%) identify as evangelical Christians, while 16% said they affiliated with mainline Protestant denominations.
The news stands in contrast to continuing reports of departures from mainline Protestant and evangelical congregations, as well as church closings.
The study by Lifeway Research said that the churches are "newer, younger and more effectively evangelistic" than average U.S. Protestant congregations. The study had information from 692 pastors of congregations that are at least 50% Hispanic, Lifeway said.
One of the most promising statistics for future church growth centers on the age of attendees. Slightly more than a third of these people (35%) are under age 30, including 18% under the age of 18. Those aged 30 to 49 comprise 38% of congregations, while 28% are age 50 and above.
Average weekly attendance at these congregations stands at 115 each week, down from 136 before the COVID-19 pandemic. The survey found that 18% of Hispanic Protestant congregations are close to pre-pandemic attendance levels and 32% say they've grown during the past three years.
Researchers reported 54% of Hispanic Protestant congregations were established since 2000, including 32% in 2010 or later. Nine percent said they'd been established before 1950.
The majority of Hispanic Protestant church members, some 58%, are first-generation Americans born outside of the United States. Second-generation Americans, with parents born outside of the U.S., comprise 24% of congregation memberships, with 17% born in the U.S. to parents who were also born here.
Spanish is the language of 54% of these congregations, Lifeway reported, and 22% are bilingual. Most congregations (50%) are in large metro areas of 100,000 population or greater, with 31% in small cities, 9% in rural areas and 8% in suburban ones.
"The growth in the number of Hispanic churches in the U.S. has been remarkable," the group's executive director, Scott McConnell, said in a statement. "While some of these congregations were started within Anglo churches — 14% of Hispanic congregations in this study currently are conducting services within a church that is predominantly non-Hispanic — the missional impetus has clearly come from within the Hispanic community itself as two-thirds of these congregations are led by first-generation immigrant pastors."
Nearly 4 out of 5 U.S. Hispanic Protestant congregations say they schedule opportunities for regular evangelism by church members, including inviting others to services, using social media to share activities, and special events for children. Thirty percent of these congregations said they did door-to-door evangelism, and 24% say they train members in outreach methods.
The congregations — at 88% — also reported plans to foster community within their church, including community prayer and Bible study, as well as community service.
"Hispanic congregations are very active in engaging new people," Mr. McConnell said. "Not only is there much evangelistic activity in Hispanic churches, but God is also blessing them with new people who commit to following Jesus Christ."
The Rev. Samuel Rodriguez, president of the National Hispanic Christian Leadership Conference, an association of 42,118 U.S. congregations, said Hispanic churches "are about to cross the Rubicon into thriving."
"It was difficult during COVID, many Latino churches are in urban centers," Mr. Rodriguez said in a telephone interview. "Many [cities] had very restrictive lockdowns. But praise be God, we are at the edge of survival on the good side."
He said the community needs to place "a strong emphasis on education" to give first-generation pastors and leaders biblical training and theological education.
"We have the passion. We have the commitment, we have the call, we have the drive and we have the opportunity," Mr. Rodriguez said.
The Christian leader said he believes young adult Hispanics are less likely to "deconstruct" their evangelical faith than their White peers.
For Latino and Hispanic evangelicals, he said, "Faith is not a nominal exercise. It's not something to do on Sundays. Faith is number one."
Mr. Rodriguez added, "The second reason why young adults go to church is because of cultural preservation. They are proudly Hispanic and Latino. And they want to preserve that, especially in the first generation, they're no longer in Mexico, no longer in El Salvador, no longer in the Dominican Republic. Church is this cool community that has this great, unbelievable outcome of spiritual enrichment and formation so you can get closer to God and simultaneously still be connected with your tribe and your culture, your community … preserving the language, continuing the food, traditions and so forth."
With sponsorship from Lifeway Recursos, the Billy Graham Evangelistic Association and Samaritan's Purse, the online survey of 692 pastors of Hispanic Congregations in the U.S. was conducted Sept. 6 — Nov. 1, 2022. The sample provides 95% confidence that the sampling error does not exceed plus or minus 5.0%.
A full breakdown of the survey methodology and results is online at https://research.lifeway.com/2023/01/24/u-s-hispanic-protestant-landscape-full-of-growing-vibrant-churches/.