[ad_1]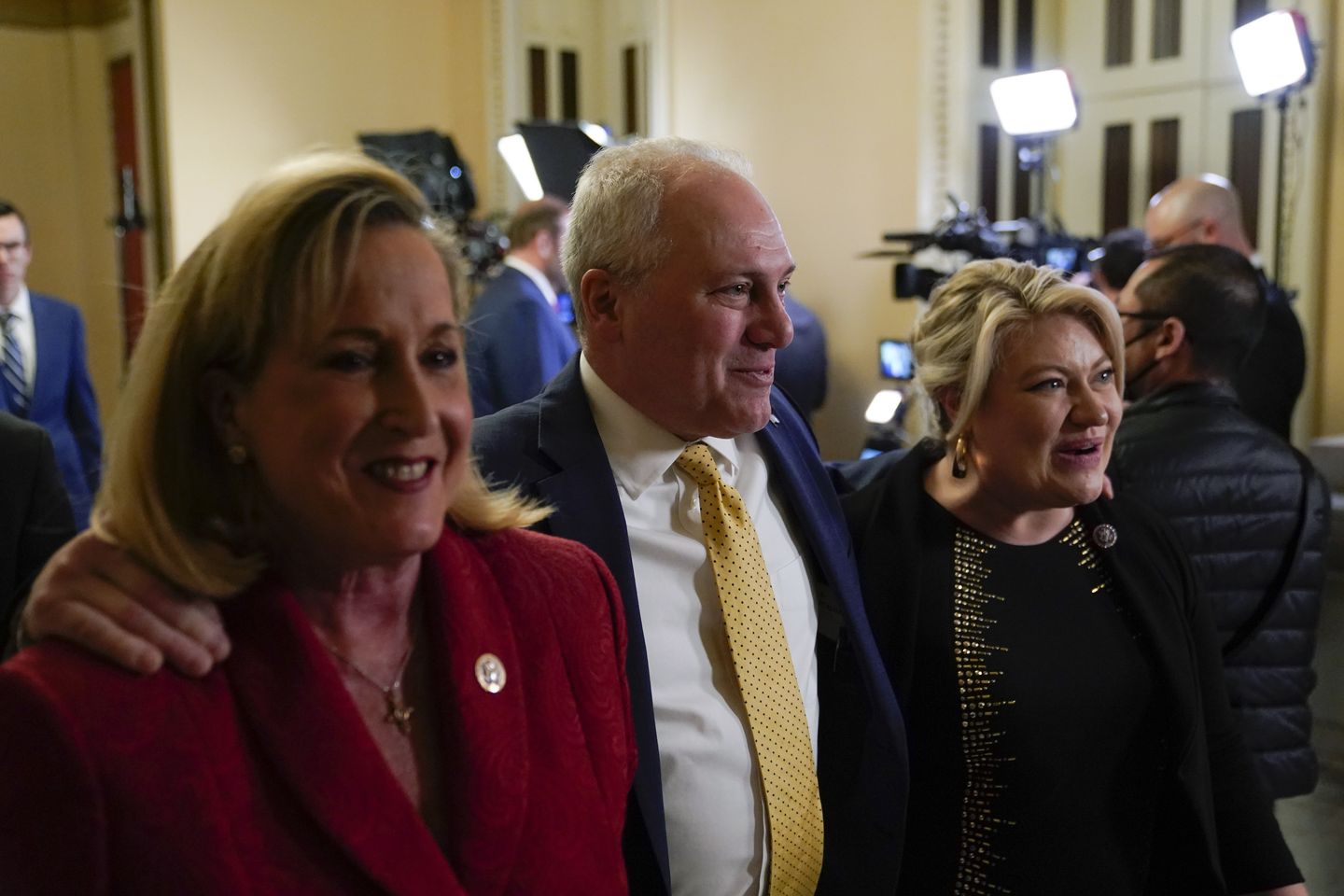 One Republican has proposed legislation to force the military to rehire troops who were kicked out over President Biden's COVID-19 vaccine mandate. Another would bar the government from doing business with banks that won't serve firearms manufacturers. Still another would strip funding from cities or states that let noncitizens vote in elections.
While big clashes both within the GOP and with Mr. Biden have drawn most of the attention, rank-and-file Republicans have kicked off their new majority with a striking wish list of things they want to see done.
A week into legislative business, the most popular bill so far isn't on abortion or guns or immigration. It's Rep. Kat Cammack's measure to try to rein in the power of the presidency by giving Congress a veto over any new major regulation an administration tries to issue.
That has drawn 174 co-sponsors, all Republicans.
Also popular is a proposal to amend the U.S. Constitution to set the permanent membership of the Supreme Court at nine justices. Rep. Dusty Johnson's bill has 96 co-sponsors.
"We need to keep the nine, and I think you will see over the course of the next weeks and months an incredible cross-section of the Republican conference, from the center-right to the far right, understand the importance of keeping the nine," said Mr. Johnson, South Dakota Republican.
House Republicans got off to a slow start with a first week dominated by fractious debate over who would become speaker. Rep. Kevin McCarthy won the spot, but only after a prolonged series of votes that delayed action on the party's legislative agenda.
But once they settled down to business, they came out of the chute firing.
In the first two legislative days of the year, they filed 212 bills or joint resolutions. By contrast in 2011, the last time they gained control of the House and there was a Democratic president and Senate, GOP lawmakers filed just 124 bills and joint resolutions in the first two days.
When Democrats took control of the House in 2019, facing a GOP president and Senate, they filed just 110 bills and resolutions over the first two days of legislative business.
In the first week the GOP powered through measures to create investigative committees on competing with China and on political weaponization of federal agencies. And the House passed bills to protect babies born alive after botched abortions, to limit sales to China of oil from the U.S. strategic reserve, and to halt IRS plans to hire tens of thousands of new agents, auditors and officers.
Senate Majority Leader Charles E. Schumer, New York Democrat, labeled the week's worth of work "extreme."
"In the last week Republicans have given a free pass to wealthy tax cheats, empaneled a committee to undermine and threaten law enforcement, undercut women's healthcare, and put forward a draconian budget plan that will lead to cuts to Medicare and Social Security and defunding the police," Mr. Schumer said in a statement.
The antagonistic talk has done little to cool House Republicans' eagerness to mix it up on favored issues.
• Rep. Pat Fallon of Texas has filed articles of impeachment against Homeland Security Secretary Alejandro Mayorkas.
• Rep. Brian Babin, another Texan, proposed barring colleges and universities from obtaining federal money unless they adopt policies banning the use of TikTok, the social media app associated with China.
• Yet another Texan, Rep. Jodey Arrington, filed a bill to increase penalties for rioting. He named it after David Dorn, a retired police captain who was murdered while trying to stop looting in St. Louis following the death of George Floyd in 2020.
• Rep. Bob Good, Virginia Republican, filed legislation to fund border wall construction, fulfilling former President Donald Trump's signature vision — and challenging Mr. Biden, who has refused to spend wall money Congress already allocated.
•d The chairs of the Oversight, Judiciary and Energy and Commerce committees introduced a bill to block administration officials from using their positions to pressure tech companies to censor users.
Rep. Andy Biggs, Arizona Republican, has been particularly active, single-handedly filing 59 bills in the first week of legislative business.
Among them are measures to rein in coronavirus mandates, push for stiffer immigration law enforcement, abolish the Occupational Safety and Health Administration or OSHA and withdraw the U.S. from the World Health Organization.
Rep. Jeff Duncan of South Carolina was the second most-active Republican with 10 bills ranging from prohibiting the closure of the terrorist detention facility at Guantanamo Bay to forcing Major League Baseball to abide by antitrust law.
Texas Rep. Sheila Jackson Lee was the most active Democrat, filing 32 bills of Democrats' 81 bills or joint resolutions so far. Her legislation ranged from cybersecurity to hate crimes.
Judging by history, few of the bills introduced last week will make it into law as stand-alone legislation. Of House bills introduced in the first couple days of the Congress that began in 2021, nine were eventually signed. For the Congress that began in 2019, just six of the early bills made it into law.


[ad_2]

Source link