[ad_1]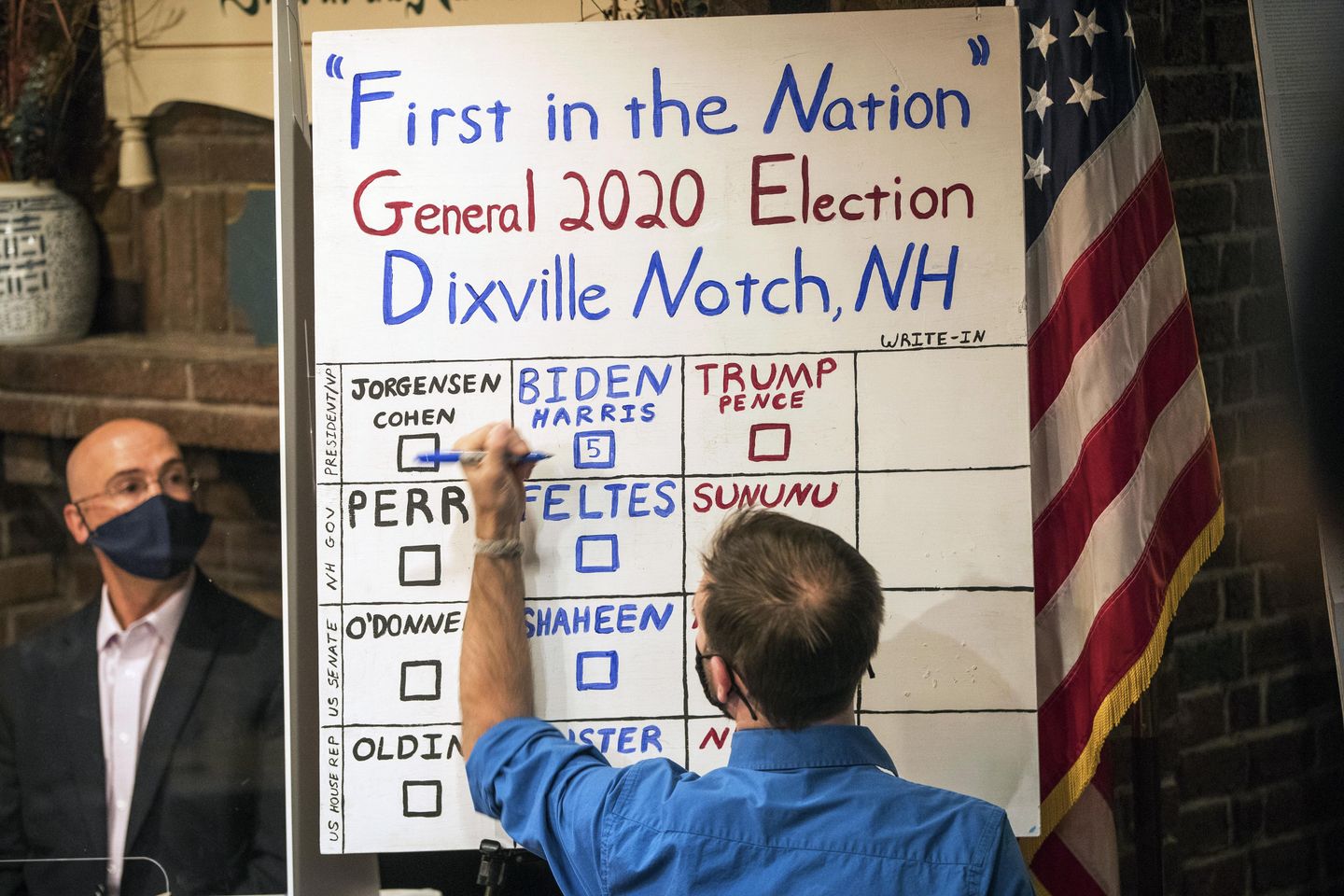 NEWS AND OPINION:
There is a kind of mystical importance associated with the phrase "first in the nation" when it is attached to the noble act of voting in a major election.
New Hampshire has long starred in this coveted role in presidential primaries, which gives the Granite State considerable media coverage, complete with charming images of Dixville Notch and its ritual of casting the first votes at the stroke of midnight and counting them shortly afterward.
New Hampshire, by the way, already has a state law that requires it to hold the first presidential primary, an honor it has held for a century. The state would have to repeal that law should the tradition go out the window in the name of change.
There are lots of complications.
"The Democratic National Committee is set to vote next month on President Biden's proposal to dramatically reshape the first weeks of the party's 2024 primary calendar. Instead of leading with the Iowa caucuses and the New Hampshire primary, presidential candidates would first face voters in South Carolina on Feb. 3, New Hampshire and Nevada on Feb. 6, Georgia on Feb. 13 and Michigan on Feb. 27," reported the Los Angeles Times in a handy synopsis published this week.
Demographics and other factors have come into play. The Democratic National Committee, for example, already made plans last year to revoke Iowa's status in favor of states which represent "diversity and a fair process."
Well, what do voters prefer? Yes, there's a poll.
"Voters are split regarding which state should hold the first presidential primary or caucus in the country: 27% support Iowa's status as first, 23% South Carolina, 23% New Hampshire, and 12% Nevada," reports an Emerson College poll released Thursday.
"Since November, Iowa's support has increased two percentage points, from 25% to 27%, South Carolina increased by five points, from 18% to 23%, New Hampshire increased by two points, from 21% to 23%, and Nevada has lost five points of support, from 17% to 12%," the analysis said.
See other details and the poll particulars in the Poll du Jour at column's end.
HERE'S WHO'S 'FREE'
The Cato Institute has just released its eighth annual "Human Freedom Index," which uses 83 distinct indicators of personal, civil, and economic freedom in 165 countries. Those indicators include the state of security, faith, relationships, size of government, civil society and much more.
The organization used available data from 2000 to 2020 for its judgment calls, and points out the toll of the coronavirus pandemic on those freedoms. So what nation enjoys the most freedom?
That would be Switzerland, followed by New Zealand, Estonia, Denmark and Ireland to round out the top five.
The U.S. is ranked 23rd on the list, Russia is in 119th place and Syria in last.
"Freedom plays an important role in human well-being, and they offer opportunities for further research into the complex ways in which freedom influences, and can be influenced by, political regimes, economic development, and the whole range of indicators of human well-being," the index advises.
At 433 pages, it is a serious read and a weighty informational resource.
The Cato Institute is "a public policy research foundation dedicated to broadening the parameters of public policy debate to allow consideration of more options that are consistent with the principles of limited government, individual liberty, and peace," according to the organization itself.
Find them at Cato.org. The index was co-published with the Fraser Institute, an independent research and educational organization based in Canada.
ONE FOR SMALL BUSINESS
A big buyer is looking out for small suppliers. The Defense Department has released its official Small Business Strategy — which clearly promotes a "strong, dynamic, and robust small business industrial base by focusing on reducing barriers to entry."
Yay.
"From manufacturers providing the critical parts that we need for our arsenal — to technology companies developing innovative systems and capabilities – small businesses are vital along the entire spectrum of the Department's needs," said Deputy Defense Secretary Kathleen Hicks in a written statement shared with Inside the Beltway.
"Reducing barriers and creating more opportunities for small businesses will allow us to expand, innovate, and diversify, increasing our warfighter advantage, strengthening our supply chains, increasing competition in our marketplace, and growing our economy here at home," she said.
"Supporting small businesses is not just about meeting a goal or checking a box; it's about building advantages for our warfighters. All of American industry, especially our innovative small businesses, has a role in developing, delivering, and sustaining the critical capabilities that are required to further implement the National Defense Strategy," noted William LaPlante, undersecretary of defense for acquisition and sustainment, also in a statement.
Curious about all this — or know someone who is? Find a "Guide to Marketing to DoD" and lots more at Business.defense.gov.
WEEKEND REAL ESTATE
For sale: Classic log cabin in the woods, built in 1984 on two acres near Ellijay, Georgia. Features spectacular unobstructed views and a wrap-around deck. One bedroom, one bath, living room, loft. Updated throughout; new chef's kitchen, appliances, heat and air system, wood-burning stove with brick chimney. The cabin comes completely furnished and is part of a private gated community that boasts two lakes. "This tiny home may be a very good prospect for AirBnB," the seller suggests. Priced at $350,000 from CabinHomes.com; enter the phrase 307 Grace in the search function.
POLL DU JOUR
• 43% of registered U.S. voters say the economy is the most important issue facing the U.S.
• 13% cite health care, 11% cite immigration issues.
• 10% cite "threats to democracy," 7% crime, 5% education.
• 4% cite abortion access, 3% housing affordability.
• 4% cite "something else."
SOURCE: An Emerson College poll of 1,015 registered U.S. voters conducted Jan. 1-21.
• Follow Jennifer Harper on Twitter @HarperBulletin.


[ad_2]

Source link