[ad_1]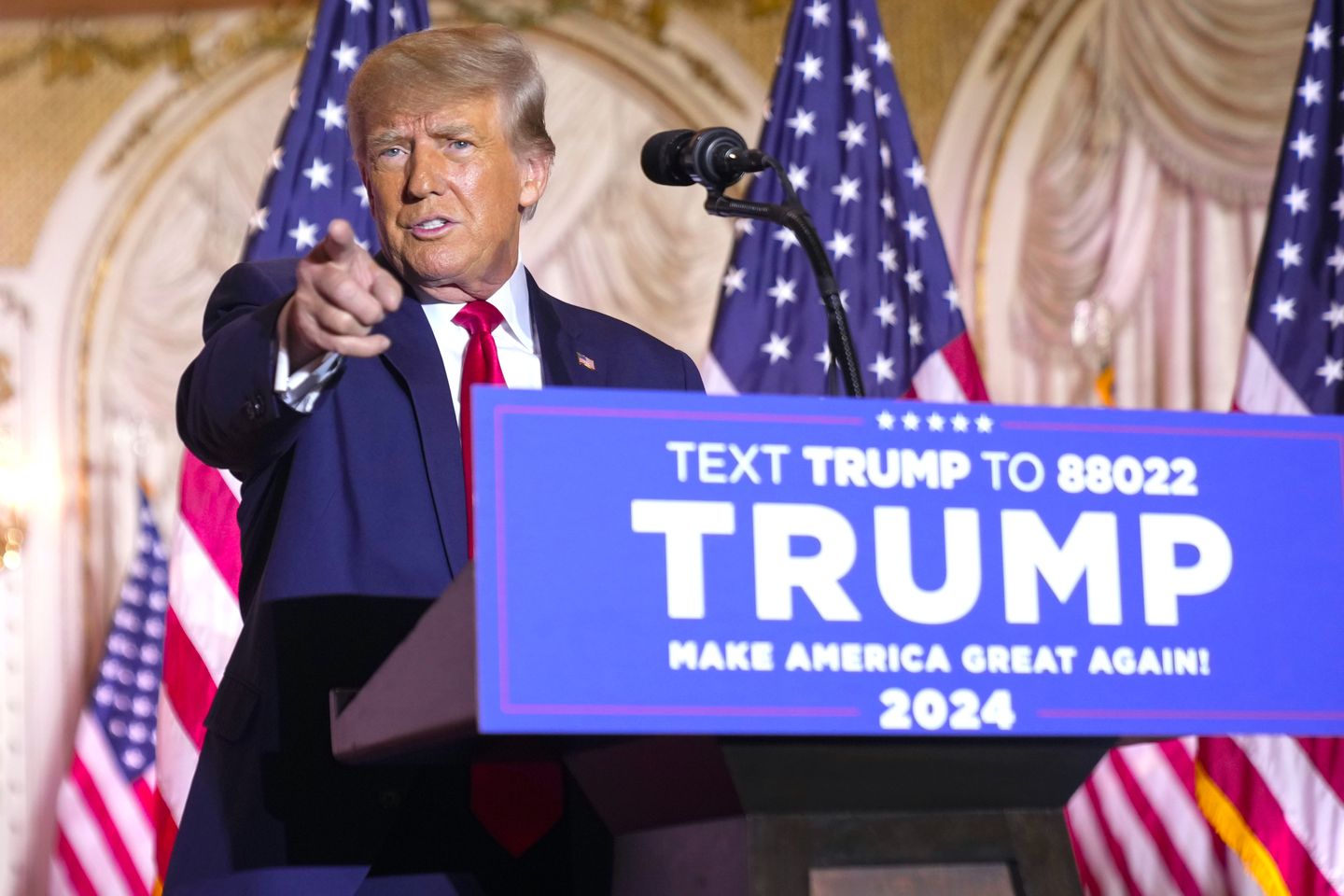 NEWS AND OPINION:
Here's something for fans of former President Donald Trump to mull over.
A wide-ranging new poll released Tuesday by The Bulwark reveals that 52% of Republican voters think that the 2020 presidential election was "stolen from Trump" while 24% said that then-candidate Joseph R. Biden won "fair and square" and 24% were not sure about the issue.
The news and opinion website also revealed that a notable 26% said they considered themselves to be a supporter of Mr. Trump rather than the Republican Party.
It also found that 56% of the respondents said they would vote for Florida Gov. Ron DeSantis when the 2024 presidential election finally rolls around; 28% would opt for Mr. Trump, 9% are undecided, 5% would pick President Biden and 1% would sit the election out and not vote.
There's a loyalty quotient afoot, however.
"The 28% of Republican primary voters who are locked in for Trump would support him even if he ran as an independent against the Republican and Democratic nominees in a general election," noted an analysis of the findings.
It gets even more complicated.
"Voters who support Trump more than the GOP overwhelmingly stick with him as an independent candidate, with 69% supporting Trump and 24% supporting DeSantis. In this scenario, 2024 would be a replay of the 1912 presidential election, with former Republican President Teddy Roosevelt running as the Bull Moose Party candidate against Republican nominee William Howard Taft and Democratic nominee Woodrow Wilson, splitting the Republican vote and ensuring that the Democrat Wilson would win the election," the analysis advised.
"Trump continues to maintain significant leverage with a devoted base that doesn't look like it's abandoning him any time soon. If Republicans don't start actively working to chip away at this 'Always Trump' faction in the GOP, the dynamics that led to Trump's election in 2016 could repeat," said Sarah Lowell, publisher of The Bulwark, in a written statement.
The Bulwark is described as a "center right" — find them at TheBulwark.com.
And find more numbers and the poll particulars in the Poll du Jour at column's end.
GASIFIED
Here we go again?
"For the fifth straight week, the nation's average gas price has increased, climbing 9.7 cents from a week ago to $3.49 per gallon on Monday," according to GasBuddy.com data compiled from more than 11 million current price reports from over 150,000 gas stations across the country.
"The national average is up 33.3 cents from a month ago and 14.1 cents per gallon higher than a year ago. The national average price of diesel has risen 5.4 cents in the last week and stands at $4.65 per gallon," the very active industry source reports.
The state of Washington has the highest price per gallon, by the way, weighing in at $3.98.
Retailers are passing along higher prices due to "continued challenges" that include refinery utilization that still hasn't fully recovered from December's cold weather, and an upcoming refinery maintenance season, according to Patrick De Haan, head of petroleum analysis at GasBuddy.
"There appears to be little good news on the gas price front, with prices unlikely to turn around any time soon," he noted in a statement.
And in case you wondered:
The states with the lowest average prices are Texas ($3.09), Oklahoma ($3.13) and Arkansas($3.15). The states with the highest average prices are Hawaii ($4.88), California ($4.48) and Washington ($4.03).
FOXIFIED
Fox News Channel finished out the month of January by surpassing both CNN and MSNBC  — airing 99 of the top 100 cable news telecasts for the entire month, according to Nielsen Media Research. Yes, you read that right — 99 out of the top 100.
This marks the network's 23rd month as top dog in the cable news realm.
And the numbers: Fox News enjoyed an average of 2 million primetime viewers throughout the month, compared to MSNBC with 1.1 million viewers and CNN with 629,000. The standout program is "The Five" with a consistent audience of 3.4 million, and now marking its 10th consecutive month as the most-watched program in cable news.
"Tucker Carlson Tonight" was in second place with 3.2 million viewers.
According to Nielsen MRI-Simmons Fusion, an industry source, Fox News also remained the most-watched network across the political spectrum with more independents and Democrats choosing Fox News as their preferred network than MSNBC and CNN throughout the day, and among primetime viewers as well.
Fox News was also the top choice in cable news for Asian daytime viewers, and for Hispanic viewers in the primetime hours.
On weekends, "Sunday Morning Futures with Maria Bartiromo" earned the top-rated spot across the board for the entire weekend, with an audience of 1.7 million viewers during the month. That is in contrast to CNN's "Who's Talking to Chris Wallace?" which averaged 365,000 viewers.
NUMBER 1,574
A round of applause, please, for the iconic Boeing 747, which has had a distinguished history since its first test flight on Feb. 9, 1969.
Since then, the "Queen of the Skies"  has logged 118 million flight hours — this according to Boeing.
But alas, there had to be a last one.
Boeing marked the delivery of the final 747 on Tuesday. The 747-8 Freighter — the 1,574th manufactured during 55 years of production —  went to Atlas Air, the company said. Fans of the 747 can see a video of the farewell in the aftermath of the ceremony at Boeing.com.
POLL DU JOUR
• 48% of Republican voters say they are "somewhat satisfied" with the current direction of the Republican Party.
• 26% say they are "somewhat dissatisfied" with the direction of the party.
• 11% say they are "very dissatisfied."
• 10% say they are "very satisfied."
• 5% are undecided about the issue.
Source: A Bulwark/North Star Opinion Research poll of 1000 likely Republican primary and caucus voters conducted January 16-21.
• Follow Jennifer Harper on Twitter @HarperBulletin.


[ad_2]

Source link