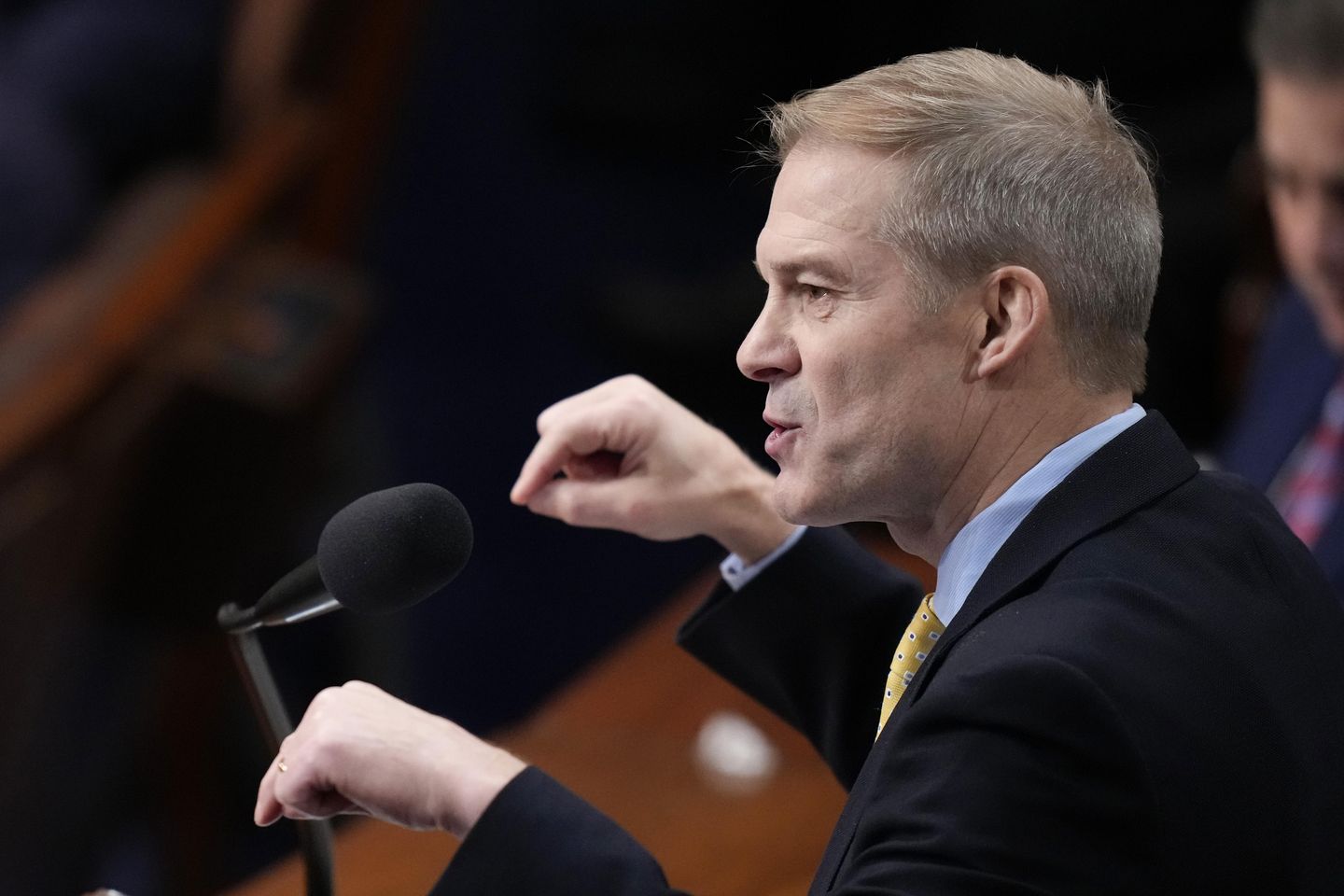 The chairman of the House Judiciary Committee warned Biden administration officials Tuesay against continuing to stonewall Republicans' requests as the panel moves forward with its expansive agenda of hearings and investigations. 
In a series of letters on Tuesday to top officials, Rep. Jim Jordan of Ohio warned that Republicans, now in the majority, are prepared to use subpoena powers to demand answers from the administration.
The letters went to White House Chief of Staff Ron Klain; Attorney General Merrick Garland; FBI Director Christopher Wray; Department of Homeland Security Secretary Alejandro Mayorkas; Secretary of Education Miguel Cardona; Bureau of Alcohol, Tobacco, Firearms and Explosives Director Steven Dettelbach, and Drug Enforcement Administration Administrator Anne Milgram.
"For two years, the Biden administration has stonewalled Congress, refused to comply with basic document requests, and avoided transparency and accountability for its failures," Mr. Jordan said. "House Judiciary Republicans are committed to holding each agency accountable under the new majority and will use compulsory process, if necessary, to get answers for the American people."
Republicans on the Judiciary Committee have peppered key administration officials with a list of demands for documents and testimony as lawmakers lay the groundwork for a series of probes.
The committee aims to hone in on the Justice Department's monitoring of parents at school board meetings, the FBI search of former President Donald Trump's Mar-a-Lago estate in Florida, the FBI's alleged inflation of the domestic violent extremist threat and its alleged abuse of Foreign Intelligence Surveillance Act warrants.
Mr. Jordan also has previewed his intent to examine President Biden's involvement in his son Hunter Biden's business dealings, in tandem with the House Oversight Committee's investigation into the matter.
Republicans on several other panels have submitted document preservation requests in recent months, laying the groundwork for the looming probes.
The White House has erected roadblocks against the flood of Republican-led oversight requests, telling Mr. Jordan and Rep. James Comer, the incoming Republican Chairman of the House Oversight Committee from Ohio, that they would have to refile their demands once the GOP officially took the House this month.
White House lawyer Richard Sauber said the two lawmakers lacked the authority to demand materials from the administration until the new Congress begins.
"Congress has not delegated [oversight] authority to individual members of Congress who are not committee chairmen, and the House has not done so under its current rules," Mr. Sauber wrote in letters to the two incoming chairmen.
On Tuesday, Mr. Jordan called the letter an attempt to excuse the administration's years of noncompliance with previous Republican requests.
"Setting aside the constitutional and legal fallacies inherent in the White House's argument, nothing in federal law prevented the White House from voluntarily complying with our requests," he wrote.
"The administration's stonewalling must stop," he wrote.