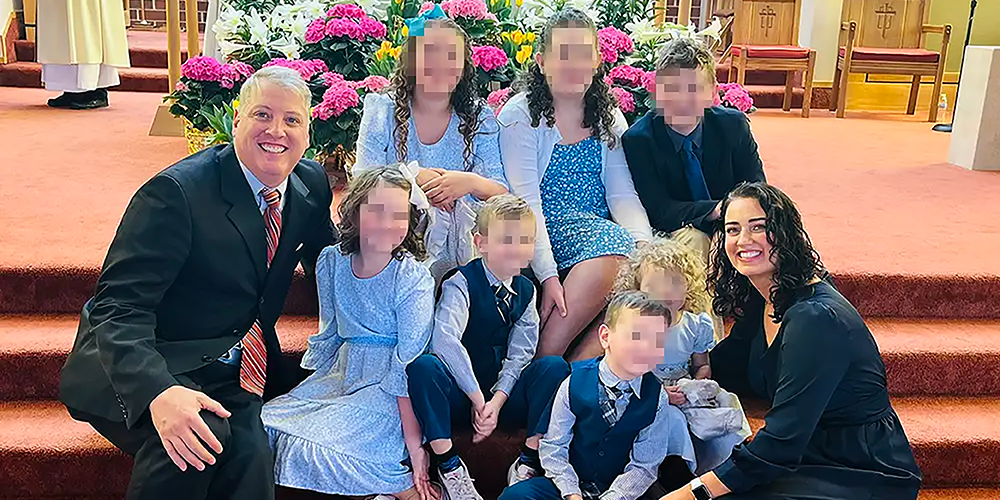 Attorney General Merrick Garland's crackdown on pro-life protesters will encounter its first federal courtroom test starting Tuesday in Philadelphia with the trial of Mark Houck.
The father of seven was arrested in an FBI dawn raid at his home in Pennsylvania last year and charged with violating the Freedom of Access to Clinic Entrances [FACE] Act. Federal authorities brought the charges even though local prosecutors had previously declined to pursue the case and a judge threw out a civil lawsuit.
Now Mr. Houck, 49, faces up to 11 years in prison as the Justice Department steps up federal protections of abortion clinics, filing charges last year against nearly 30 pro-life activists and fueling allegations of selective prosecution and viewpoint discrimination in the wake of Roe v. Wade.
"The Biden Department of Justice's prosecution of Mark Houck is pure harassment, meant solely to intimidate our nation's pro-life sidewalk counselors who provide vital resources to help pregnant women at risk for abortion," said Peter Breen, Thomas More Society executive vice president and head of litigation, who represents Mr. Houck.
Certainly the political angle is expected to loom large at the trial scheduled to run Tuesday through Friday in U.S. District Court for the Eastern District of Pennsylvania.
Mr. Houck, president of the Catholic nonprofit group the King's Men, has pleaded not guilty to two counts of violating the FACE Act for allegedly shoving volunteer escort Bruce Love twice on Oct. 13, 2021, outside a Planned Parenthood in Philadelphia.
---
SEE ALSO: Kamala Harris blasted for omitting 'life' part of Declaration of Independence during abortion speech
---
Defense attorneys countered that Mr. Love initiated the two confrontations by accosting Mr. Houck and his then-12-year-old son when they were 50 and 100 feet from the clinic, prompting Mr. Houck to tell him to "stay away from my son" and allegedly shove the man to the ground.
The FACE Act prohibits anyone from injuring, intimidating or interfering with a "provider of reproductive health care," but attorneys for Mr. Houck argued in a motion last week that a volunteer clinic escort such as Mr. Love doesn't meet the definition.
The defense produced a transcript of a 1993 Senate exchange in which the bill's sponsor, Sen. Ted Kennedy, Massachusetts Democrat, said there was a limit on who was covered by the proposed legislation.
"Demonstrators, clinic defenders, escorts, and other persons not involved in obtaining or providing services in the facility may not bring such a cause of action," Mr. Kennedy said, as reprinted in a court motion filed Friday.
His statement demonstrated that the legislative intent "was never intended to cover disputes between advocates on the public sidewalks outside of our nation's abortion clinics," Mr. Breen said.
"This new evidence shows clearly that Congress intended to limit the FACE Act to patients and staff working in the clinic, and not to take sides between pro-life and pro-choice counselors and escorts on the sidewalk," he said.
The motion objected to the government's proposed jury instructions, which say that a "provider of reproductive health services includes any staff member or volunteer escort who is an integral part of a business where reproductive health services are provided," including Mr. Love.
1 day until the trial of the Biden admin prosecution of Mark Houck, Pro-Life Hero. The Thomas More Society attorneys are representing the pro-life Dad dubbed "Hero of the Year" by life advocates. View more about the FBI raid. >> https://t.co/4S7xmGK4eL pic.twitter.com/ElmE7BxUQi


— @ThomasMoreSoc (@ThomasMoreSoc) January 23, 2023
The case became a national rallying cry for the pro-life movement after Mr. Houck was arrested Sept. 23 at home in front of his wife and children in rural Bucks County, prompting his defenders to accuse the Justice Department of overkill.
Months earlier, Mr. Houck offered through his attorney to turn himself in after receiving a Justice Department target letter in April.
The FBI later defended the arrest, saying there was no SWAT team and that the bureau used "the personnel and tactics deemed necessary to effect a safe arrest or search."
U.S. Attorney Jacqueline C. Romero said in a statement that "[a]ssault is always a serious offense, and under the FACE Act, if the victim is targeted because of their association with a reproductive healthcare clinic, it is a federal crime."
The penalties are severe. If convicted, Mr. Houck could receive a maximum possible sentence of 11 years in prison, three years of supervised release, and fines of up to $350,000.
At least 25 other pro-life activists have been arrested on FACE Act violations, most of those from incidents in 2020 or 2021.
They include 11 people charged in October with the March 2021 protest at the Mount Juliet Reproductive Health Clinic in Tennessee, which the Justice Department called a "blockade" that prevented a client and an employee from entering.
The FACE Act also prohibits attacks on crisis pregnancy centers. But the Justice Department has announced no arrests in the 78 attacks on pro-life facilities and offices since May 2, the date of the leak of the Supreme Court's draft opinion in Dobbs v. Jackson, which overturned Roe.
Those attacks include at least three firebombings causing hundreds of thousands of dollars in damage in Colorado, New York and Oregon. Left behind was pro-Roe graffiti and references to Jane's Revenge, a radical pro-choice group.
Associate Attorney General Vanita Gupta heightened concerns about a prosecutorial double standard with her speech last month marking the civil rights division's 65th anniversary, which decried the threat to abortion clinics but not pro-life centers.
"Earlier this year, in Dobbs v. Jackson Women's Health Organization, the Supreme Court dealt a devastating blow to women throughout the country, taking away the constitutional right to abortion and increasing the urgency of our work, including enforcement of the FACE Act, to ensure continued lawful access to reproductive services," said Ms. Gupta.
FBI Director Christopher Wray told a Senate committee in November that about 70% of abortion-related violence under investigation was directed at pro-life groups, and insisted that the bureau was treating both sides evenhandedly.
"I don't care if you're motivated by pro-life or pro-choice views," Mr. Wray said at the hearing. "You don't get to use violence to express it."
Last week, the FBI announced a $25,000 reward for information leading to the arrest and conviction of perpetrators after an assailant threw a Molotov cocktail into a Planned Parenthood facility in Peoria, Illinois.
CatholicVote president Brian Burch said he doubted it was a coincidence.
"After over 300 combined attacks on Catholic churches and pregnancy resource centers, it only took a single attack on an abortion facility for the DOJ to issue a press release," Mr. Burch said. "It certainly won't compensate for the millions of dollars in damage and widespread fear caused by the criminal activity that has been overtly ignored."
Presiding over the Houck trial is U.S. District Court Judge Gerald J. Pappert, an Obama appointee. Jury selection is scheduled for Tuesday.