[ad_1]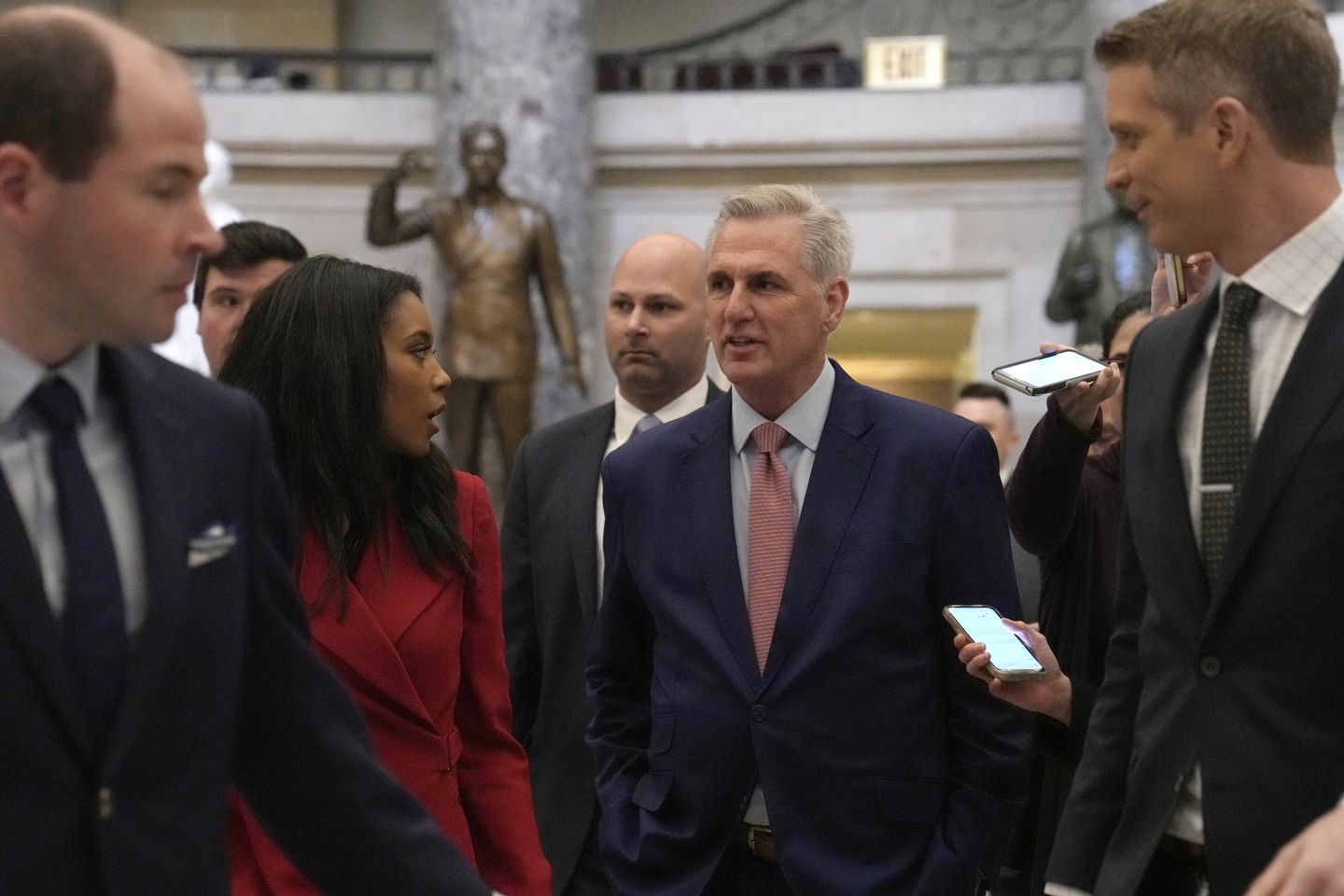 House Republican Leader Kevin McCarthy's chances for the speaker's gavel are slowly diminishing, as the rightwing faction of his party ebbs away its support.
Mr. McCarthy has faced a public challenge from five vocal Republicans opposing him as speaker for months, but dozens have come out against the California Republican when casting their ballots for the top spot.
A senior GOP aide also said there could potentially be more defectors as lobbying efforts heighten today.
"When members get back to their offices now, they will find a long list of voters calling them saying 'don't vote for McCarthy,'" the aide said.
So, who exactly are the defectors prompting Congress to go into a marathon round of balloting?
The 'Never Kevin' five
Mr. McCarthy always faced a challenge from five members of the rightwing House Freedom Caucus, who have opposed the leader whom they claim to be too establishment to hold true to a conservative agenda.
The midterm results that fell short of a promised "red wave" also prompted the members to view Mr. McCarthy as further undeserving of the gavel, despite long expectations that he would likely rise to lead the party.
They are Reps. Andy Biggs of Arizona, Ralph Norman of South Carolina, Matt Rosendale of Montana, Matt Gaetz of Florida, and Bob Good of Virginia.
Mr. Gaetz nominated Rep. Jim Jordan of Ohio for speaker on Tuesday, calling him the "most talented, hardest working member of the Republican conference."
"I'm not voting for Kevin McCarthy for Speaker because he's just a shill of the Establishment," Mr. Gaetz told The Daily Caller.
Mr. Biggs launched his own bid for speaker and got 10 votes, including his own.
One of Mr. Biggs's frustration points has been Mr. McCarthy's soft approach to impeaching Biden administration officials.
The Arizona Republican was the first to file articles of impeachment against Homeland Security Secretary Alejandro Mayorkas, and made a documentary last year heightening that point.
Other defectors
Rep. Lauren Boebert of Colorado came out Tuesday against Mr. McCarthy, after having not committed herself in the previous weeks.
Mrs. Boebert called for concessions on House rules changes, including efforts to make it easier to oust a speaker.
Rep. Chip Roy of Texas, a key budget hawk and conservative stalwart, has also been a vocal critic of Mr. McCarthy, distrusting that he would secure a balanced budget or hold Democrats accountable.
Mr. Roy voted for Florida Rep. Byron Donalds on the first ballot, and switched to Mr. Jordan for the second and third. He nominated Mr. Jordan for the third round of voting.
Rep. Andy Harris of Maryland also came out against Mr. McCarthy on Tuesday, voting first for former Rep. Lee Zeldin of New York and then twice for Mr. Jordan.
Rep. Mary Miller of Illinois, who beat out moderate Republican Rep. Rodney Davis in last year's primary, voted three times for Mr. Jordan. She is a member of the Freedom Caucus.
Rep. Paul Gosar of Arizona, as well as Rep. Scott Perry of Pennsylvania, who chairs the Freedom Caucus, also detracted from Mr. McCarthy.
Mr. Gosar nominated Mr. Biggs on the first ballot, and later twice voted for Mr. Jordan. Mr. Perry, as well as Rep. Andrew Clyde of Georgia, voted for Mr. Biggs then Mr. Jordan on the second and third ballots.
Rep. Michael Cloud of Texas cast his ballot for Mr. Jordan three times.
New members opposing McCarthy
A handful of newly elected representatives also went against Mr. McCarthy on Tuesday, further diminishing his chances for speaker.
Mr. McCarthy has sought to foster loyalty among incoming members for his bid for speaker, but several came out for Mr. Jordan when faced with the option.
New members who came out against Mr. McCarthy are: Reps.-elect Andrew Ogles of Tennessee, Anna Paulina Luna of Florida, Eli Crane of Arizona, Keith Self of Texas, and Josh Brecheen of Oklahoma.
Mr. Brecheen initially voted for Rep. Jim Banks of Indiana before changing his vote to Mr. Jordan twice.
The switch
Mr. Donalds, who was nominated himself for speaker by Mr. Roy, ended his support for Mr. McCarthy on the third ballot.
Mr. Donalds voted twice for Mr. McCarthy before casting his ballot for Mr. Jordan on the third ballot.
"The reality is Rep. Kevin McCarthy doesn't have the votes. I committed my support for him publicly and for two votes on the House Floor. 218 is the number, and currently, no one is there. Our conference needs to recess and huddle and find someone or work out the next steps," Mr. Donalds tweeted after his decision.
McCarthy allies
Despite losing key blocs of support, Mr. McCarthy has cultivated influential allies among the GOP conference, including Mr. Jordan, who nominated him for the second ballot.
Mr. Jordan has declined his interest in the position of speaker, setting his sights instead on the House Judiciary Committee chairmanship.
In an interview Tuesday evening on Fox News, Mrs. Boebert said Mr. Jordan will drop his objections eventually for the sake of party unity.
"George Washington did not want to become president" either, she told host Bret Baier. "If we have the numbers, then sorry Jim Jordan. We're going to make you do what's right for the country. We love you."
Majority Leader Steve Scalise of Louisiana, who could be a possible consensus candidate, has also backed Mr. McCarthy.
Mr. Scalise nominated Mr. McCarthy for the third ballot.
Conservative firebrand Marjorie Taylor Greene of Georgia has also been a prominent McCarthy supporter, despite many of her allies defecting.
Ms. Greene casted her vote three times for Mr. McCarthy and had several exchanges on the House floor with anti-McCarthy colleagues.


[ad_2]

Source link