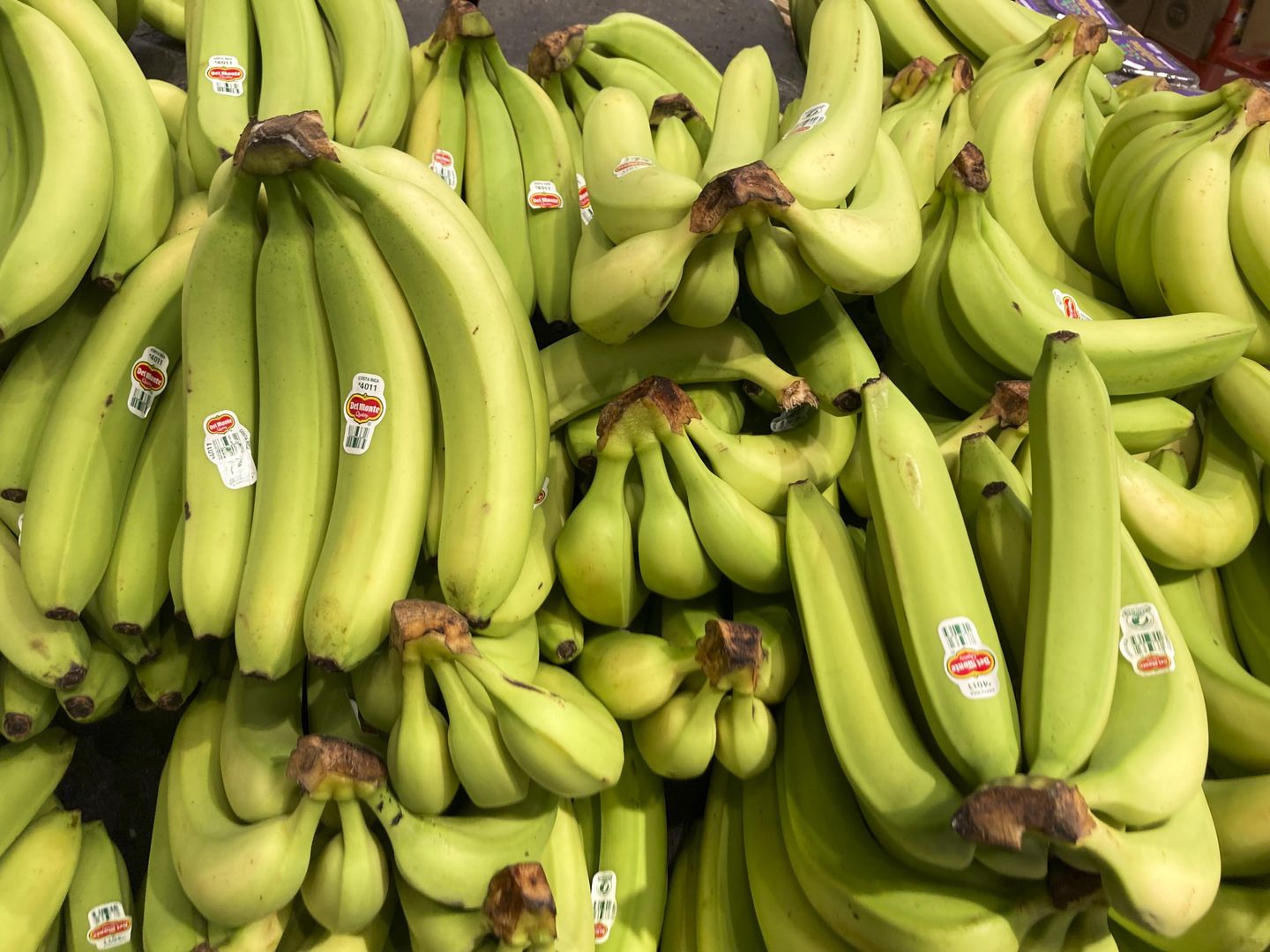 If you think the rising cost of a trip to the grocery store is bananas, you might want to think about, well, some bananas.
In an era when food bills are still skyrocketing — chicken prices jumped 17%, dairy costs were up 16% and eggs were up almost 40% during the 12 months ending in November — bananas have offered consumers a relative relief from inflationary pain.
The average price of a pound of bananas was 63 cents in November — up a penny over the previous year, according to the latest data from the Bureau of Labor Statistics. That's an increase of 1.6%.
Economists say the elongated fruit has survived extreme weather, global supply crises and the Ukraine-Russia war to become the "inflation superfood" of the pandemic era. And Latin American countries are exporting as many to the United States as ever.
"Banana demand skyrocketed due to increased consumption of fruits and vegetables during the pandemic, but now that demand has subsided," said Michael Austin, a former chief economic adviser to two Kansas governors and economist at the National Center for Public Policy Research's Project 21. "Instead of reducing supply, the Latin American governments are upset and calling for higher prices for their banana exports."
"It all depends upon supply and demand," Walter Block, an economist at Loyola University New Orleans, said in an email. "If banana prices are low, it is because supply has increased, demand has decreased, or both."
According to market data platform Statista, the U.S. imported about 10.2 billion pounds of bananas in 2020 and the same amount in 2021. That was down just slightly from 10.3 billion pounds in 2019.
Most imported bananas come from Guatemala, Costa Rica and Ecuador, said Ricky Volpe, an agricultural economist at California Polytechnic State University.
"These places haven't been affected by severe weather to the same extent as other growing regions in the world," Mr. Volpe said in an email. "Stable supply typically means stable prices, and the inflation we've seen for bananas has mostly been due to higher transportation costs."
The Latin America-based banana industry has been largely immune to any significant impact from either the conflict in Ukraine or the strict COVID-19 lockdowns in communist China, Mr. Volpe noted.
Other foods have not been so lucky.
Russia's invasion of Ukraine, a major grain exporter, has limited the global supply and raised the cost of wheat flour, the primary ingredient in biscuits and other baked goods.
The U.S. Department of Agriculture estimated in November that the global supply of wheat stocks will decrease from 1,070 tons in 2021-22 to 1,058 tons in 2022-23.
Economists also expect dairy prices to keep rising since farmers paid more to buy and maintain cows last year than usual because of rising feed costs and labor shortages.
According to the USDA, milk production last January was down 1.4% from January 2021. Over the same period, the number of milking cows in the 24 leading dairy-producing states dropped by 63,000 to 8.88 million.
By comparison, the average price of bananas flatlined at $0.57 per pound for most of 2019 and 2020, with minor fluctuations of one cent.
Prices hovered closer to $0.60 in 2021, when top banana producer Fresh Del Monte started charging a bit more to offset increased production costs.
But last year, the average price of a pound of bananas rose by just 1.5% from 62.2 cents in January to 63.1 cents in November. During that same period, all food prices increased by an average 15%.
"Producers have, over about 125 years, become very good at getting large quantities of bananas from the most efficient producers to the United States at very low cost," said Peter C. Earle, an economist at the American Institute for Economic Research.
Because bananas spoil so quickly, "a substantial number of consumers wouldn't purchase them" if the price increased by 25 cents a pound, he added in an email.
"For some food retailers, bananas are sold not to earn a profit, but with the expectation of generating sales of other, more lucrative products," Mr. Earle said.