[ad_1]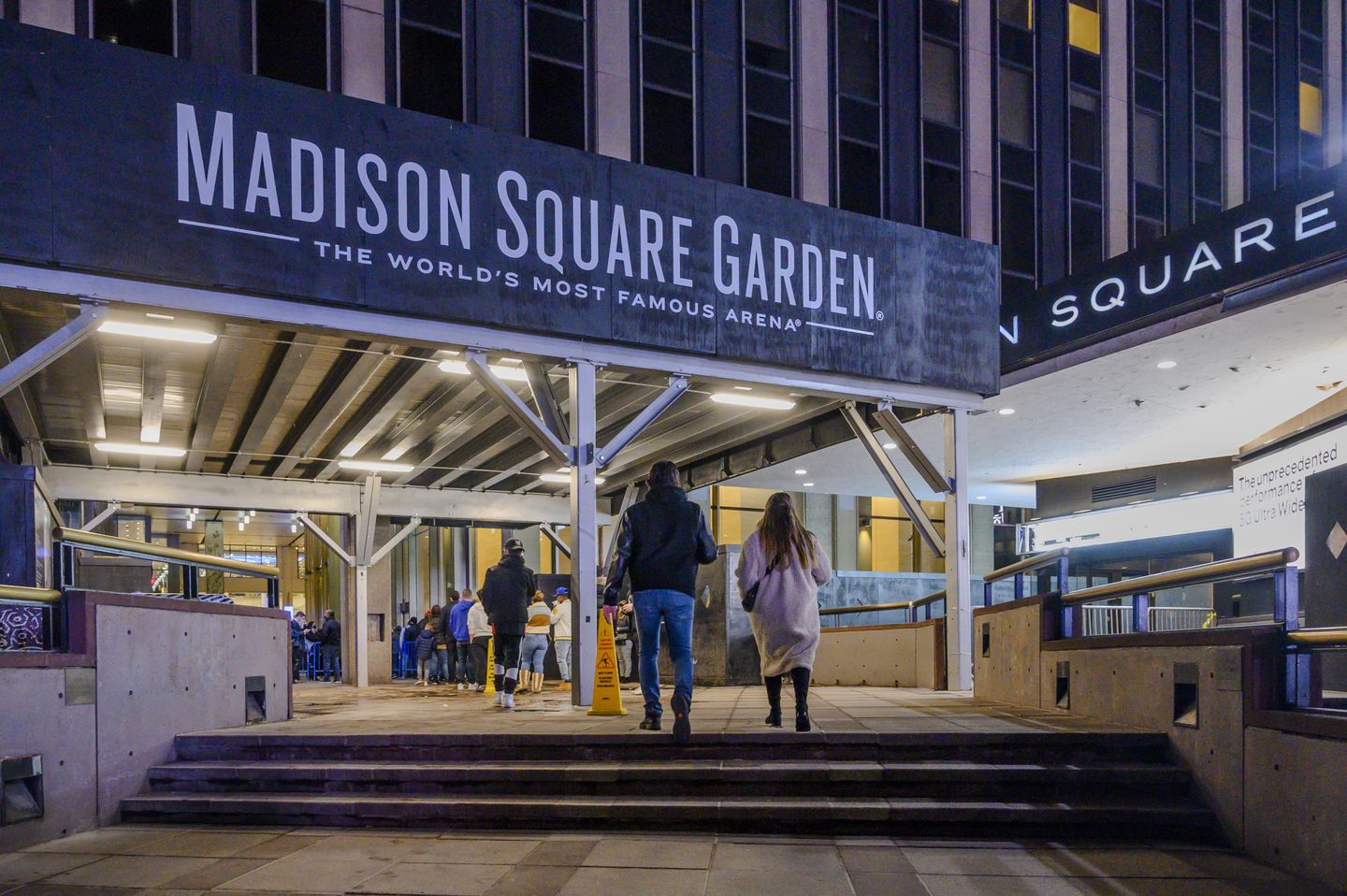 Madison Square Garden's use of facial recognition technology to bar unwanted fans has prompted an outcry from people fearing that New York is turning into the Gotham of a 2008 Batman film in which the superhero had access to a mass visual surveillance network.
The sports and entertainment landmark has acknowledged it uses facial scans to keep undesirable people away from attending events such as Knicks basketball games. Details of the facial surveillance spread after complaints from attorneys who were banned from entering because their firm had sued the company operating the venue.
State investigators are digging in, local lawmakers are hurrying new proposed restrictions on the tech, and the controversy has invigorated civil liberties advocates urging new rules to guard against privacy invasions.
Madison Square Garden Entertainment CEO James Dolan said he will not back down from using the tech to exclude fans, and he believes the political outcry is unwarranted.
"A bakery, a restaurant, you get to say who you serve for whatever reason," Mr. Dolan told Fox 5 New York on Thursday. "I don't care if they're a lawyer, whatever. You get to say who you serve."
New York Attorney General Letitia James believes Mr. Dolan's company may be violating state civil rights law as well as other federal and city laws prohibiting discrimination and retaliation.
She said in a letter to MSG Entertainment that 90 law firms employing thousands of lawyers may be affected by the ban, and she wants fans to go to the Garden without fearing retribution because of their physical appearance.
"MSG Entertainment cannot fight their legal battles in their own arenas," she said in a statement.
It's not just the attorney general — New York lawmakers proposed a new bill in January to block venues, including Madison Square Garden, from refusing admittance to perceived enemies of the sites' owners.
Civil liberties and privacy advocates are also furious. New York Civil Liberties Union senior privacy and technology strategist Daniel Schwarz said no one wants to live in a world where they feel like they're constantly being watched.
"The situation unfolding at Madison Square Garden illustrates the real consequences of the growing surveillance industry — and the urgent need for comprehensive privacy protections," Mr. Schwarz said in a statement. "Without adequate regulation, this type of biometric technology can be misused to exploit and discriminate against New Yorkers, putting our safety and privacy at risk."
Mr. Dolan told Fox 5 New York that the State Liquor Authority was also threatening his license to serve alcohol, and he was considering responding by closing sales of booze and directing people to call the government board.
"There's all kinds of politicians who are jumping into this, right? None of them for the right reasons," Mr. Dolan said.
The feud over facial recognition technology is not limited to the Big Apple, however.
Detroit has also encountered problems, according to Electronic Privacy Information Center senior counsel Jeramie D. Scott, who cited the example of a roller skating rink misidentifying a Black teenager in the Motor City area as suspicious.
The Riverside Arena in Livonia, Michigan, prohibited a teenager's entry in the summer of 2021 because the roller rink's facial scan mistakenly identified the girl as being involved in a brawl that occurred earlier in the spring, according to reports.
Robert Williams, separately, sued Detroit police after they arrested him in 2020 for shoplifting following facial recognition technology mistaking him for a Black man suspected of a crime.
Mr. Scott said the examples of facial recognition technology flaws and abuses showcase that the tools should be banned from use for general surveillance, regardless of whether it is being used by a business or the government.
"Facial recognition becoming a ubiquitous tool of the private sector and government will have a detrimental impact on our rights and … clearly have a chilling effect on people," he said.
Mr. Scott's organization EPIC has advocated for bans on facial surveillance and supported legislative proposals to limit the use of facial recognition and other biometric surveillance.
The facial recognition tools are not just used by American businesses, law enforcement and government officials.
China is the world leader among countries exporting facial recognition technology, according to a study published by the Brookings Institution in January. Researchers from Harvard, the London School of Economics and MIT found China exported facial recognition technology to nearly twice as many countries as the U.S. did between 2008 and 2021.
The production and distribution of the technology may give China new visibility into repressive regimes around the world.
"To the extent that China may be exporting its surveillance state via trade in AI, this can enhance and beget more autocracies abroad," the researchers wrote.
While New Yorkers and Americans debate the wisdom of deploying facial recognition tech, the Brookings report said autocracies and weak democracies have shown themselves to be far more likely to adopt China's facial surveillance technology. 
• This article was based in part on wire-service reports. 


[ad_2]

Source link