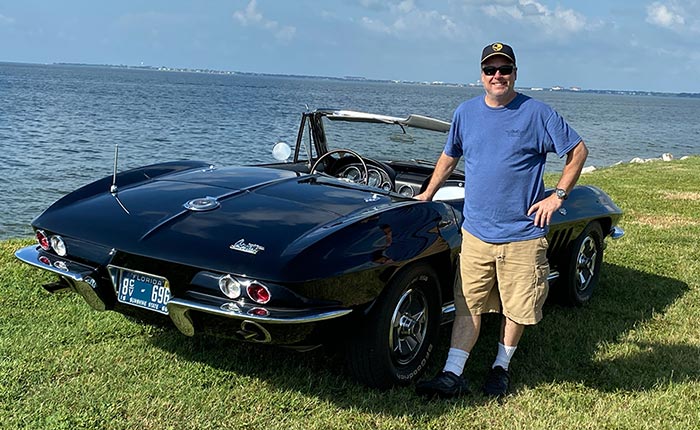 Hi, my name is Keith Cornett and I'm a Corvette owner. (Hello, Keith!)

I come before you on this day of Thanksgiving to state what I think is now obvious…I love the Chevrolet Corvette, and I am thankful to be among the ranks of its owners.

My story has been told before, and I won't go into too many details except to say that I am 54 years old, and for 56 years, there has been a 1966 Corvette parked in our garage. My father was the original owner, and after his passing, I became the caretaker of his Black and Silver convertible. Although I have now owned it longer than he got to enjoy it, it will always be my father's car, and I am thankful to be able to carry on his legacy.

My journey as a Corvette owner began in 1993 when my mother said these nine words: "You can come get it if you want it." Three weeks later, this "barn find" was on the back of a U-Haul trailer being pulled by a friend's pickup from Indiana to Florida. After a series of storage locations from my brother-in-law's carport to a friend's garage, the car was finally parked in its forever garage in 1994. Restoration started slowly with first getting the engine started after 12 years of being stored in a barn. Once that goal was met, keeping it running became the next goal. Suspension and brakes came next, and then soon after, the engine was pulled, rebuilt, and reinstalled. Paint would come later.

My employment at the time with a Tampa TV station was going badly. Thinking that I had reached the dream position that I had worked for since college, I ended up hating the job and it hated me back. But I found peace and a reinvigoration whenever I drove my Corvette, and therefore I drove it often in those early days of ownership.

In 1995, I discovered the internet and three months later, I left the TV advertising world for something else. What that was, I didn't know at the time. My first Corvette website went up in 1995 and then VetteFinders.com was created in early 1996 as a way to help enthusiasts buy and sell Corvettes. After a stint of building websites professionally for others, CorvetteBlogger was founded in 2005 as I began to pursue my passion for the cross-flags brand.

Passion for the Corvette brand helped me find my calling in life. Passion for the Corvette brand built this website into what it is today. Bringing the passion of the Corvette to the masses has become my mission in this life, and after nearly 20 years of doing this, I feel as though I am just getting started. I am thankful that I found that passion and put it to use to educate, inform, and entertain those new to our hobby as well as the old hands who have been there since the beginning.

That my first website went up when the C4s were all the rage brings a certain amount of reflection for the brand some 30 years later. With 70 years of continuous production, the Corvette has lived a lifetime itself. Starting with an uncertain future, it would find its place in the world and would gather a passionate following. Dark times have clouded its future over the years, and threats of its demise were not uncommon. Still, the peope who designed and built it persevered. Each of those dark times was followed by a period of unprecedented growth and performance unmatched by another automotive brand.

It's human nature to think the worst of things, to denigrate and tear down those things that we hold dear. Even I, as a Corvette enthusiast and an unrepentant optimist, have been guilty from time to time of giving in to negativity, though sometimes it's warranted. I've written over 8600 articles in my time here, and you can't be rah-rah all the time when things seem bleak for the car and especially when you watch the enthusiasts who fuel this hobby give up on it due to no fault of their own. I pushed my chips into the center of the table years ago and have no choice but to let it ride. Like the Corvette, we become stronger by recognizing our strengths and weaknesses, marshaling our resources, and continuing to put one foot in front of the other to work our way from the dark side and into the light. For that, I am thankful.

There is a saying I first learned about the Corvette once I started hitting the shows and meeting other owners. "Come for the car, stay for the people," because the friendships forged along the way is what is truly amazing about this hobby. Walking the shows, talking with owners, and hearing them tell their Corvette stories is very gratifying, and let me tell you, people love telling you their stories! Some of those I have met at shows have become friends, some have become close friends, and several of us have even joined together to create other entities that further the education and entertainment of Corvette enthusiasts.

I close out this post by thanking all those past and present who design and build Corvettes, the Chevrolet sales reps who work to make our Corvette dreams come true, the owners who love the car as much as we do, and all those who aspire to one day own America's Favorite Sportscar. I'm very thankful to those who come to this website every day and even those poor lost souls who have nothing good to say about the car. Give me time, and I'll turn those frowns around at some point because once you experience the joy of Corvette ownership, every other car seems lacking.

As always, I appreciate you for making it to the end of this post which will be my 8,621st published article on CorvetteBlogger. Now I'm off to eat some turkey and to be thankful for having a day to spend with family. God bless, and keep waving!