[ad_1]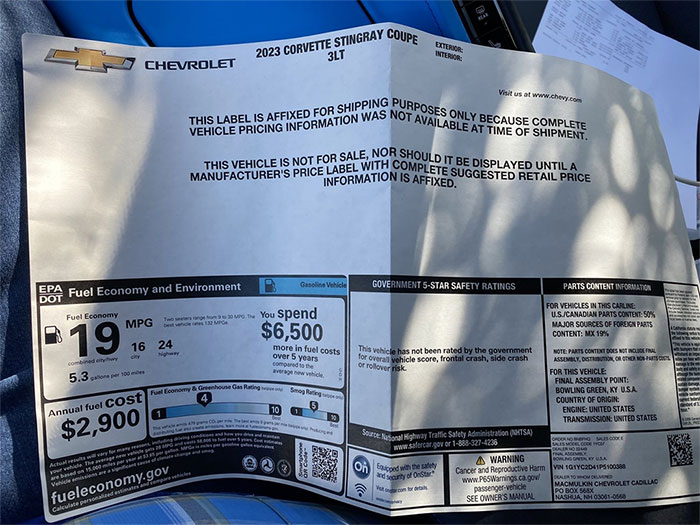 We've actually seen this situation occur a couple of times over the years where the new Corvettes were ready to be sold before GM's bean counters had finished setting the price. So for you guys new to Chevrolet, seeing is believing!

In the case of the 2023 Corvette Stingrays, the new model year started production on May 19th and those first Corvettes were shipped to dealers without the pricing being listed on the Monroney labels as required by law.

The nearly blank label was shared on the Corvette Forum by "goto35" who said "Here is the window sticker that came with my 2023. Lol. It was built the first day in the factory.
Chevy announced on Monday that it was raising the price on the 2023 Corvette Stingray with a $2300 increase across the board while also setting the pricing higher on several popular customizations that include brake calipers, seat belts and interior stitching. Chevy had previously raised the price of the 2023 Corvette Stingrays in March by $1,050 and it also tacked on an additional $100 to the make the mandatory delivery fee $1395.

The nearly-blank Monroney sticker had other forum members speaking up.

RUFAST also received a blank window sticker with his 2023 Corvette Stingray and commented "Yep, mine was built on 5/23, the first full day of 2023MY Production, and came with the same Window Sticker. I was suspicious, but my Dealer gave me the same story and said that it would show up within a few days or a couple of weeks. I'll be following up with him next week if I haven't heard from him by then.
LANZ06 spoke to the fact you don't see these every day. "That's actually kind of cool. Make sure you keep it with the car," which is always great advice for any official documents received from the factory or manufacturer.

Dohabandit had another take on the window sticker's fuel economy ratings and the higher costs that consumers are paying for fuel. "Clearly the annual fuel costs are underestimated," he said as the cost estimates are based on gas costing $3.65 per gallon.

For those of you 2023 early birds who were among the first to have their cars produced, dealers will be receiving the updated window stickers so stay in touch with them so you can get this important piece of documentation. Of course, you can also purchase copies of your window sticker at the National Corvette Museum.

Source:

Corvette Forum


Related:

Chevrolet Raises the Prices of the 2023 Corvette Stingray

Full 2023 Corvette Stingray Pricing List

2023 Corvette Stingray Prices Increase by $1,050 with the Starting Price Now $63,195


[ad_2]

Source link