[ad_1]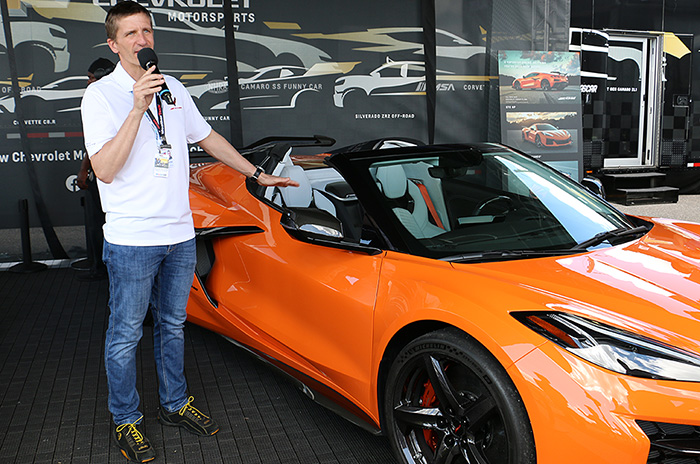 Photo Credit: Keith Cornett
The hierarchy of personnel at General Motors can be somewhat confusing in the fact that the Chevrolet Corvette actually has two chief engineers. While Tadge Juechter is the Executive Chief Engineer of the Corvette and is responsible for both current and future programs, vehicle Chief Engineer Josh Holder leads the engineering efforts on the day-to-day activities including getting the Z06 ready for production.

This week you can learn more about Josh from the man himself as he takes the guest chair on the CORVETTE TODAY Podcast.

In 2020, Corvette named a new Chief Engineer – Josh Holder. Josh is the perfect person to be Chief Engineer for America's Sports Car! Holder sits down with your CORVETTE TODAY host, Steve Garrett to talk about his upbringing in a Chevrolet family, his love for Corvette at an early age, and how being the Chief Engineer for Corvette is all he ever wanted to be!
Josh can talk all day about the new C8 Corvette, but this episode of CORVETTE TODAY allows you to get to know Josh Holder, the person-not necessarily the engineer. Josh is a Corvette guy through and through. It's an amazing American success story! You'll thoroughly enjoy this episode of CORVETTE TODAY while you get to know your Chief Engineer better!
Sign up to CORVETTE TODAY and be notified when new episodes are available. You can also check out the CORVETTE TODAY Facebook Group for discussions of the various episodes.

Got an Alexa device? Just say "Alexa, play the CORVETTE TODAY Podcast on iHeartRadio" and you'll be connected to the latest episode.

You can also "watch" the CORVETTE TODAY Podcast on YouTube.

Source:

Corvette Today Podcast


Related:

[PODCAST] Lance Miller Previews the GM Nationals and Corvettes at Carlisle on the Corvette Today Podcast" border="0″>

[PODCAST] Corvette Today Podcast Talks Paint Protection with Todd Cooperider of Esoteric

[PODCAST] The Engineers Behind the C8 Corvette Z06's LT6 V8 Engine are on the Corvette Today Podcast


[ad_2]

Source link