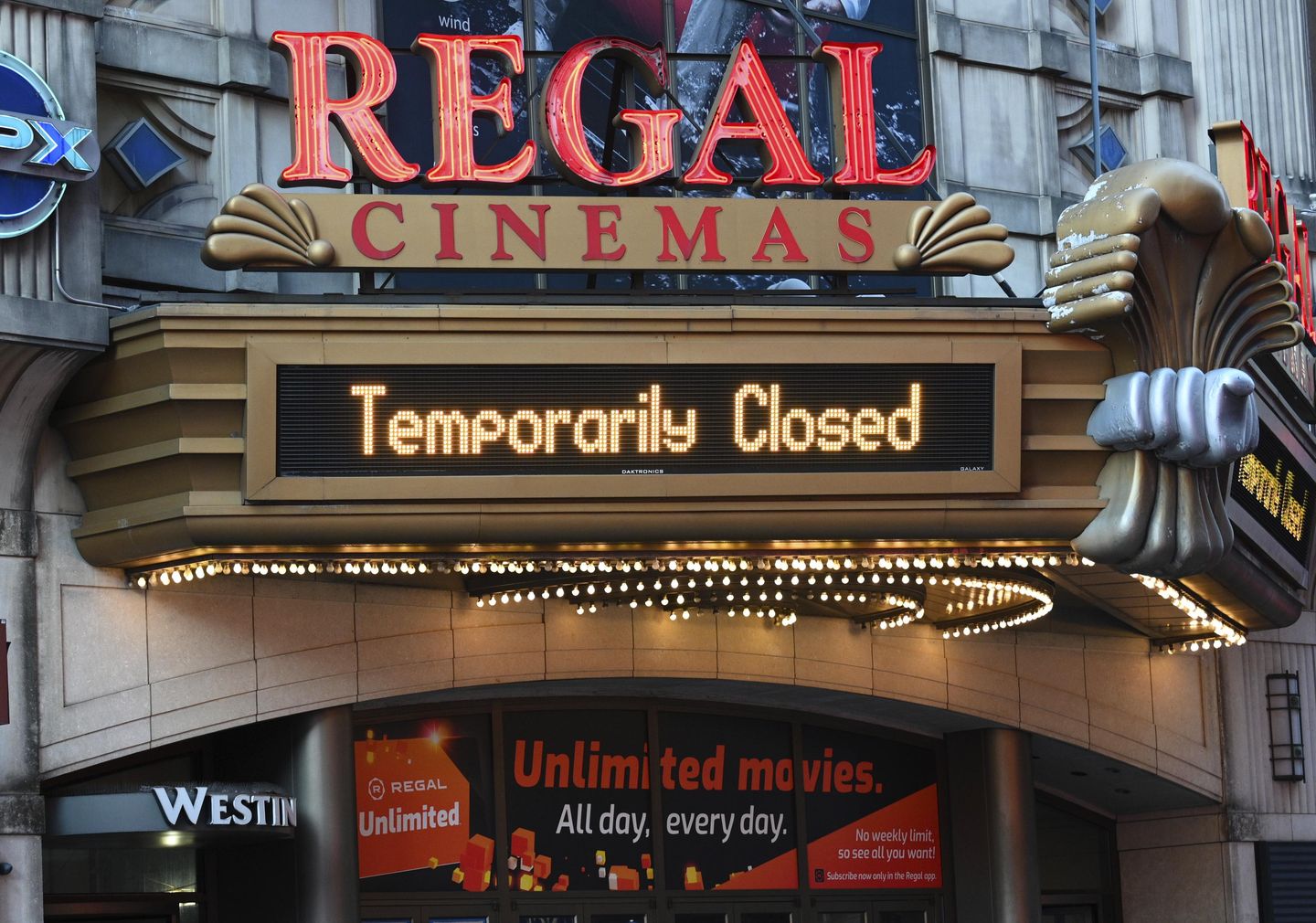 The curtain call has come for 39 theaters run by Regal Cinemas.
The outlets will close starting Feb. 15 after Regal parent company Cineworld filed for bankruptcy in September.
Cineworld was pushed into bankruptcy by the aftereffects of the COVID-19 pandemic, which halted theater traffic for months, disrupted movie production and release, and accelerated the rise of at-home streaming alternatives.
While the company was able to restructure some of its lease agreements for theaters, the bill for deferred rents came due.
"The debtors' U.S. theater portfolio is a significant contributing factor to their current financial challenges. Primarily due to the impact of deferred rent payments, the debtors estimate that the average monthly rent obligations per theater increased by almost 30% year-to-date July 2022 compared to full-year 2019," the company wrote in a Tuesday bankruptcy filing for the Southern District of Texas.
Since the original filing of bankruptcy in September, Cineworld has filed five omnibus rejections of various theater leases. Three of these have had hearings. The fourth is scheduled to be heard Monday, with the fifth being filed in court Tuesday.
Part of Cineworld's rush to reject leases comes from judicial pressure. The company has been told by Judge Marvin Isgur of the Southern District of Texas to pick up the pace.
"We are not going to stick around forever. The debtors need to be aggressive. I am not sitting here for a year, or for six months, to figure out what shops are closing. That is a process that is going to happen now," Judge Isgur said at a hearing Jan. 4, according to the entertainment news site Deadline.
As a result of the first three omnibus filings, Cineworld was able to reject 28 leases. In the fourth omnibus filing, Cineworld seeks to reject an additional 23 leases, saving it an estimated $15 million annually.
In Tuesday's fifth omnibus filing, the company seeks to reject 39 of its leases, netting an estimated $22 million in annual savings. The leases for these theaters are due to be rejected on Feb. 15.
The 39 theaters being closed, some of which operate under non-Regal names, are:
— Tikahtnu Stadium 16 Imax and RPX in Anchorage, Alaska.
— Metro Point in Costa Mesa, California.
— Berkeley 7 in Berkeley, California.
— Parkway Plaza Stadium 18 and Imax in El Cajon, California.
— Escondido Stadium 16 and Imax in Escondido, California.
— Hemet Cinema 12 in Hemet, California.
— Sherman Oaks Galleria 16 in Los Angeles.
— Yorba Linda and Imax in Yorba Linda, California.
— Meadows Stadium 12 in Littleton, Colorado.
— SouthGlenn Stadium 14 in Centennial, Colorado.
— Gallery Place Stadium 14 in the District of Columbia.
— Shadowood 16 in Boca Raton, Florida.
— South Beach Stadium 18 and Imax in Miami. 
— Keauhou Stadium 7 in Kailua-Kona, Hawaii. 
— Bolingbrook Stadium 12 in Bolingbrook, Illinois. 
— Round Lake Beach Stadium 18 in Round Lake Beach, Illinois.
— Fenway Stadium 13 and RPX in Boston.
— Bowie Stadium 14 in Bowie, Maryland.
— Rockville Center Stadium 13 in Rockville, Maryland.
— Brunswick 10 in Brunswick, Maine.
— Beaver Creek Stadium 12 in Apex, North Carolina.
— Omaha Stadium 16 in Omaha, Nebraska.
— Concord 10 in Concord, New Hampshire. 
— Hamilton Commons Stadium 14 in Landing, New Jersey.
— Pohatcong Stadium 12 in Phillipsburg, New Jersey.
— Santa Fe Stadium 14 in Santa Fe, New Mexico. 
— Village Square Stadium 18 in Las Vegas. 
— Elmwood Center 16 in Buffalo, New York. 
— Ithaca Mall Stadium 14 in Ithaca, New York. 
— Cortlandt Town Center in Mohegan Lake, New York. 
— Union Square Stadium 14 in New York City. 
— Greece Ridge Stadium 12 in Rochester, New York. 
— Transit Center Stadium 18 and Imax in Williamsville, New York.
— Montrose Movies Stadium 12 in Akron, Ohio.
— Barn Plaza Stadium 14 in Doylestown, Pennsylvania. 
— Oaks Stadium 24 in Oaks, Pennsylvania. 
— Greenbrier Stadium 13 in Chesapeake, Virginia. 
— Stonefield Stadium 14 and Imax in Charlottesville, Virginia.
— Meridian 16 in Seattle.