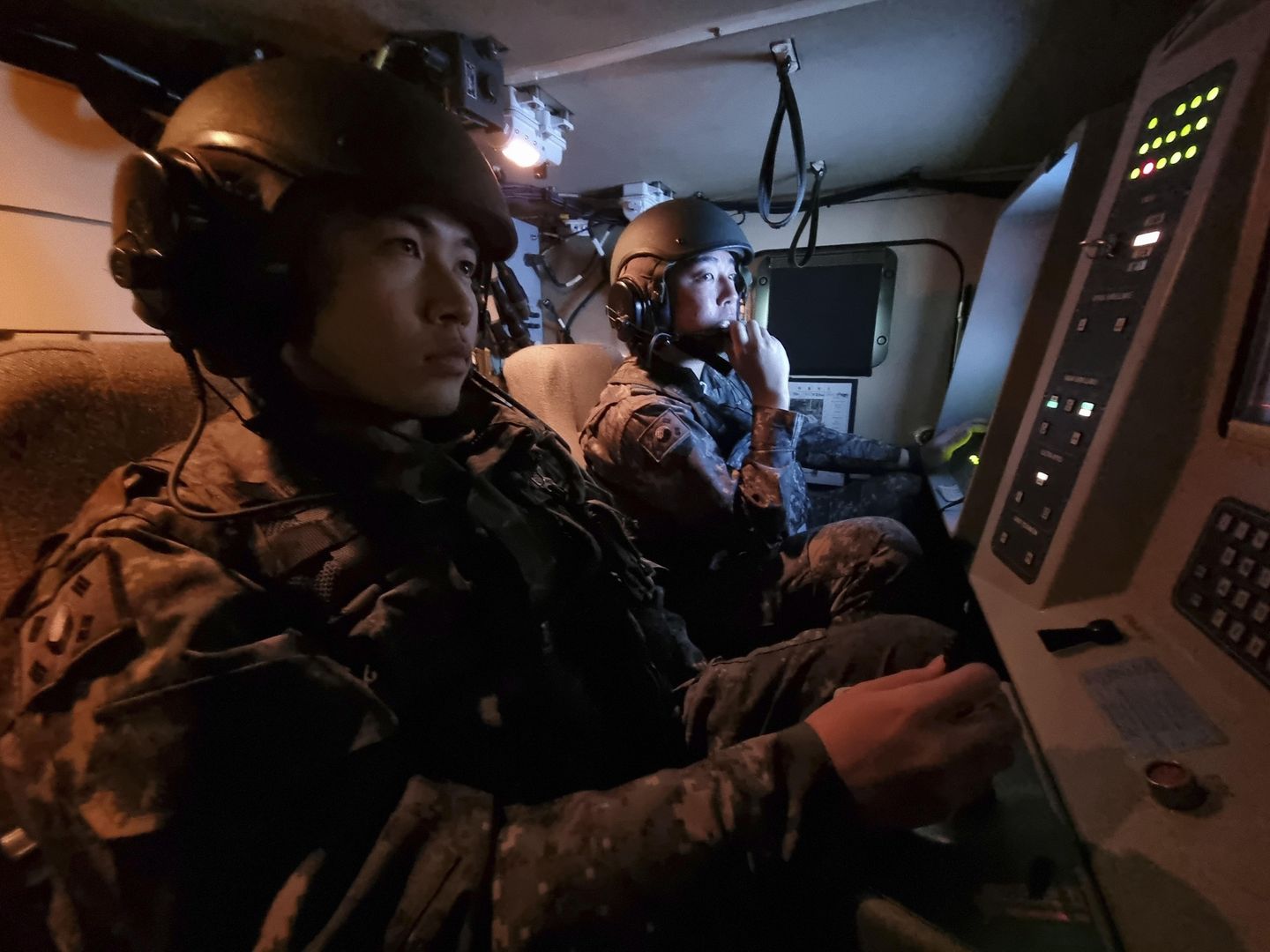 SEOUL | South Korea's president on Wednesday ordered his military to establish a Joint Command drone unit, 10 days after North Korean drones dramatically exposed the vulnerabilities of the South's skies.
But with the South committed to a counter-response of sending two or three drones north for each drone the North sends south, President Yoon Suk Yeol's move raises new questions over Seoul's compliance with the armistice that halted the 1950-53 Korean War.
Following a briefing from the Agency for Defense Development, the Joint Chiefs of Staff, the Ministry of National Defense and the presidential National Security Office, Mr. Yoon ordered Defense Minister Lee Jong-sup to establish a Joint Drone Command to oversee surveillance and reconnaissance operations.
Mr. Yoon also ordered the mass production of small drones and the accelerated development of stealth drones,  the Yonhap News Agency reported.
While units already operate drones, the new body will operate "at the strategic and operational level that is different from the existing drone battle level," the Ministry of Defense wrote in a media release. It will "carry out operations in all areas beyond the army's command level."
The conservative Mr. Yoon also suggested that if the North continued drone intrusions, the South should consider revoking a 2018 tension-reduction military agreement with the North. That deal was signed by his presidential predecessor, the progressive Moon Jae-in.
The presidential office in Seoul said Wednesday that North Korea "explicitly" violated the agreement 17 times since it was implemented, including 15 times just since October, Yonhap reported.
Left unmentioned was the potential impact of the South Korean move on the 1953 armistice that halted the Korean War. That deal has maintained the uneasy peace on the peninsula for over seven decades. Drones flights over the demilitarized zone separating the two Koreas — even in retaliation for previous incursions — would be an armistice violation, analysts said.
Mr. Yoon's orders follow provocations that shocked South Korea — a nation customarily blase about its hostile northern neighbor.
On December 26, five North Korean drones penetrated South Korean airspace, including four over Paju, the county north of Seoul and south of the DMZ, and one over Gangwha, an island in the Yellow Sea. One hovered in the airspace over north Seoul.
Paju is dense with military facilities, including the U.S. military's 2nd Infantry Division's base, while Ganghwa Island is strategically sited.
South Korean aircraft and helicopters scrambled, firing over 100 live rounds. Amid the crisis, a light attack aircraft crashed while taking off, although no casualties were reported.
South Korean drones were then dispatched – for the first time, as far as is known – north of the DMZ on a retaliatory surveillance operation.
All the North's drones disappeared from South Korean radars, but no wreckage was discovered, indicating all five returned successfully to the North. Their small size, irregular maneuvers and the fact that they were not launched from an airfield all presented problems, the South's military admitted.
Perhaps most worrisome was the necessity to briefly halt flights at Seoul's two commercial airports, Incheon and Gimpo, for over an hour, potentially handing Pyongyang a low-cost, low-risk weapon to wage economic war against the South.
There was widespread shock at the inability of the South's high-tech military to take down the drones.
On December 27, Mr. Yoon ordered the deployment of two or three drones into North Korea for each drone North Korea sends to South, though there have been no intrusions since Dec. 26. On December 29, South Korea conducted drone-defense drills involving UAVs, attack helicopters, light attack aircraft, 20mm cannon and short-range surface to air missiles, or SAMs.
The military response could create a diplomatic headache as well, some warned.
"The context of this discussion is that, with South Korea responding the way it is being implied right now, it is not adhering to the armistice agreement," Chun In-bum, a retired South Korean general, told The Washington Times. "So we find ourselves at the same level as the North Koreans."
Steve Tharp, a retired U.S. Army lieutenant colonel, said in an interview that a principle of reciprocity exists. Even so, "any time you fly into the air space of the other side, that is a violation of the armistice," Mr. Tharp, who has negotiated extensively with North Koreans, told the Washington Times.
The U.S.-led UN Command, which oversees the DMZ, did not respond to a request for comment.
Drones are hardly invulnerable. In Ukraine, Ukrainian forces have fought off an onslaught of Russian- and Iranian-made attack drones with countermeasures that include electronic jamming, SAMs, radar- and searchlight-guided ground fire, and even massed small arms.
But Seoul and its environs, densely populated and just 37 miles from the DMZ, presents a particularly tough defensive challenge, while its commercial air volume dwarfs that of Pyongyang. Even shot-down debris from an intercepted enemy drone is likely to fall on sensitive or populated ground.
"Unless we can control the downfall of a drone, it will crash into somebody or something," said Mr. Chun. "Collateral damage is our problem."
And small, low-cost drones are an ideal asymmetric tool for the impoverished North to deploy against the prosperous South.
"A drone can take out a tank – what an investment that is," Mr. Tharp said. "What does a drone cost – a couple of thousand dollars? A tank costs a few million."
— Mike Glenn contributed to this report.