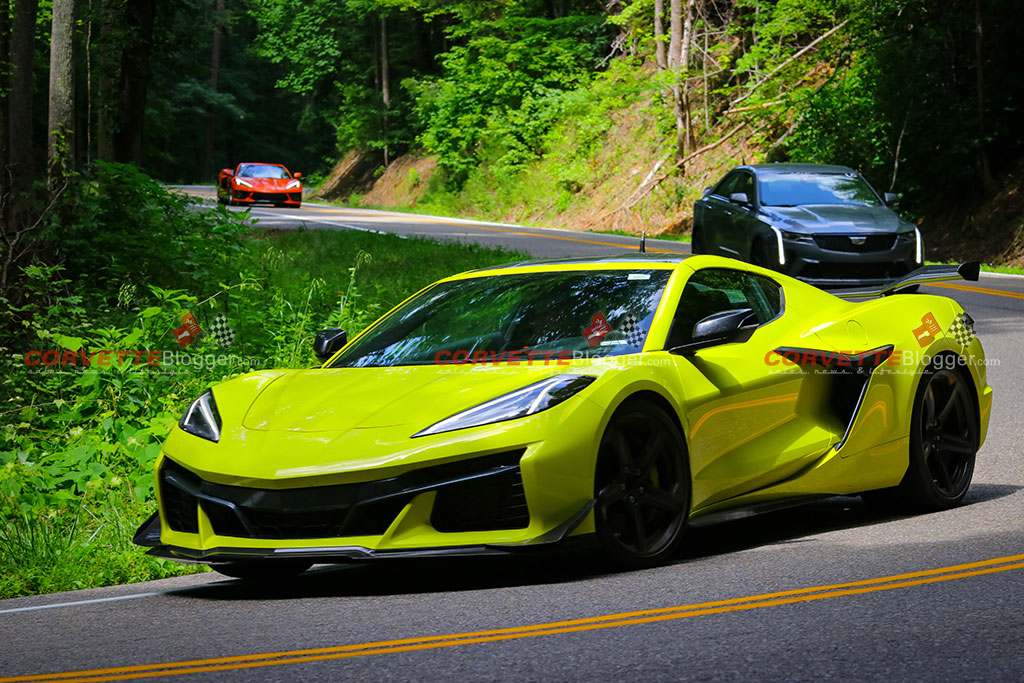 Photo Credits: Killboy.com
We heard some reports that an Accelerate Yellow 2023 Corvette Z06 had been sighted on the Tail of the Dragon last week and it turns out those reports were true! The Z06 was wearing Michigan manufacturer plates and also on the ride were two C8 Stingrays, a Camaro, and a Cadillac V-series sedan.

The Z06 looks to be a pre-production prototype as it's wearing zero badges and we see the "big red button" mounted on the dash. All the GM vehicles were equipped with large antennas as well. We caught the car on two different days as it made the drive on US129 which sits on the North Carolina/Tennessee state lines.

The Tail of the Dragon at Deals Gap features 318 curves over 11 miles and it's a bucket list destination for the drivers and motorcyclists who call it one of the best driving roads in America.

Our last Z06 sighting on the famous Tail of the Dragon came back in November when a cammo-covered Z07 Coupe was spied along with the GMC Hummer EV.

You can see some of the photos we purchased through Killboy.com so click to enlarge:

Related:

[SPIED] 2023 Corvette Z06 Hits the Tail of the Dragon with a Few Friends

[ACCIDENT] 2020 Corvette and a Miata Collide on Tail of the Dragon (UPDATE: Miata Driver Responds)

[SPIED] 2020 Corvette Stingray Convertible on the Tail of the Dragon