[ad_1]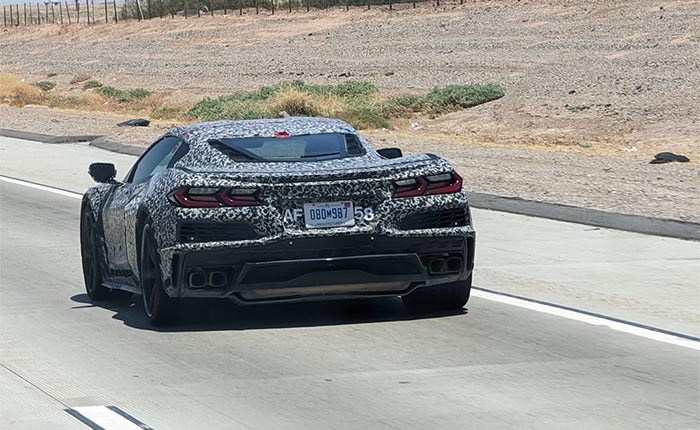 Here are some new pics posted to the Corvette Forum last night showing a camouflaged C8 Corvette prototype driving towards Yuma, AZ on July 5th. As GM's Yuma Proving Ground is in the vicinity, we think the car could be doing some testing on area roads.

The pics were posted by the user "summitreptiles" and he writes the following: "Possible E-Ray Sighting today (7/5/22). Traveling East towards Yuma, AZ this afternoon. Clearly a Z06 body, but split exhaust. The brakes look different as well it seemed. Also, there was no audible sound coming out of the car. What do you guys think?

We already know that the corner-mounted exhaust is available on the export versions of the Z06 due to the gasoline particulate filters which are required in certain markets. So simply seeing a widebody Corvette prototype with the corner-mounted exhaust is no longer the single indicator of this being the E-Ray as we once thought.

My guess is that the car is the Z06 with the export exhaust and not the E-Ray as we think Chevy would at least camo the rear engine window to hide the LT2. I'm also going to say that this car does look like an earlier prototype and those carbon fiber wheels look beat to hell so it wouldn't surprise us if these were once hidden behind the round black wheel blockers that were used to hide them back before the car was revealed.

The last C8 prototype sighting came in April and peeps were telling us that it was the upcoming ZR1. That photo showed the wheel blockers and the heavy black camo on the car, which again is not a surprise. So that's why we believe that prototype in Yuma is a Z06 mule and not the E-Ray.

But come to think about the E-Ray, it has been a little while since we've seen a GM engineering team out there testing the "electrified" Corvette so anything is possible as we have come to learn over the years.

Source:

CorvetteForum.com


Related:

[SPIED] New Widebody C8 Corvette Prototype Captured Wearing New Camo and Hiding New Wheels

GM Files Federal Trademark for Corvette Grand Sport

Is GM's New Ultium 62-kW EV Motor Headed for the C8 Corvette E-Ray?


[ad_2]

Source link