[ad_1]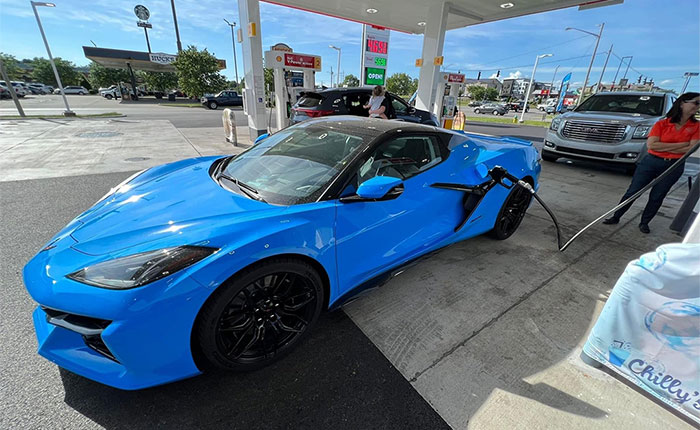 Photo Credit: Connor Clinevell
We have another Z06 sighting from Bowling Green and we finally get to see America's newest supercar in Rapid Blue! Fans of the popular color have been asking where it was as it was one of the last of the 12 exterior colors to be seen on the Z06. Unless I am mistaken, that leaves just Caffeine as the only color not yet spied on the new Z06.

The Rapid Blue Z06 Convertible was captured being refueled at the Shell station across the street from the Corvette Assembly Plant and that is Assistant Plant Director Nora Roper in the red shirt. As the Z06 is wearing a Kentucky dealer plate instead of Michigan manufacturer platers, this might be Nora's company CFT Corvette to drive around for the next few months or longer.

Nora's 2023 Z06 Convertible is highlighted with the body-color chin spoiler, black roof and nacelles, and the base spoiler is offered in Rapid Blue as well. The base Z06 rides on Black forged aluminum Spider wheels with Black brake calipers and we like the choice of the Chrome exhaust tips which highlights the quad exhaust system against the black fascia. The interior looks to be Black as well.

Rapid Blue was ranked sixth out of the 12 exterior colors for 2022 and owners of the car are pretty passionate about the color. GM continues to expand its use and you can now find it on the Camaro and Cadillac models as well.

Thanks to Conner for sharing these great photos!

Source:

Photos by Connor Clinevell


Related:

[SPIED] Black 2023 Corvette Z06/Z07 with Adrenaline Red Interior

[SPIED] Hypersonic Gray/Blue Interior 2023 Corvette Z06 Convertible On the Move Once Again

[SPIED] EddieX Sees a 2023 Corvette Z06 Convertible in the Wild


[ad_2]

Source link