[ad_1]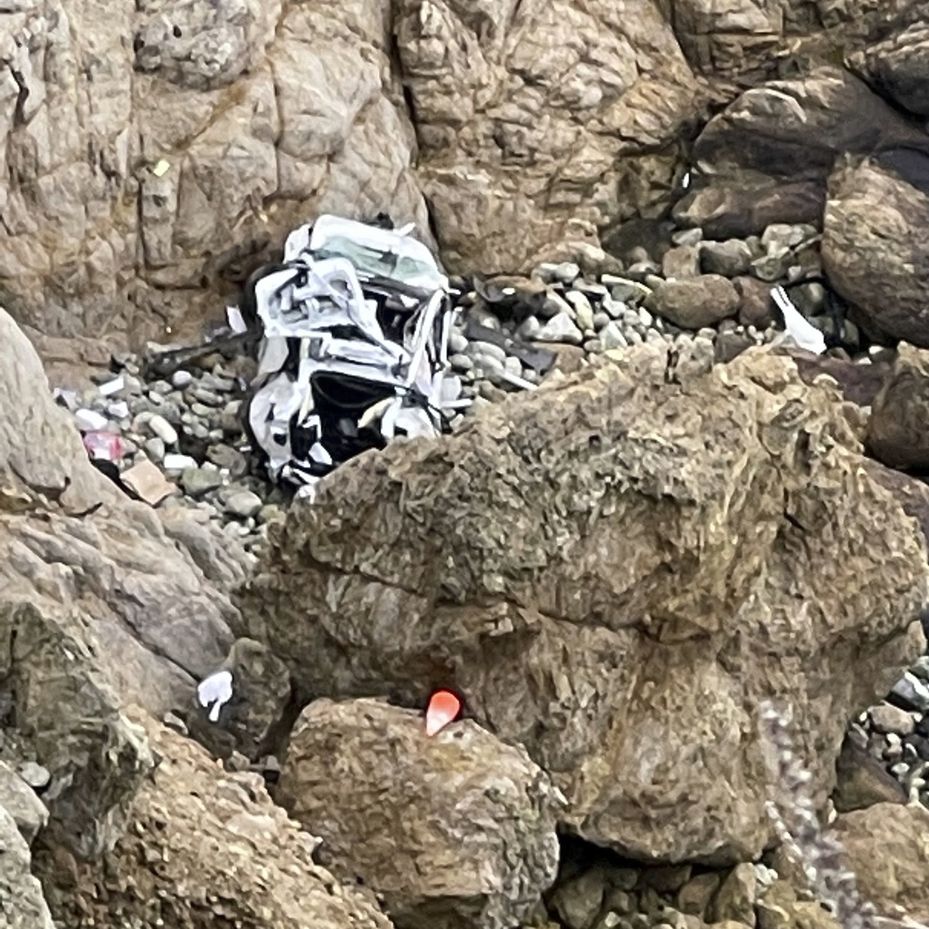 MONTARA, Calif. — The driver of a Tesla that plunged off a cliff in Northern California, seriously wounding two children and a second adult, intentionally caused the crash and has been arrested on suspicion of attempted murder and child abuse, the California Highway Patrol said Tuesday.
Dharmesh A. Patel of Pasadena will be booked into San Mateo County Jail after he's released from a hospital, the highway patrol said in a statement. It wasn't immediately known if Patel has an attorney.
"CHP investigators worked throughout the night interviewing witnesses and gathering evidence from the scene," the highway patrol statement said. "Based on the evidence collected, investigators developed probable cause to believe this incident was an intentional act."
Patel, another adult, a 4-year-old girl and a 9-year-old boy survived after their car tumbled down a notorious cliffside along the Pacific Coast Highway near an area called Devil's Slide that's known for fatal wrecks, officials said. It was not immediately clear whether the four were members of the same family.
The Tesla sedan plummeted more than 250 feet (76 meters) from the highway and crashed into a rocky outcropping. It appears to have flipped a few times before landing on its wheels, wedged against the cliff just feet from the surf, Brian Pottenger, a battalion chief for Coastside Fire Protection District/Cal Fire, said Monday
Crashes along Devil's Slide, a steep, rocky and winding coastal area about 15 miles (24 kilometers) south of San Francisco that's between Pacifica and Montara, rarely end with survivors. On Monday, the victims were initially listed in critical condition but all four were conscious and alert when rescuers arrived.
"We go there all the time for cars over the cliff and they never live. This was an absolute miracle," Pottenger said Monday.
There was no guardrail at the spot where the sedan went off the cliff, officials said.
Witnesses called 911 around 10:15 a.m. Monday and the crews set up rope system from the highway to lower firefighters down the cliff, the battalion chief said. At the same time, other firefighters watching the sedan through binoculars suddenly noticed movement — a sign that at least one person was still alive.
The incident turned from what had been likely a recovery of bodies to a rescue operation that took several hours amid constant rain, heavy winds, slick roads and crashing waves. The doors were smashed against the cliff and jammed shut, so firefighters were forced to cut the victims out of the car using the so-called "jaws of life" tools.
Crews pulled the kids out of the back window and brought them up the cliff by hand in a rescue basket using the rope system. They were rushed to the hospital by ambulance with musculoskeletal injuries.
The adults had traumatic injuries, however, and had to be hoisted up the cliff by a helicopter. They were then both flown to the hospital, the battalion chief said.


[ad_2]

Source link