This is it! The final week to make your donation to the Chip Miller Amyloidosis Foundation for the opportunity to win a 2023 Corvette Z06 with the Z07 Performance Package. Lance Miller and members of CMAF will draw the winning ticket this Saturday during Fall Carlisle show, but it won't be you unless you get your tickets!

CorvetteBlogger readers receive 30% BONUS ENTRIES so don't miss out on your opportunity to win this race car for the street!
The hype over the 2023 Corvette Z06 was already off the charts, and it now appears that Chevrolet can add "exclusive" to its description of America's newest sports car as we know that demand will far outpace supply. The CMAF has secured their Grand Prize Corvette through Whitmoyer Auto Group in Mount Joy, PA with the build date to be determined later this year.
The original plans call for a highly-optioned Coupe in Red Mist Metallic with the 3LZ Black interior and GT2 seats. Check out these build specs which are subject to change:
• Z07 Performance Package

• Magnetic Ride Control

• Visible Carbon Fiber Wheels

• Carbon Flash Ground Effects

• Carbon Fiber Mirror Caps

• Carbon Flash Badges

• Black Exhaust tips
The introduction of the C8 Corvette Stingray was just a warning of what was yet to come. With the C8 Corvette Z06, history is about to be written.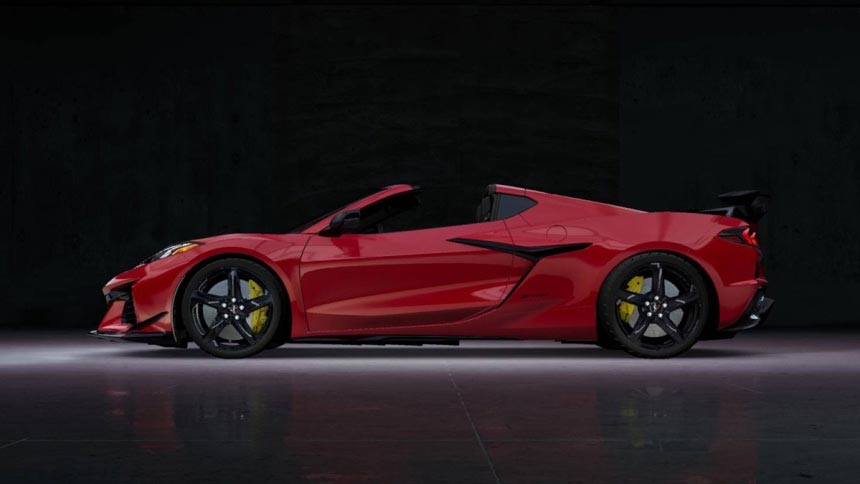 "With the ultimate Corvette, the C8, launching just a couple years ago, Chevrolet has outdone themselves once again with their all-new Z06," noted CMAF president and Corvette enthusiast Lance Miller. "The performance of this vehicle will knock the socks off any car enthusiast and we are fortunate to lock in a Z06 build for this year's Chip Miller Amyloidosis Foundation Corvette Sweepstakes," continued Miller. "One lucky person will win the choice of our Z06 build or the cash option ($75,000). You can't go wrong with either one," added Miller. "Please donate to this amazing cause and help us make a difference. My father passed in 2004 from this terrible disease and there's not a day that goes by that I don't think of him."
Corvette enthusiasts have been hearing the high-pitched revs of the LT6 for the last year, and the sound is unlike previous Corvette. The bespoke 5.5-liter DOHC V8 motor with its 8600 RPM redline is capable of producing 670 horsepower and 460 lb-ft of torque. Official performance specs show the Z07 can run 0-60 MPH in just 2.6 seconds, and we wonder if the General is being a tad conservative in its quest to underpromise and overdeliver. The only way to find out for sure is to get behind the wheel of your very own Z06 Coupe!
Last October, a lucky CorvetteBlogger reader named Elliot Atkins became the grand prize winner of the Chip Miller Amyloidosis Foundation's annual fundraiser and he won a C8 60th Anniversary Cunningham Corvette! All because he followed the link and made a donation to the non-profit organization.
CorvetteBlogger readers get 30% MORE TICKETS when you donate $25 or more and just think of all the good vibes you'll be feeling by knowing that your support is going to a worthy cause. The winner of the 2023 Corvette Z06 will be announced on October 1, 2022.
Source:

Chip Miller Amyloidosis Foundation