Welcome to the Big Leagues, Z06!

That's the takeaway from an unofficial showdown led some two months ago by Emelia Hartford, who was finally able to release the results of her multiple races against a Lamborghini Huracan and a Ferrari 458 after Chevy lifted an embargo.

"I'm mind blown," an impressed Emelia gushes afterwards, calling the 2023 Z06 "one hell of a Corvette!"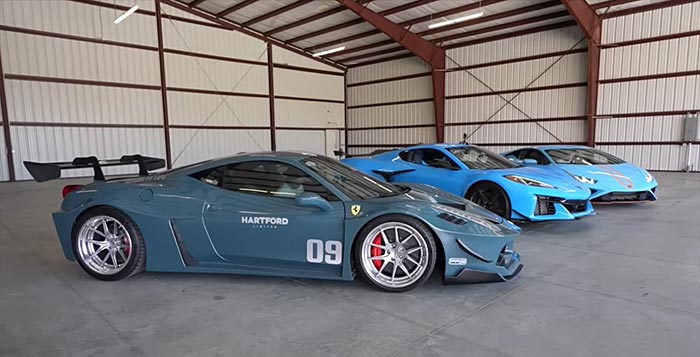 A little background about the cars first. The $250,000 Ferrari was the lightest of the cars at 3200 lbs. and had a 570-horsepower engine, while the $302,000 Lambo was next at 3400 lbs. and 600 horsepower. The roughly $150,000-160,000 Z06, meanwhile, weighed in at 3700 lbs., but had a 670 horsepower flat-plane crank V8.

Emelia says she has been dying to post this video of all the action for two months, adding that Chevy gave her the green light to do whatever she wanted with the Z06 loaner. She opted to pit Chevy's new masterpiece against her own Ferrari and at the last minute added the Lambo as icing on the cake.

Using an unidentified airstrip that was wide enough for all three cars to run at the same time, she chose at first to limit the action to two cars at a time.

First victim of the Corvette was the Ferrari, which as she expected lost badly from both a launch and a rolling start.

On to the Lamborghini, which was expected to do much better but still wound up losing every time by a big margin, too, despite having the A/C on in the Corvette.

"What?" a shocked Emelia says after the win over a car that cost twice as much. "What just happened? Did that really just happen?"

Finally comes the matchup between all three supercars at one time. The Corvette again takes convincing wins, eventually leading Emelia to make things more interesting by giving up as much as 15 car lengths to her opponents to create a "photo finish."

Somehow we have a feeling the new Z06 is going to be eating a lot more supercars for lunch before long.

Source:

Emelia Hartford / YouTube


Related:

[VIDEO] Emelia Hartford Sets Two New Speed Records While Testing the 2023 Corvette Z06

[VIDEO] Emelia Revs The Hell Outta This Z06 and Her Passengers Can't Stop Smiling

[VIDEO] First Drive for Emelia Hartford as She Receives First Corvette Z06 Press Car