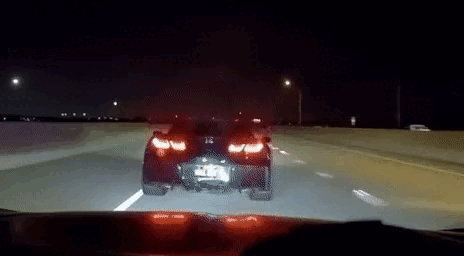 With Halloween just around the corner, the driver of this ghostly C7 Corvette certainly picked a good time to turn "invisible."

In a recent video posted on the lsx.videos Instagram page, we can watch from the dashcam of a police car as it rapidly overtakes the Corvette from behind before turning on his siren and blue lights as he closes in to make a traffic stop.

Unfortunately, the Corvette – perhaps a 755-horsepower ZR1, at least based on the high rear spoiler – steps on the gas and roars off mightily into the night, leaving the police car way behind.

The Corvette, growing smaller and smaller in the distance, suddenly turns off the lights, and it's almost like the Chevy magically disappears into the night.

No use giving chase at that point since it appears the police cruiser is no match for this powerful Corvette. Of course, the officer likely will have the last laugh since the car's license plate was clearly visible to him, and it should be no trouble at all tracking down the Corvette the next morning.

Source:

LSX Videos / Instagram via CarScoops


Related:

Indiana Cops Use DNA from Cigarette Butts to Arrest C6 Corvette Burglary Suspect

Off-Duty Officer Honored For Offering Assistance During a Fiery Accident on Interstate 40 in July

C5 Corvette Driver Who Evaded Police with Speeds Over 100 MPH Arrested by CHP