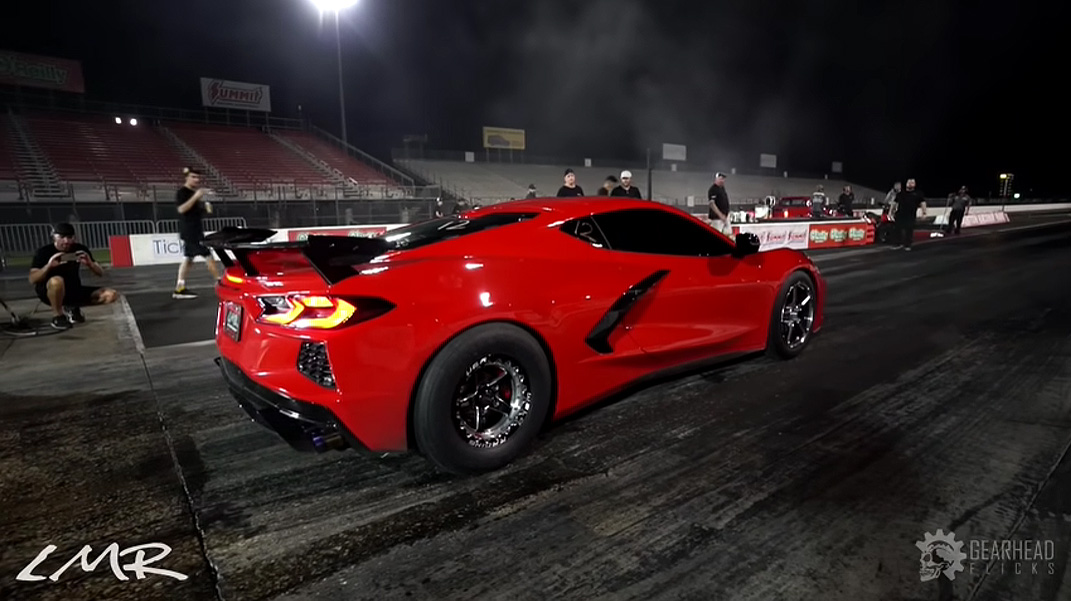 How does Late Model Racecraft (LMR) celebrate setting a new world record time on the dragstrip with its Torch Red Corvette Stingray?

They go right back out and smash their own record just a few minutes later.

Steven Fereday of the 15-year-old Houston, Texas-based tuner shop just posted a video on YouTube detailing the company's latest successes at the Texas Speed Syndicate Quick 30 at Houston Raceway Park on Saturday night.

Their Stingray – which features LMR's 1500-horsepower twin turbo kit, along with many other upgrades – ran four passes that night, starting out with a 9.18 at 153 mph, then a 9.07 at 157 mph, before a record-setting 8.95 at 159 mph to become the world's quickest C8, eclipsing the previous mark of 8.973 set by their buddies at FuelTech USA last year.

Not content with that effort, however, Fereday and crew – on only the car's sixth drag strip pass ever – then proceeded to smash their own record with an 8.83 at 160 mph.

"It's been a long journey," Fereday explains in the video, "but we got there. This car, I literally drive to and from work every day, and also as y'all saw, you can go to the drag strip and run 8's on the weekend. It's a phenomenal package for a new car that they say is untunable (with the factory ECM)."

Fereday talks about all the upgrades made to the car, not the least of which is the twin-turbo kit that led to the record-setting runs. Also lending a helping hand were folks like Precision Turbo & Engine, Late Model Engines, FuelTech, Dodson Motorsports, Mickey Thompson Tires, Aeromotive Fuel Systems, WELD Racing, LG Motorsports, GForce Engineering, DEI – Design Engineering, Inc., ATI Performance Products, Injector Dynamics, and Turbosmart.

After working on C5s, C6s, C7s, and C7 Z06s over the past several years, LMR has a long background of getting the most performance out of Corvettes, but Fereday admits the new C8 "was the longest and the hardest to get ironed out, to get it to go even an 8-second pass."

While the company has seen other of its cars drop into the 7s, 6s, and even the 5s, Fereday is impressed with the overall drivability of the C8. "To have a car that you can't fully tune with the stock computer to drive like stock, run like stock, and still put those kind of numbers up is super impressive to me," he says, "and now we have a solid package that we can sell to the end user that wants a car that they can just drive (during the week) and show off on the weekends."

For more information, check out latemodelracecraft.com.

Source:

Late Model Racecraft – YouTube


Related:


[VIDEO] Late Model Racecraft Just Made TJ Hunt's Twin Turbo C8 Corvette Even Faster

[VIDEO] 2019 Corvette ZR1 Transformed by LMR Into a 1200 Horsepower Beast

[VIDEO] TJ Hunt's C8 Corvette Ready for 1,500 HP Engine Install But First He Joins the Flying Roof Club