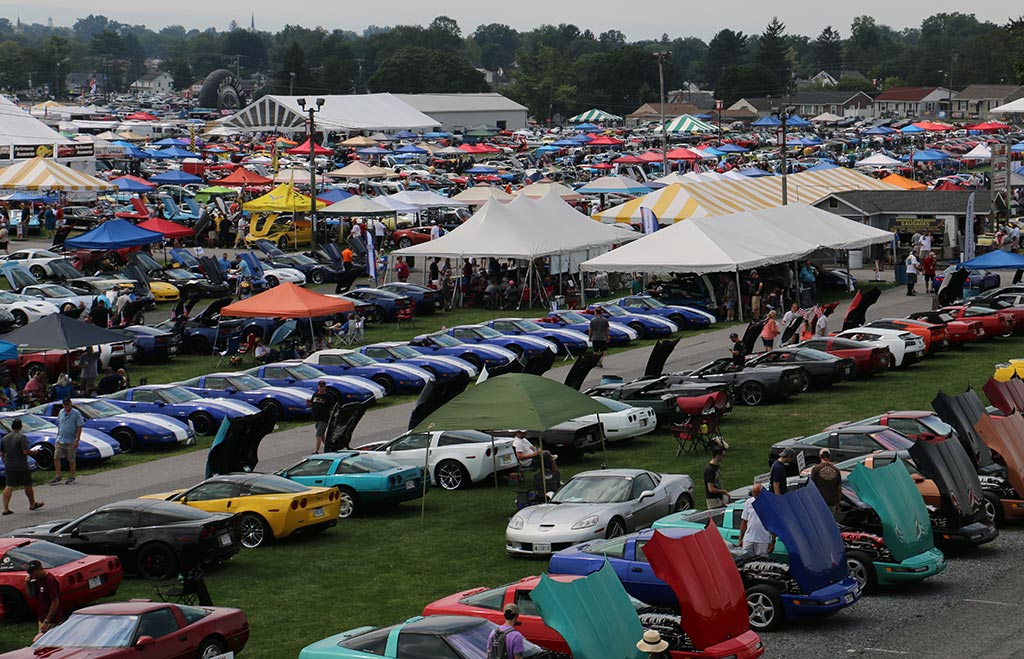 Photo Credit: Keith Cornett
Are you going to be at the 40th Anniversary of Corvettes at Carlisle this week? We can't wait to walk the rows of beautiful cars, see the exciting new Z06 display, and of course, mingle with our good friends from all parts of the USA and Canada.
While there, we plan to crisscross the Carlisle Fairgrounds as we visit our fantastic sponsors who are set up for the event. For us,, it's a great opportunity to catch up and check out their offerings in person. Some vendors have a gift for those who stop by and check out those vendors doing installs. If you end up talking with any of them, let them know you're a CorvetteBlogger reader!


ACS Composite

Web: acscomposite.com

Tel: (888) 227-2270
We haven't seen our friend Joseph at ACS since before the pandemic but he will attend Corvettes at Carlisle and offer on-site installations. They were pre-booking these install times, so call 888-227-2270 to see if there might be a time still available. The ACS website also has a page set up for Corvettes at Carlisle with a listing of their products they will have on-site. To that, I have just two words for you: ROCK GUARDS!
ACS Composite is located on the Midway.
American Hydrocarbon

Web: americanhydrocarbon.com

Tel: 813-476-5638
Pat Scorzetti of American Hydrocarbon is attending Corvettes at Carlisle for the first time so stop by his location on the Midway and welcome him to the show! Pat will display his growing line-up of GM Officially licensed products for the C8 Corvette, including their very popular LT2 Engine Appearance kits, Corvette-branded Engine Fluid Cap Covers, and customized aero accessories. You can also pick up American Hydrocarbon swag, including t-shirts, hats, and coffee mugs. And finally, Pat will also have a C8 Tribute Corvette on display that's a must-see.
American Hydrocarbon is located on the Midway
C8RallyDriver

Web: c8rallydriver.com
C8RallyDriver will be showing off their Original C8 Corvette Trunk Covers at Corvettes at Carlisle. These are now GM Officially Licensed Products, so they can be ordered with a number of GM logos including the crossed flags, C8 silhouettes, and Corvette Racing's Jake. You can also see their new Corvette C8 Boomerang-Style Rear Hatch Supports, which can add some class to your engine bay, and the "Stealth-Mount" Carbon Fiber Rear Strut Covers that are both beautiful and functional in keeping water and dirt from the shock towers. He's got a current promo code with us so use 40CorvetteBlogger to save $40 per item.
C8RallyDriver is located near the grandstand/food court.
Corvette Central

Web: corvettecentral.com

Tel: 800-345-4122
This is the 40th Anniversary of Corvettes at Carlisle, and its a special one for the Corvette Central family as they were at that first show in 1982 and have attended every year since. In the beginning, vendors could pick their spots, and that's how Corvette Central strategically located its display behind the grandstands and next to the food court/restrooms. You can imagine over the 40 years they have seen it all. From taking orders with pen and paper to the internet age, Corvette Central has always been there for you and your Corvettes and will continue to do so. Stop by and talk with Scott and pick up a Free Shipping Coupon for your next order.
Corvette Central will be set up at spaces D86-D91, behind the grandstands and adjacent to the food court.
Ciocca Corvettes of Atlantic City

Web: cioccacorvette.com

Tel: 866-987-7361
Ciocca Corvette of Atlantic City will be returning with their great display of new Corvettes. This year you can check out the new Callaway Ciocca Edition C8 Corvette that was just announced this week, and they always have a great selection of C8 Corvette Stingrays to show off as well. The Ciocca team will be handing out a free Ciocca Corvette poster, so stop by and pick one up!
Ciocca Corvette is located in front of the Grandstands on the Midway.
MacMulkin Corvette

Web: macmulkincorvette.com

Tel: 603-888-1121

MacMulkin Corvette of Nashua, New Hampshire, is expected to make their annual appearance, but I don't have their exact location this year. I believe they share a tent with another company, and can be found on the Midway. MacMulkin is the number two largest Corvette dealer, and they've been coming on strong in recent months as we learned from recent sales reports.
MacMulkin is located on the Midway
Mike Furman/Criswell Chevrolet

Web: corvettefurman.com

Tel: 301-212-4420
National Corvette Seller Mike Furman of Criswell Chevrolet in Gaithersburg, MD can be found on the Midway next to the Spring Mountain/Ron Fellows Driving School tent. Mike will have his new 70th Anniversary White Pearl Metallic Corvette Stingray Convertible on display, and we can't wait to see the special anniversary paint under the sun. Mike will have a free poster available and he loves to talk Corvettes so stop by and let him know how much you enjoy his Sunday Delivery posts.
Mike Furman is located on the Miday next to Spring Mountain.
NCM Insurance Agency

Web: ncminsurance.com
Tel: 877-678-7626
The Corvette and collector car experts from the National Corvette Museum's NCM Insurance Agency will be on the Midway next to the Corvette Museum's mobile store. Stop by with your current insurance policy with the declaration pages, and it takes just a couple of minutes to generate a quote. Everyone who requests a quote will also receive a special gift. Even if you don't have your policy but want to learn how to protect your investment, ask them about Agreed Value policies and why that is the only type of policy to have on a collector car.
NCM Insurance is located on the Midway.
Zip Corvette Parts

Web: zip-corvette.com
Tel: 800-962-9632
Zip Corvette will be at Carlisle again this year so make sure to stop by their booth on the Manufacturer's Midway to say hello to the Zip team and grab a free generation-specific catalog. Zip will also be offering exclusive specials for show attendees! Zip always has a couple of cool displays to check out, so we look forward to seeing what they are bringing this year. While the team is at Zip Corvette, they have a special online sale with Free Shipping on orders of $149 or more. No coupon code needed!

Zip Corvette is located on the Midway.
Photo Credit: Carlisle Events
We provided a guide on What to Expect at Corvettes at Carlisle and we also recommend downloading the Carlisle Events app which has the complete show schedule and search functions to find vendors, show parking spots, and more.

Thanks again to our great sponsors and looking forward to seeing everyone this week!


Related:

[VIDEO] Lance Miller Previews the 2023 Corvette Z06s at Corvettes at Carlisle

Visiting Corvettes at Carlisle? Here is What You Can Expect!