[ad_1]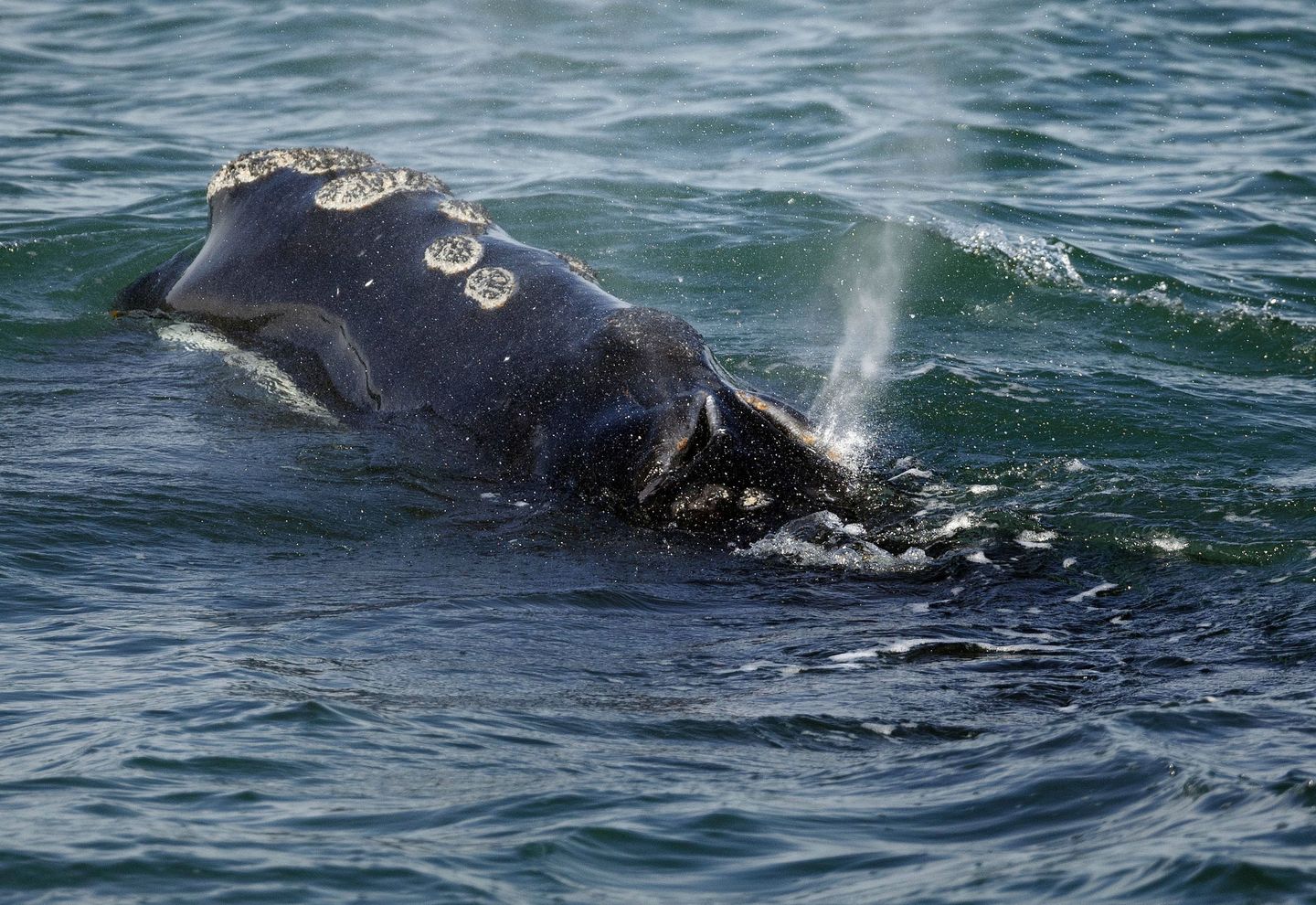 A spate of whales washing up along East Coast beaches has exposed a deep rift in the environmental movement between conservationists seeking to stop the construction of massive offshore wind farms and green energy proponents pushing renewable energy projects that they say will save the planet from global warming.
A group of environmentalists is calling on New Jersey Gov. Phil Murphy to halt work on ocean wind projects following a sudden increase in whale strandings on the region's seashores. 
In a little more than a month, seven dead whales, most of them humpbacks, have washed up on New Jersey and New York beaches — a record number in a region that typically sees that many beached whales in an entire year.
Some environmentalists believe underwater surveys that involve blasting air guns into the ocean floor and other preparatory work for the installation of wind turbines could be disturbing whale migration and feeding patterns and causing the massive mammals to get injured or stranded on shore. 
Mr. Murphy, a Democrat pushing an aggressive renewable energy plan for the state that hinges on building several large offshore wind sites, rejected calls to halt the ocean projects in response to the whale deaths. 
His position is supported by some of the nation's top environmental groups, including the National Resources Defense Council and the Sierra Club.
While those groups have long worked to protect wildlife and particularly endangered species, they are now prioritizing renewable energy production, especially offshore wind farms, which they say are necessary to end dependence on fossil fuels and stop climate change they believe is harming the planet, including the whales.
"They have put their thumb on the scale in favor of doing renewable energy for the purposes of fighting climate change, and have either been unwilling or unable to come out and raise concern about this," said Lisa Linowes, executive director of Save the Right Whales Coalition.
Many of the green energy groups who are backing offshore wind farms get their funding from foundations dedicated to eliminating fossil fuels. 
The Sierra Club, for example, has received some of its funding from Bloomberg Philanthropies, which supports "a 100% clean energy economy."
The Sierra Club, along with the Natural Resources Defense Council and other environmental groups, sit alongside offshore wind companies on the steering committee of New York Offshore Wind Alliance, which seeks to develop enough offshore wind to help the state achieve its mandate of a 100% emissions-free grid by 2040. 
The Sierra Club opposes halting offshore wind projects over concerns about the whales and is calling for mitigation techniques to be implemented, such as entanglement deterrents and turbine configurations that, once constructed, may lessen the impact of active wind farms on marine life. 
"Blaming offshore wind projects on whale mortality without evidence is not only irresponsible but overshadows the very real threats of climate change, plastic pollution, and unsustainable fishery management practices to these animals," Anjuli Ramos- Busot, Sierra Club's New Jersey Director, said.
The big question is whether Sierra Club and other big environmental groups would dare express concern about off-shore wind projects injuring whales when they are embedded with wind companies in the quest to eliminate fossil fuels.
"That's the shocking news to us, when you see a large, national environmental group whose focus is on saving the planet for the purposes of protecting wildlife, to industrialize things in a habitat at the level that is being promoted right now," said Ms. Linowes of Save the Right Whales Coalition. "There is something not right there. We just scratch our heads and say something is going on."
Ms. Linowes joined several environmental groups that sent a letter to President Biden demanding a halt to all ocean-related wind projects until the whale deaths are investigated by the federal government, with oversight from an independent scientist. 
Mr. Biden's renewable energy plan calls for deploying 30,000 megawatts of offshore wind by 2030. Mr. Biden's ambitious off-shore wind plan overall would provide a year's worth of power for more than 10 million homes and "avoid 78 million metric tons of CO2 emissions," Biden officials said. 
There are no offshore wind projects in operation yet but planning is underway along the east coast for millions of acres of offshore wind farms between Maine and North Carolina to eventually provide 18,000 megawatts of power. 
A large portion of the wind energy projects is slated for an area of shallow water between Long Island and the New Jersey coast where the whales have recently been washing ashore.
Nearly a dozen companies are working on wind farm pre-construction off the New Jersey coastline. The work involves geotechnical survey boats mapping the ocean floor using sonar equipment. Critics fear the loud sounds blasted from the boats could be interfering with whale communications and damaging the mammals' hearing.
"The premature death of so many whales and other marine mammals is an untenable situation that we believe is most likely caused by the increase in vessel traffic and the 'sounding' or mapping of the ocean floor by several offshore wind project developers,"  said Suzanne Hornick, a spokeswoman for the anti-wind-farm group, Protect Our Coast NJ, which signed on to the letter to Mr. Biden. "We must have scientific investigation and complete transparency of all government agencies involved with the industrialization of our ocean."
The Natural Resources Defense Council and Sierra Club, which are dedicated to net-zero emissions by 2050, do not agree with the smaller environmental groups pushing for a moratorium on offshore wind projects. 
"NRDC and other groups are not seeing evidence that whale strandings are related to offshore wind activities," Eric Miller, NRDC's New Jersey energy policy director, said. He warned organizations that support fossil fuels may be "trying to lump themselves in with those legitimately concerned. environmental organizations."
The National Oceanographic and Atmospheric Administration has reported increased strandings of whales in the New Jersey/New York region over the past six weeks along with an "elevated humpback mortality" for the past seven years along the Atlantic coast, where more than 178 humpbacks have turned up dead. 
Most of the whales that recently washed ashore along the New York and New Jersey coastline were humpbacks. 
NOAA officials say they don't know what's causing the recent increase in whale deaths in the mid-Atlantic region or the elevated mortality among humpbacks occurring since 2016. But NOAA officials are not blaming wind projects. 
"There are no known connections between any of this offshore wind activity and any whale stranding regardless of species," said Benjamin Laws, deputy chief for the NOAA Fisheries Office of Protected Resources permits and conservation division.
Some pro-fossil fuel advocates, as Mr. Miller suggested, have also sounded the alarm about offshore wind projects endangering whales.
David Wojick, a former Department of Energy contractor and researcher who writes for the Committee For A Constructive Tomorrow, a pro-fossil fuel organization, said he has investigated the data on whale strandings and sees a direct link to the pre-construction work on offshore wind projects.
He criticized NOAA's findings that there is "no known connection" between the project work and whale deaths. He said humpback whale deaths began to increase dramatically and the population of endangered right whales began dropping after NOAA provided "incidental harassment authorizations" which allow offshore wind companies to do work along the eastern seaboard that might result in behavioral disturbances among marine mammals. 
The right whale population has dropped to 340, down from 348 in 2022 after reaching a high of 500 whales in 2010. 
"They started issuing harassment permits and the humpback whale death rate tripled and the right whales started going down tubes," Mr. Wojick said.


[ad_2]

Source link