[ad_1]


Photo Credits: Whitmoyer Auto Group
"Man, look what these jokers from Pennsylvania are asking for this ZR1!" I said as I handed the phone to my dad, who replied, "another overpriced orange one, huh?" without even having to reach for his reading glasses. As of writing, that exchange happened 183 days ago, and in that time, my tune about the price of Whitmoyer Auto Group's 2019 Corvette has done a complete 180.

You see, when the car in question posted, the marketplace was flush with untouched examples of each of the finest front-engine Corvette variants, C7 ZR1 included. With 3,454-miles on the clock, it was basically an old timer compared to the fresh-in-wrapper examples that JFK Auto and others were dangling in front of me on my daily trip(s) through the online classifieds. A quarter of a million dollars for the most common color with three and a half thousand whole miles, are they nuts!?! I didn't give that listing the time of day when it was new, but as the museum-quality examples slowly disappeared and my many saved/favorite/hearted listing pages started feeling empty without a ZR1 on any of them, I revisited the Whitmoyer car and found the method to their madness.

As has become a customary rite of passage when a new Corvette model hits the scene, the firstborn is auctioned off to NASCAR team owner and Chevrolet Dealer Rick Hendrick for a sum approaching, approximating, and sometimes shattering $1,000,000.

When the 2019 ZR1 came to be, everything went perfectly according to that plan, with "Mr. H" walking out of Barrett Jackson Scottsdale with the rights to ZR1 #0001 for $925,000. People who follow such things already know that he's got a thing for Black 'Vettes, so number 1 was unsurprisingly spec'd in Black. He also checked boxes for the convertible body style, ZTK "high wing" track package, and most importantly for us, the 8-speed automatic gearbox.

Well, as it turns out, VINs 002 and 003 were also picked up by VIPs (Hendrick is often gifted an extra car for his generosity with the number 1s, but we aren't positive if that's the case here). The fourth car off of the line at Bowling Green Assembly was this lovely specimen, making it the first retail customer ZR1 in the world.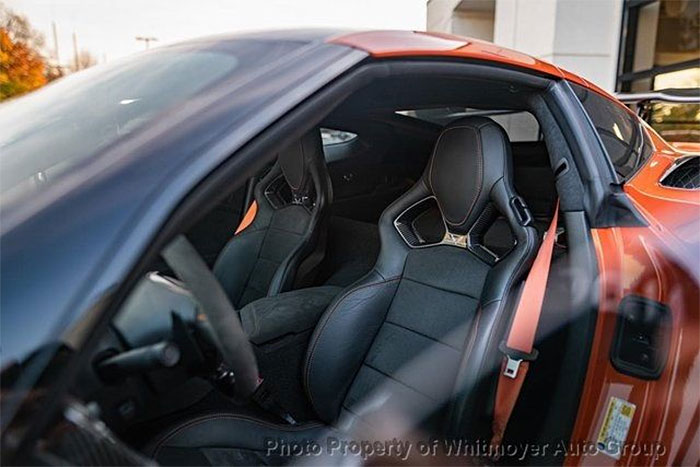 From there, 004 gets even better! With customers 2 and 3 following Mr. H's lead and opting for colors outside of the ZR1's marketing material to go with their matching "hers" transmissions, the fourth ZR1 minted was the first to receive two of the most desirable and rapidly appreciating options in the 7-speed manual transmission and the Sebring Orange Design Package. Throw in its own ZTK package, and you've got the first ZR1 with 2019's Corvette holy trinity of options! This prominence elevates it above the previously mentioned zeroish-mile examples as THE one to get if you are a serious collector, but if it is just now entering your radar, act quick because the price has been inflation-sensitive. $10,000 has been added to the ask since it was first posted; if you have the cash, though, this gem is still worth every penny!

Source:

whitmoyerautogroup.com


Related:

[VIDEO] 2019 Corvette ZR1 Transformed by LMR Into a 1200 Horsepower Beast

Corvettes For Sale: And the Award for Best C7 ZR1 Dealership Photos Goes To…

[VIDEO] The Throttle House Guys Finally Get to Drive the 2019 Corvette ZR1


[ad_2]

Source link